Cracker P's in the Abacos: Lunch and LOTS of Great Rum
Dawgs R Fine… Beware of Chef
These words, hand-painted on a rustic sign that greeted me upon coming ashore at Lubbers' Landing, instantly told me that I'd love Cracker P's. The seaside bar and grill is an institution in The Bahamas, ranking perhaps a peg or two below the likes of Nipper's and Chat 'n' Chill in terms of notoriety.
Somehow, though, I'd never heard of the place before we arrived here for lunch as part of an island-hopping excursion hosted by our friends at the Abaco Beach Resort.
By the time we left, though, Cracker P's had become my favorite beach bar in the Abacos. Reason #1 for this:
The Food
Ask anyone who's ever been to Cracker P's for a menu recommendation, and overwhelmingly you'll hear "Smoked Fish Dip!" followed by a smile and more than a few mmmm's. It's unbelievably good, but so too was everything on this enormous platter that I devoured without a trace of shame or remorse.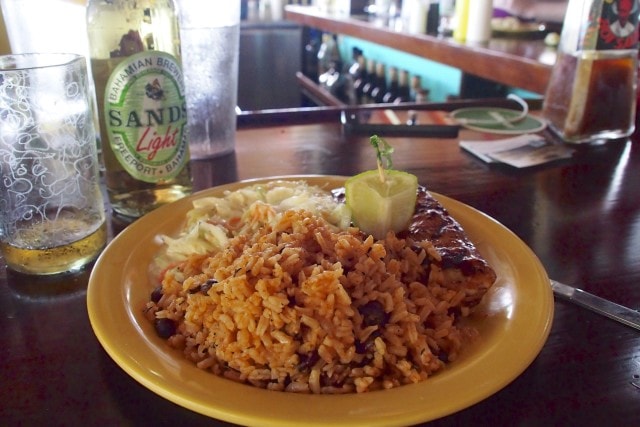 Reason #2: Location
Cracker P's fronts a small sandy beach along the east coast of Lubbers Quarters Cay. Tahiti Beach sits tantalizingly across the way, but you won't want for very much more by and in the way of beach fun and communing with nature here.
That's because Lubbers Quarters is primarily a natural habitat, home to a wide range of tropical birds. Herons, egrets, white crown pigeons, West Indian red-bellied woodpeckers, banana quits, hummingbirds – they all abound here, making for some nice post-lunch bird-watching fun. A nature trail extends behind the restaurant to the other side of the island where you'll find more pristine beaches offering added seclusion.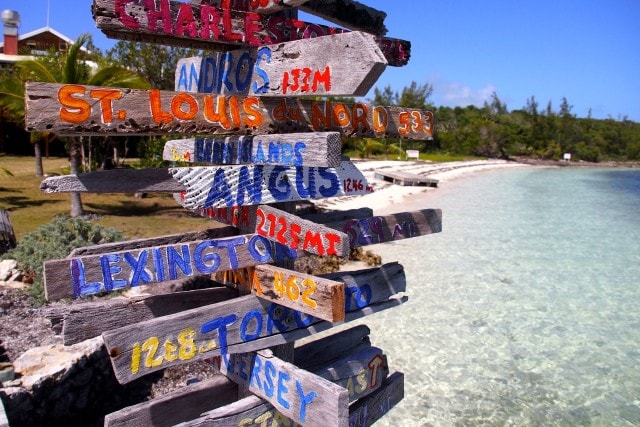 These two reasons, plus an awesome collection of servers and bartenders led by owner/dangerous chef, Patrick Stewart, make Cracker P's special in and of themselves. The BIG thing that sets this place apart from the rest for me, though is…
R-U-M!!
Unlike most bars I've come across in The Bahamas, Cracker P's stocks an extensive variety of fine rums from all over the Caribbean. The menu generally features 50 or so different blends, including such UC faves as Cruzan Single Barrel (St. Croix), 5-star Barbancourt (Haiti), Appleton VX (Jamaica), Brugal 1888 (Dominican Republic), Mount Gay Extra Old (Barbados), Rhum JM (Martinique), and Havana Club 7 (Cuba).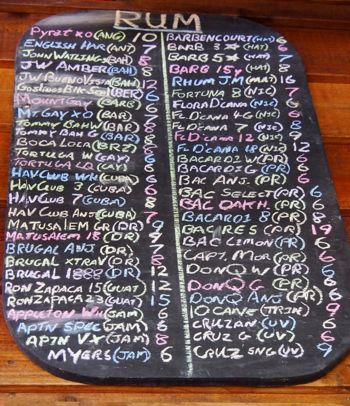 (Notably absent to me was Harbour Islands's own Afrohead Rum, though I'm sure that Patrick will have that fixed in short order.)
For me, the experience of sitting at the bar, a soft and steady breeze in my face and a line of cherished rums in front of me, was like enjoying my own little personal rum festival – a dream come true!
By the next time I get back to Cracker P's this dream rum journey experience might actually get even better! As Patrick shared with me just before we left, he's hoping to get a barrel or two of bulk rum that he can use to craft his own personal blend sometime in the near future.
Judging by his great taste in rum and his wizardry in the kitchen, it's sure to be a special treat.
Related Posts