Ani Private Resorts Anguilla – In a Class Above The Rest
The location of Ani Private Resorts  Anguilla, perched solitarily atop a breathtaking limestone cliff, serves as the perfect metaphor for this property's status among most other hotels and resorts in the Caribbean – there's Ani Villas, a very steep drop off, then everything else.
Recently, we were invited to Anguilla for a few days of sampling Ani Villas' take on contemporary Caribbean style and modern luxury. To better understand how special every single day at Ani Private Resorts Anguilla is, it's best to start at the beginning.
As the first glimmer of light appears on the horizon each morning, painstakingly landscaped and immaculately kept grounds greet the sun.
Multicolored bougainvillea, perfectly geometrical hedges, waving palms, meandering stone paths (and your own private tennis court) all slowly ease into the day. On the backside of the over two acre estate, multiple large infinity pools and their smaller offshoots burble softly, reflecting another in a long line of perfect Anguilla sunrises.
Incredibly, mornings indoors at Ani Private Resorts Anguilla are even better.
On our recent stay, we were ensconced in the top-floor master bedroom of the three-story, 10,080 square foot, South Villa. Wrapped in sumptuous sheets, mornings started slowly.
After working up enough strength to escape the tender clutches of one of the most comfortable beds I've ever slept in,  pulling back the blackout curtains reveals this: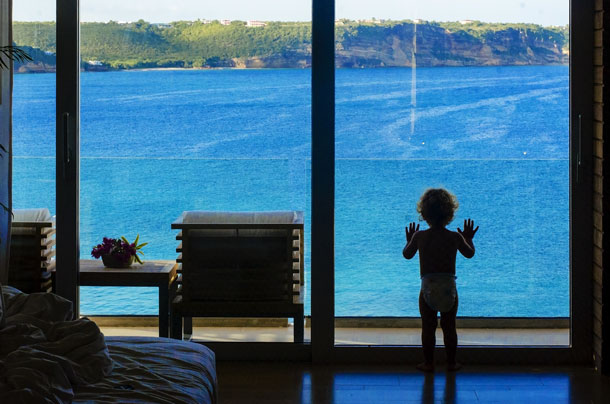 A magnificent vista high above the turquoise waters of Crocus Bay, lined with sandy beaches and banded orange cliffs crowned with soft green tufts of West Indian woods.
Other features of the room include warm wooden wall accents, textured rugs, pleasant little balconies with seating areas, and spacious bathrooms featuring rain showers, separate whirlpool tubs (complete with underwater mood lighting), and (only for the master bedrooms) a second shower — this one al fresco!
Just beyond our room's door, a huge skylight cascades light down a dramatic stair atrium. Sidestepping the soothing mini pools at the foot of the stairs, the first person I meet is my personal butler.
"Good morning, Patrick."
A sincere, warm smile and a hot cup of coffee. Days don't usually start much better than that. But this one does. Because in the kitchen my personal chef, Shamash, is already whipping up my favorite breakfast just how I like it.
The ground floor consists of a superbly outfitted kitchen, an indoor dining area with an 800 pound solid wood dining table that even drew the attention of Canadian morning television, a covered outdoor dining area, a TV area with an L-shaped couch that could probably seat 20, a serene sitting area done up with wooden accents, another bathroom, and an entire glass wall that slides away connecting the lux interior with the lux exterior.
Me being me, I take my breakfast outdoors to better soak in Anguilla's early hours. Carried on trade winds over the surrounding trees are the sounds of goat kids cresting a nearby hill and some yard fowl crowing in the distance. Large sea birds make their nests along the cliff face below Ani Villas, so it's not unusual to catch them soaring just out of reach on rising thermals while sipping your first coffee of the day.
Breakfast transitions easily into lounging by the pool. There, more tasty treats from Shamash are delivered, cocktails materialize, and several hours tick by in an idle procession before I manage to motivate myself to embark on one of our signature Uncommon Caribbean adventures.
Luckily, Ani Private Resorts Anguilla also includes adventure, should you want it.
All it takes is one word to butler Sani, or property manager Felix to get everything arranged. Before I know it, they've got a gourmet lunch packed and Felix himself is accompanying me off the exquisite estate. A quick right at the exit and about 30 yards down a path leads us to a small clearing above a cliff. And a rope.
Abseiling down the rope deposits me on the property's secret treat: Little Bay – a secluded, tiny strip of sand roughly 40 feet long nestled in the recesses of the tall, yellow cliffs. Though all beaches on Anguilla are public, getting to this little piece of paradise can be a chore for most, so it's often empty. This lends it the feel of being an extension of the exclusive experience at the villas. A cooler full of Ani Villas' signature rum punch and various other Shamash treasures complete the picture.
Of course, if climbing down cliffs isn't your idea of a good time, the talented staff at Ani Villas still have you covered. Select the beach of your choice from Anguilla's many white sand options and they'll literally bring the amenities with you! Your private Ani Villas tent, bar, grill, beach chairs and more can accompany you to any beach on the island – with your butler and assistants, of course.
Whatever you do, make sure to be back by sunset. For me, that was one of the best times to be on the property. One evening I took my sundowners at one of three lounge areas on the edge of the cliff. Another time I was on the roof deck atop the South Villa and yet another sunset was shared with Nori of Anguilla-Beaches.com fame. The experience is too good to keep all to yourself!
Again, Àni Villas' location is the key to the show. Facing northwest over the bay, we had a panoramic view of the mesmerizing sunsets every night. Brilliant blue skies first streak with yellow and orange clouds. Shades of purple eventually creep in before the whole thing seems to catch fire and finally fade to black.
After the Caribbean sun calls it day, Ani Private Resorts Anguilla keeps on giving. Another chef is brought in just for dinner service. Again, everything's tailor-made specifically for you – your likes, dislikes, special tastes, and desires. (Anguilla crayfish for me, thank you very much!)
More after dinner rum punches lead to straight rum nightcaps taken reclining on the fluffy lounge chairs on one of the roof decks. All around, Ani Villas and the Anguillan night beyond conspire to make the end of my day as special as the beginning. An easy-going breeze is blowing, coquí frogs are chirping in the distance, and another day passes at the new high water mark for modern luxury in Anguilla.
And that's just a slice of what awaits you at Ani Private Resorts Anguilla. 
The entire 10-bedroom estate with two fully serviced villas can be rented as a whole, or as two separate five-bedroom units. Each of Ani Private Resorts' luxury homes is fully outfitted with their own pools, hot tubs, kitchens, indoor and outdoor dining areas, lounges and decks.
The property is perfect for hosting weddings (for a fraction of the cost of many options in New York), an amazing week with a few of your favorite couples, or that extra special family reunion you've been meaning to have.
All soft drinks, beer, water, juices, top-shelf alcohol, house wines, laundry, and more are included. Not to mention the personal chefs, butler, and additional staff. And did I mention they provide a complimentary speedboat transfer from St. Martin?
This truly is modern luxury, Caribbean style – head, shoulders and even a tall cliff above the rest!
Do yourself a favor and book your stay today!
Related Posts