Ebenezer Methodist Church, Anguilla and Counting My Blessings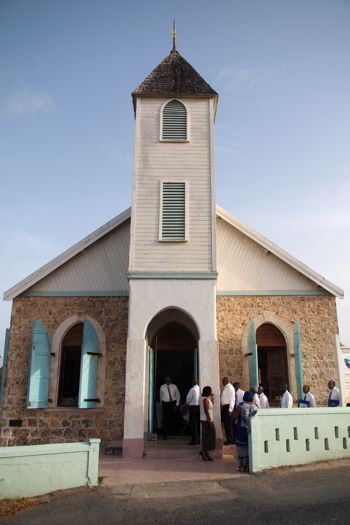 With as much as I tend to travel, it's no surprise that I miss out on more than my fair share of precious moments at home. Remember that 10th wedding anniversary I spent in marvelously romantic Martinique without my wife? Even with a make-good adventure in Nevis, I'm still paying for that one.
My latest family faux pas occurred just this past June when I found myself here on Father's Day without my kids.
This is the Ebenezer Methodist Church, the oldest house of worship in Anguilla established way back in 1830. As you may have noticed before, I kind of have a thing for history and old churches, so making a stop here was high on my to-do list for my first real visit to Anguilla. Never mind that I was traveling with a busload of other travel professionals, all of us sunburned and tired after an unforgettable lunch and fun excursion to Sandy Island (sorry, guys).
Considering all the fun we'd had, a few of us could've probably used some churchin', but I was the only one who ventured off the bus, taking advantage of the fading sun to snap images like this…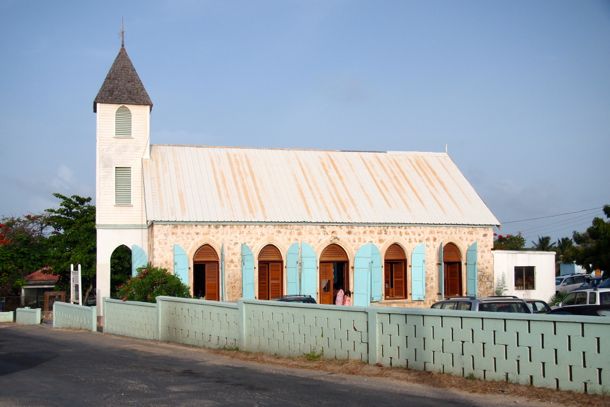 It was in the course of taking these pictures that one of the parishioners approached me to politely inquire as to what  I was doing. I explained the whole Uncommon Caribbean thing, my fascination with old churches, how much fun I was having in Anguilla, etc.
Do you have kids?
Her follow up question struck me like a slap, reminding me of what I was missing back home in a way I hadn't expected while blithely driveling on about the sexier side of my professional life. I wasn't so cool and carefree then, something this nice lady obviously picked up on. She asked to see pictures, whispered a short blessing and invited me to join in their special Father's Day mass, this despite my haggard post-Sandy Island appearance.
Part of me certainly wanted to stay to experience the old church more fully, but I had held up the group long enough. There was more for us to see and do on our jam-packed Anguilla itinerary. Old Ebenezer would have to wait for another day, another trip; maybe next time with the whole family.
I returned to the bus missing my kids more than I had before we'd stopped, but in a good way. It would be the briefest of my many stops in Anguilla, but it was plenty long enough to make me feel thankful to have my kids in the first place, and the opportunity to bring them back here someday…
If you're keen on visiting the Ebenezer Methodist Church, look for it down in The Valley, Anguilla's principal town, on Coronation Avenue. The church hosts 9 am and 7:30 pm mass every Sunday. If your experience is anything like mine, you'll feel extremely welcome the minute you arrive.
Related Posts