Elvis' Beach Bar: An Anguilla Party Spot with a St Croix Secret
There exists in Anguilla a bubblin' beach bar culture unparalleled throughout the Caribbean. Each bar carries its own legends, signature drinks, and characters. One of the best, particularly for night owls, is Elvis' Beach Bar.
Anguilla's Elvis won't soon remind you of The King. He is, however, a pretty good showman. He also boasts a strong following of fans. Many of them enjoy a particularly special drink found nowhere else in Anguilla. A secret drink with ties to my home island of St Croix.
Before we spill any beans, though, let's set the scene…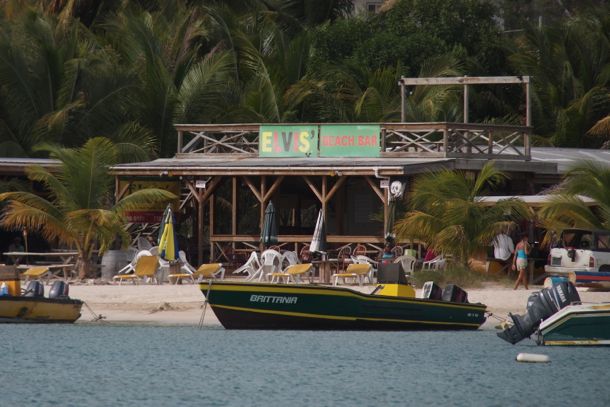 Down to Earth Sandy Ground
Elvis' is located in an area known most popularly on Anguilla as Sandy Ground. The bay along which this nice stretch of pristine white sand sits, however, is actually called Road Bay.
Sandy Ground is prime beachfront party central in Anguilla. Such legendary Anguillan watering holes as Johnno's and Lit Lounge are also found here.
The setting is night and day different to the ultra-posh villas and resorts for which Anguilla is most famously known. Sandy Ground is gritty. It's working-class. Instead of million-dollar yachts, colorful fishing boats and hulking container ships dot the calm and picturesque bay.
Essentially, it's an authentic West Indian fishing community. One that just so happens to harbor some of the coolest beach bars. They're all great, of course. When it comes to late-night fun, though, Elvis' Beach Bar stands above the rest.
Elvis' Beach Bar Bona Fides
A big part of the reason for this is Elvis himself. Slight of build, but big of service and smiles, he has an infectious aura about him. Instantly upon meeting him, you can tell he's one of the coolest guys on the island. The kind of guy who's aura compels you to hang out at his bar, even as your body says you should've gone home long ago.
The bar, itself, is another big draw. It's actually a 16-foot boat, as colorful and distinctive as the ones floating just offshore.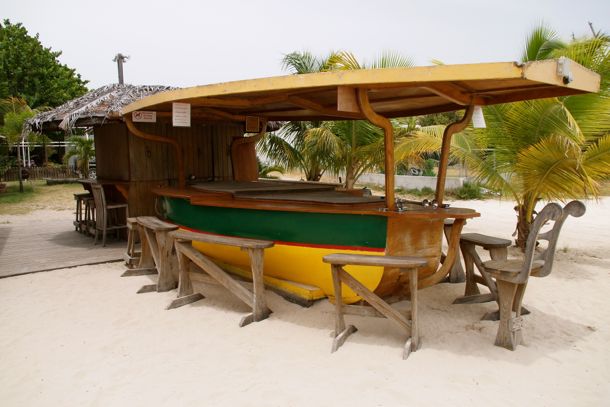 The boat-bar, though, isn't the only thing that distinguishes Elvis' from the rest.
Other AXA beach bars tend to alternate their big theme nights in a sort of communal sharing of the party crowd. Elvis, though, always stays open the latest. It's the after-party headquarters for those who want to keep the party going.
Maybe you want one last Carib. Maybe a nice nightcap of rum. Or maybe you're keen on sipping something extra special…
Elvis' Crucian MamaWanna Stash
Indeed, Elvis serves a unique drink that makes his place extra special to me: Norma's homemade MamaWanna bush rum from St. Croix!
If you know the Jungle Bar (real name: Mt. Pellier Domino Club), home to the famous beer-drinking pigs located in the heart of the "rain forest" on St. Croix's west end, then you know this MamaWanna is some strong stuff! Norma's been pouring it at the Jungle Bar ever since I can remember.
(Editor's note: Sadly, Miss Norma passed away in June 2021. Her fab MamaWanna, though, lives on!)
When Elvis got set to open his bar in Sandy Ground, his business partner remembered Norma's potent concoction too.
Elvis told me his partner, who once lived in St. Croix, initially brought bottles of MamaWanna to Anguilla for the bar. It's been such a hit, though, that they've had problems keeping up with demand!
Enjoying a truly special taste of St. Croix at one of the coolest bars on any beach just makes liming at Elvis' Beach Bar all the more special.
Elvis' Hours of Operation
Elvis' is open every day, except Tuesdays. There's often live music on weekends, lunch is served from noon to 3:00 pm, and dinner can be had between 5PM and 1AM.
Drinks, of course, are generally poured much later than that…
Related Posts