Enjoy Affordable and Authentic Anguilla at The Anacaona Hotel
This property is closed.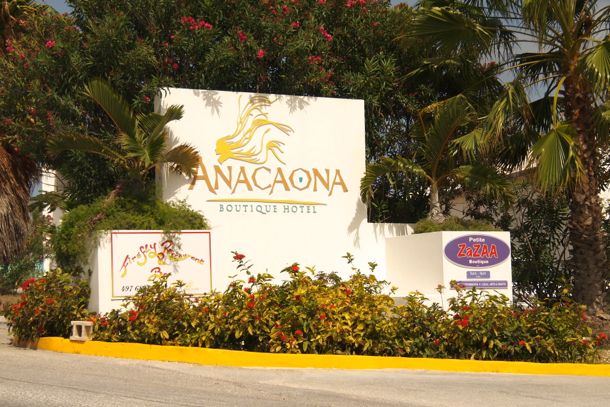 Anguilla carries a well-earned reputation as one of the Caribbean's premier luxury destinations, a notion we've done little to dispel in our posts touting recent visits to The CuisinArt Golf Resort & Spa, Viceroy Anguilla and the unbelievably posh Ani Villas. Celebrity sightings here are frequent, be they tied to fashion photo shoots, music video productions, or just plain vacation fun, but the whole place isn't all limos, Cristal and private yachts. There's actually quite a number of very nice, affordable hotels in Anguilla that make visiting this swanky island on the cheap pretty easy. Exhibit A: The Anacaona Boutique Hotel.
I stayed here during my trip to Anguilla back in June and I wasn't left wanting for much of the Top Shelf finery found in the island's more elite properties. Anacaona is laid back and local, though stylish and appealing, with a touch of elegance that's readily apparent when you scale the stairs of the Main House to check in here at the lounge…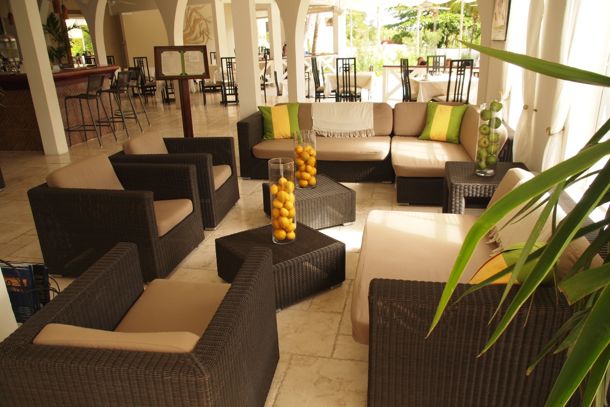 Nothing chintzy here. Just a nice, contemporary West Indian motif. Comfy. Artsy. Nice.
This level of refinement extends throughout the property's 27 rooms, suites and common areas, blending furniture, art and accents in earth tones with Mediterranean-inspired architecture all set amid lush, yet well-kempt, tropical surroundings.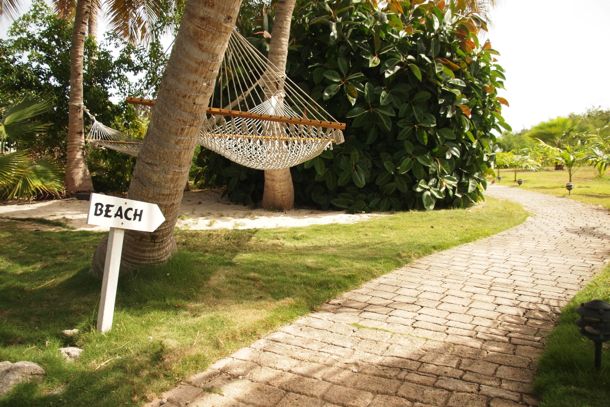 As you can gather from the photo above, The Anacaona doesn't sit directly on the beach. A five minute walk down this tidy path, though, will take you to one of the finest stretches of sand and sea anywhere on the planet: Meads Bay.
Anacaona also offers two pools, one just a few steps from the beach. The other is up at the Main House right next to the Fire Fly Restaurant. A favorite among guests, locals and even visitors staying at other hotels, Fire Fly is renowned for its generous portions and fusion of authentic Caribbean cuisine with European and Asian influences. Personally, I HIGHLY recommend the Conch and Pumpkin Soup and the Grilled Mahi-Mahi. And definitely don't skip the Johnny Cakes, which they serve with just about everything.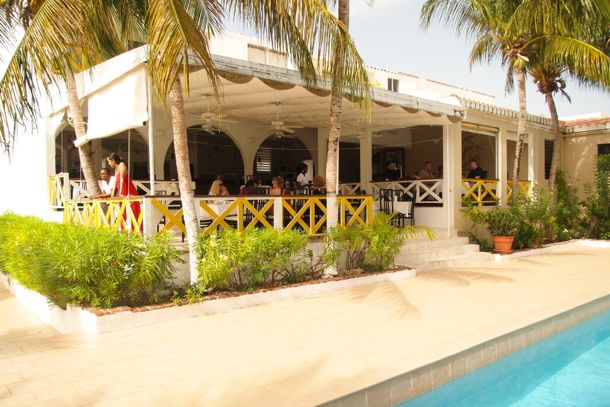 The drinks served at the bar here are another big attraction. I'm not sure that I've ever seen a more extensive list of inventive cocktails on any of my travels. All the cocktails are arranged under various "For Those Who Are" categories, with the "For Those Who Are Romantic" drinks carrying some racy names, and reputedly even racier consequences for those who imbibe…
Thursday nights, in particular, are not-to-be-missed here as Fire Fly hosts lively weekly performances by Mayoumba, a local folkloric theater company that's been entertaining visitors to Anguilla for more than 25 years.
The Mayoumba performances are a part of the hotel's commitment to serving as an informal cultural center, keeping Anguilla's authentic island traditions alive. Other events feature local artists leading guests in painting sessions, or historians providing visual presentations on various aspects of Anguilla's heritage. As noted in the hotel's promotional materials:
The aim is to create a sense of being part of an island community.
I'd say Anacaona pulls this, and everything else it has to offer, off beautifully, especially when you consider the price. Nightly room rates based on double occupancy start at just $150 for much of 2012, with prices set to climb an additional $10 next year.
Related Posts