Malliouhana, Anguilla: Time Travel Through Tropical Luxury
Let's say you could somehow build a time machine. What if you traveled back to the 1950s and pilfered the trendiest designs from the hottest resorts of the Caribbean, sub-Saharan Africa, Florida, and all across the tropics? What if you then combined these classic takes on the still exotic tropics with the sleekest lines of today's hippest hotels? And finally, what if you then placed this fusion of past and present on a cliff overlooking one of the most beautiful beaches in the Caribbean? Well, you'd end up with something like the newly reopened Malliouhana.
And somehow, it'd be magic
Of course, all this magic didn't just happen by accident (or actual time travel). Originally launched in 1984, Malliouhana spent the better part of 30 years putting little Anguilla on the map for those with a taste for European luxury (albeit in a decidedly non-European destination). And when I say "luxury," I mean French porcelain, crystal goblets, fine silver, nearly 100 pages of the priciest French wines, and on and on. The resort even had a 40-foot luxury motor boat, The Dakota, for guests to enjoy sunsets at sea. At that initial launch, the L.A. Times had this to say:
The hotel is classy, unmistakably sensual and unquestionably expensive
But that was then. Today, discerning travelers don't visit the Caribbean to experience Europe. Today, travelers are looking for something more authentic to the region. Great for us here at Uncommon Caribbean. Not so great for the venerable Malliouhana. So, back in 2011, that property closed its doors for good…
Enter Auberge Resorts, a collection of boutique, high-end hotel properties. Seeing an opportunity to raise this once beautiful beacon of luxury from the ashes, they spent 18 months and more than $80-million renovating this classic Caribbean gem into an amazing amalgam of what was, what perhaps was only ever imagined, and what could have been.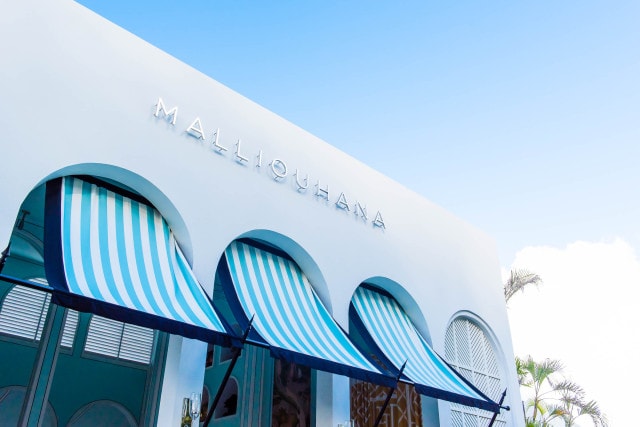 The decor defies characterization. The unique experience started the moment I walked through a streamlined entryway seemingly plucked straight from Miami's South Beach that opened up to a wall of beautifully restored antique dive helmets just beyond.
In my room, old-world representations of African animals frolicking beneath mango trees played out across enormous triptychs lit by glass-wrapped metal lamps fresh out of the 50's.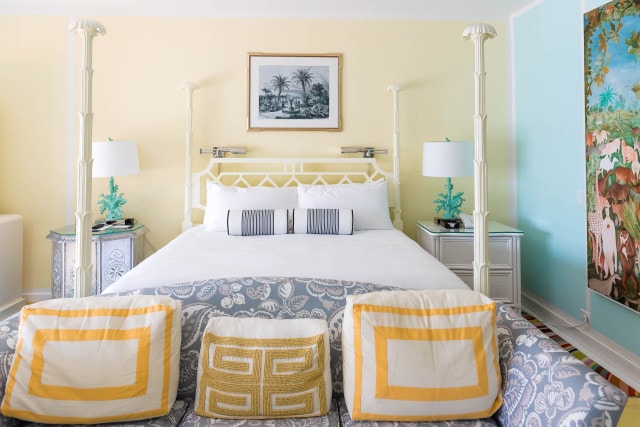 At first glance, my room's mirror appeared vintage, but with the push of a button, a flatscreen TV came to life behind its one-way glass.
And my veranda's retro-futuristic, bright orange, individual hammocks begged me to investigate their comfort levels. Next to them were hand-woven wicker baskets… Perfect for keeping cocktails within easy reach.
Little temporal mashups like these are everywhere. Some are obvious, while others took me a couple passes to fully appreciate.
Stepped pools steeped in modern design
Malliouhana's two elegant pools form steps climbing up directly from the cliff face. Both are crafted from clean lines and sharp corners, but then, like the interiors, the pools also sport fun retro touches in the shape of frills, stripes, and more.
Surrounded by bright yellow umbrellas and well-appointed lounge chairs, the bottom pool is fed by a cascading waterfall from the upper before disappearing off into the blue-green Caribbean Sea.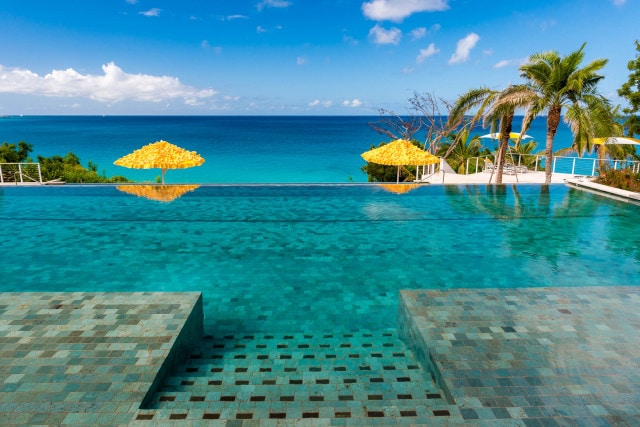 The upper pool is bordered by a line of cabanas sporting retro Riviera-style blue stripes, comfy beds, and most importantly, privacy. It should be no wonder, then, that I parked myself in one of these cabanas as my first order of business… Then stayed right there until the sun appeared to set right into the pool—going for a dip in a blaze of glory.
Soak in seclusion at Malliouhana
I like to rise with the sun and head to the shore when in the islands, but normally that doesn't include finding a set of stairs off my veranda leading down to a tiny slice of paradise.
Technically part of Meads Bay, Malliouhana hovers above a little patch of sand almost completely cut off by rocks protruding into the surf. Sure there are some worn steps bisecting the break, but I never saw them get any use—making this my private morning masterpiece.
Shh, don't tell anyone.
Above, million-dollar glamour awaits, but for now, simply sip your coffee on the steps, listen to the sea birds picking their breakfast from the sea, and start your day as visitors did in the '50s and islanders have been doing for as long as we can imagine.
Fresh, fantastic fusion of flavors
Classic Eggs Benedict comes together with local spiny lobster, local spinach, Jamaican jerk spiced Hollandaise, chayote and jicama salad at breakfast.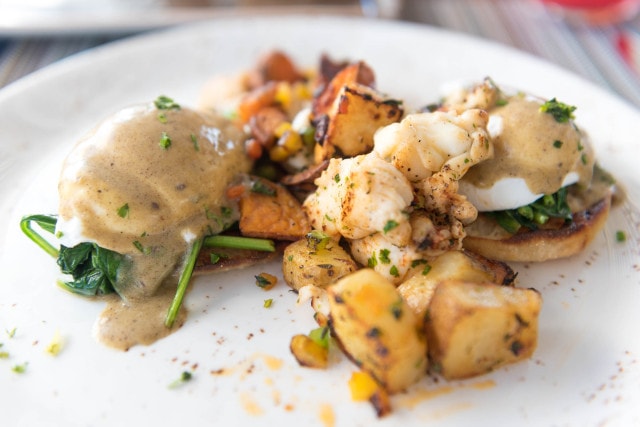 Red snapper crudo is joined by mango, jalapeño, avocado, kaffir lime, and basmati crisps for lunch.
While at dinner my favorite first course was a housemade curried local goat sausage, whipped banana, and sweet potato, with kale basmati "rice & peas," and ginger. I followed that up with squid ink garganelli graced with scotch bonnet, sweet corn, tomato, spiny lobster, and sea urchin butter.
As you can see, this is no longer the exclusive domain of classic French cuisine. Everything is incredibly fresh. All ingredients change with the season. And the result is a sea-to-table sensation that never forgets exactly where you're sitting while you dine… But isn't afraid to make a couple of long distance calls to craft the unexpected.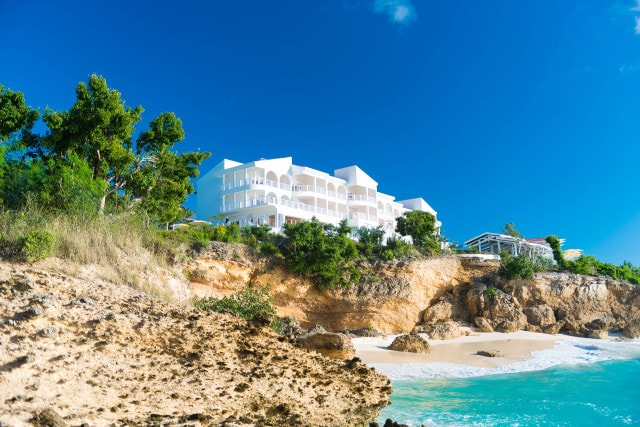 Classy and unmistakably sensual
So, how does the new Malliouhana compare to its older incarnation? Well, in my opinion, running down your checklist of then and now is a fool's errand.
The new Malliouhana is truly a magical experience where every moment hides delightful combinations of Caribbean authenticity and flights of fancy. They're behind the brightly colored fruit print drapes, waiting for guests on the white sands of the resorts several secluded beaches, served on ice in imaginative cocktails, and featured without note or fanfare on a mouthwatering menu.
The real question is whether the new Malliouhana is still "classy and unmistakably sensual."
And the answer to that is a resounding "yes."
Nights start at $925 with complimentary daily continental breakfast buffet.
Related Posts