Nevaeh Anguilla – Checking Into Heaven on Earth
How do you define luxury? For some, it's all about price. Others place the emphasis on exclusivity. Still others focus squarely on service and pampering. To be sure, that which qualifies something among the finer things in life varies greatly according to individual tastes. In the world of travel hospitality, no one boutique hotel, resort, or private villa could possibly fit everyone's definition of luxury. Nevaeh Anguilla, though, comes awfully close.
Nestled along the most secluded stretch of singularly-sweet Long Bay in northwestern Anguilla, this luxury villa is everything that its name (a backwards play on "heaven") hints that it is.
Referring to Nevaeh as a "luxury villa," though, actually sells it short in many ways. The sprawling nature of the place, its collection of structures, available activities, amenities, etc. give Nevaeh more of a private compound, or luxury seaside estate feel.
At the same time, though: Nevaeh Anguilla is anything but stuffy or pretentious. When I arrived here back in September 2021, I actually felt like I was coming home.
I had never visited Nevaeh, of course. In its style and airy surrounds, though, the place just emits a welcoming vibe. You literally feel at home the moment you set foot on the property.
Actually, it might be more appropriate to say that you feel right at homes, plural, as Nevaeh consists of nine guest rooms spread among three entirely separate structures.
Nevaeh Anguilla Main House
The Main House is the center of the action at Nevaeh. One of the big reasons why is that it's right down on the beach.
It's just a quick stroll through carefully manicured gardens, teeming with hummingbirds, to the shore.
The Main House is also home to a fantastic combination infinity edge pool/grotto/Jacuzzi set up custom built to please everyone.
One Very Cool Pool for Everyone
State-of-the-art in every way, the heated pool at Nevaeh is filled with saltwater. This, of course, is easier on your skin and eyes. Also, I'm sure you won't miss that chlorine smell, right?
The lack of chlorine, though, isn't the only way that this pool is easy on the eyes.
Handcrafted aqua-blue glass tiles are featured throughout. This enables the pool to glisten both atop and below the water's surface. Indeed, this is one pool that's as pleasing to look at as it is to dip into.
Or, in the case of fun-loving kids, jump into! A faux rock outcropping/waterfall at the pool's edge makes an ideal launching point. I could imagine my young nephews spending hours jumping from atop the waterfall into the lower pool below.
Directly beneath the waterfall, a secret grotto makes for more imaginative childhood fun.
As I mentioned, though, this pool set up really is for everyone. There's even a "wet ramp" leading to the Jacuzzi, making wheelchair access to the soothing jets easy.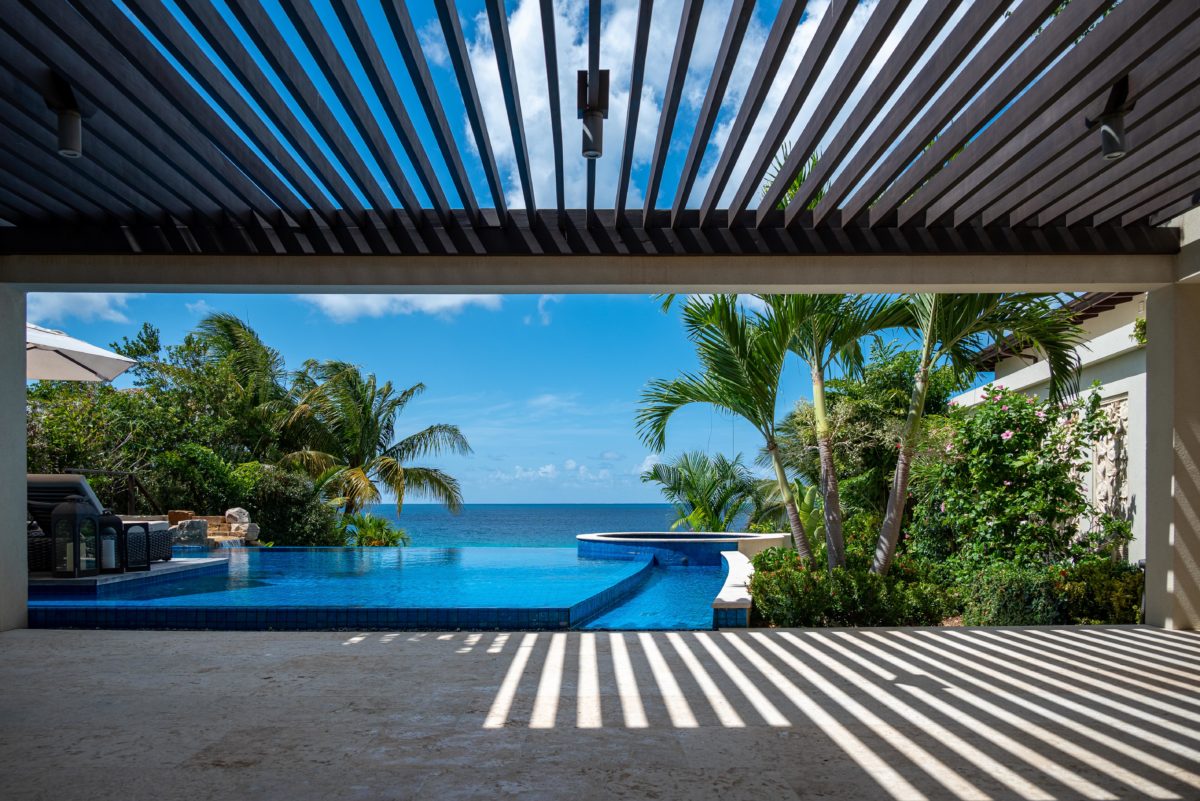 Nevaeh Anguilla Main House Guest Rooms
Five guest rooms are spread throughout the Main House. This includes the Master Suite, known as Diamond. This luxury oasis within a luxury oasis has its very own heated plunge pool and an expansive bathroom/outdoor shower that is its own private heaven unto itself.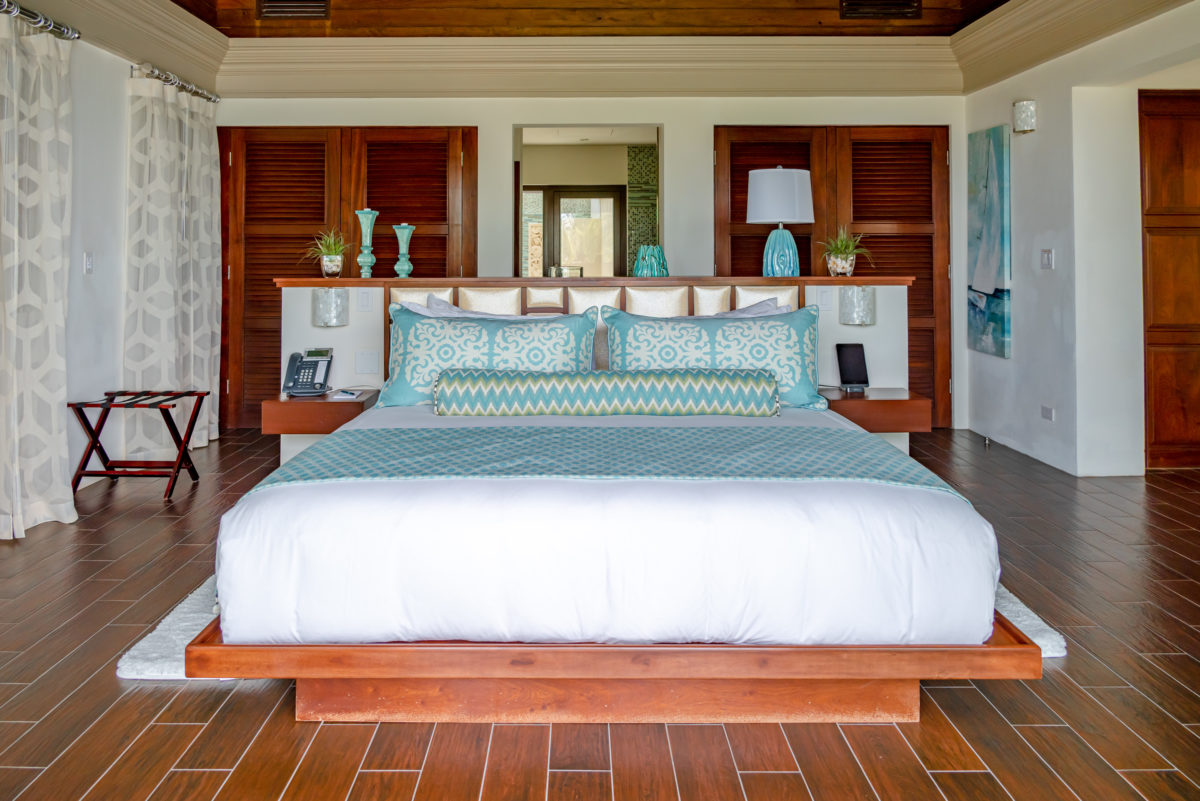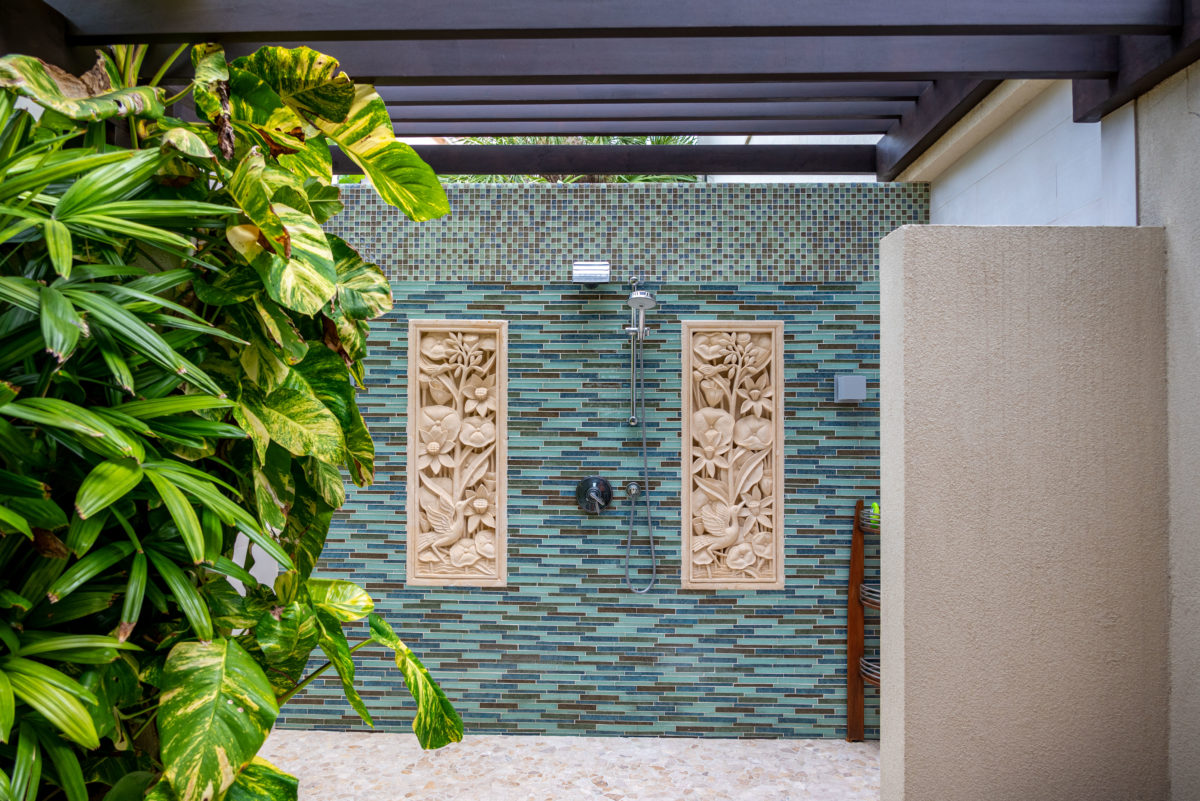 Diamond, though, isn't the only guest suite at Nevaeh that's equipped with an outdoor shower. There's a second one upstairs within the Aquamarine Suite. This unit, along with the Emerald Suite, also upstairs, offers the best sea views at Nevaeh.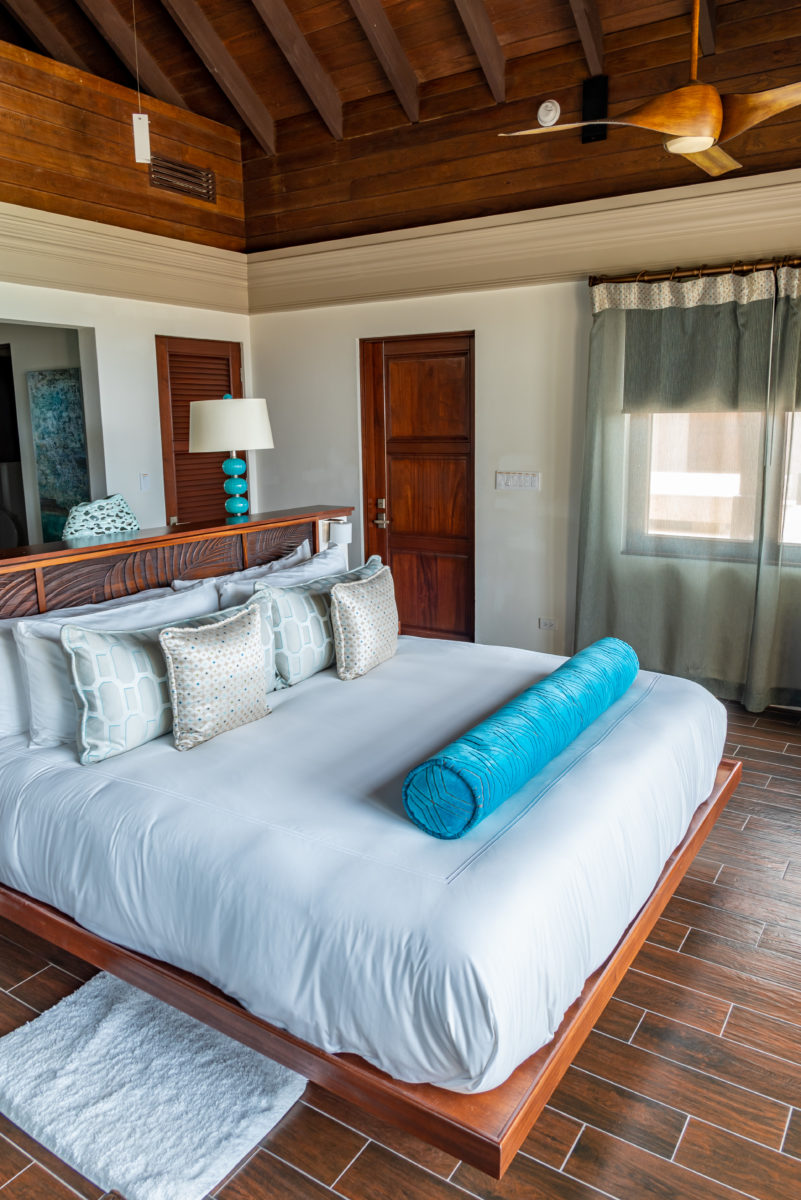 Back downstairs, on either side of an interior courtyard within the Main House, are two additional guest rooms: Sapphire and Ruby.
Offering courtyard views and decor that's a bit more on the wild side, these rooms would be ideal for my teenage kids.
The Cedar Wood Spice of Life
As you may have gleaned from the guest room shots above, there's a lot of variety baked into all of the accommodations at Nevaeh. All are stylish and packed with pampered comforts, though they're all distinctive in their own special ways. None more so than the cedar-planked surrounds of the Coral Cabana.
This freestanding one-bedroom/one-bath unit smacks more of a ski lodge than a tropical bungalow. At least in its interior aesthetics.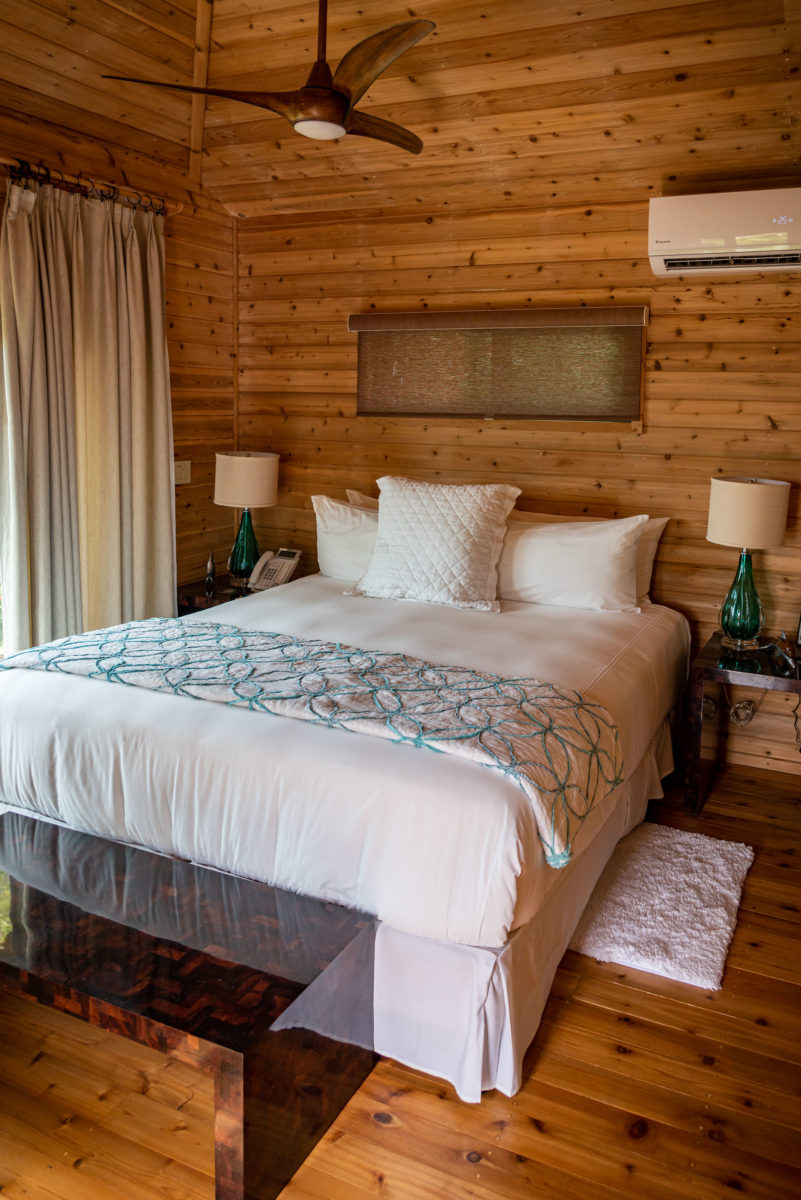 This place is wall-to-wall and floor-to-ceiling cedar, with a wood deck wrapping around the west and north walls of the cottage to boot!
Nevaeh Anguilla Guest House
Just up the hill from Coral Cabana, the Nevaeh Guest House offers even more variety.
The Master Guest House Suite, Topaz, is nicknamed "The Library." Rich mahogany shelves hold an array of books, board games, and puzzles, inviting hours of relaxation and fun. So, too, does the Topaz terrace, which offers elevated sea and garden views.
A second eat-in gourmet kitchen, albeit a bit smaller than the one in the Main House, sits just across the breezeway from Topaz. Downstairs, two more guest rooms – Pearl and Jade – are each outfitted with two queen beds, another perfect set up for kids.
Also downstairs at the Guest House, a movie theater with leather recliner seating for nine. A separate room right next to the theater houses a golf simulator, allowing guests to play hundreds of different courses around the world.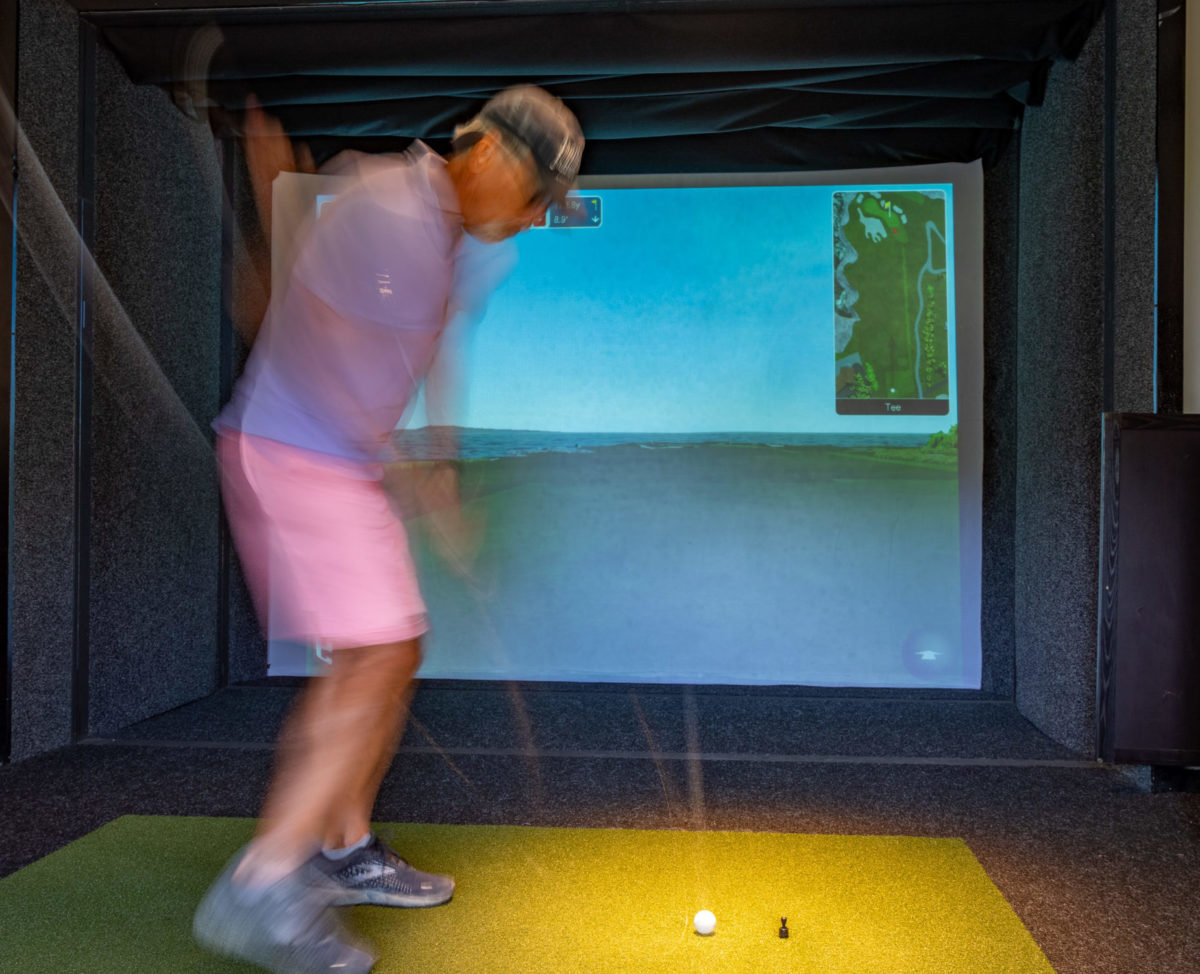 Games, Games, Games, and More Games!
Golf not your game? No worries. Nevaeh has all of the beach toys you could want. Kayaks, stand-up paddle boards, snorkel gear, sea scooters, sea sleds – all are available.
They even just added Peloton exercise bikes to the amenities on offer at the Guest House.
Oh, and there's also a fitness center beneath the Diamond Master Suite and this combination tennis/basketball court…
So yeah, Nevaeh Anguilla is plenty posh. It's also got loads of fun amenities to keep you busy and fit, and its secluded beachfront location cannot be beat. All of that is great, but none of it is what really sets this place apart from a luxury standpoint to me.
The Nevaeh Luxury Difference
You see, my definition of luxury is all about service. It's about the people who work at a "luxury" establishment. They're the ones that truly make or break your experience; that truly make the magic.
On that score, I'd have to say that Nevaeh Anguilla is the most luxurious place I've ever stayed because of their incredible staff led by Winston Jones.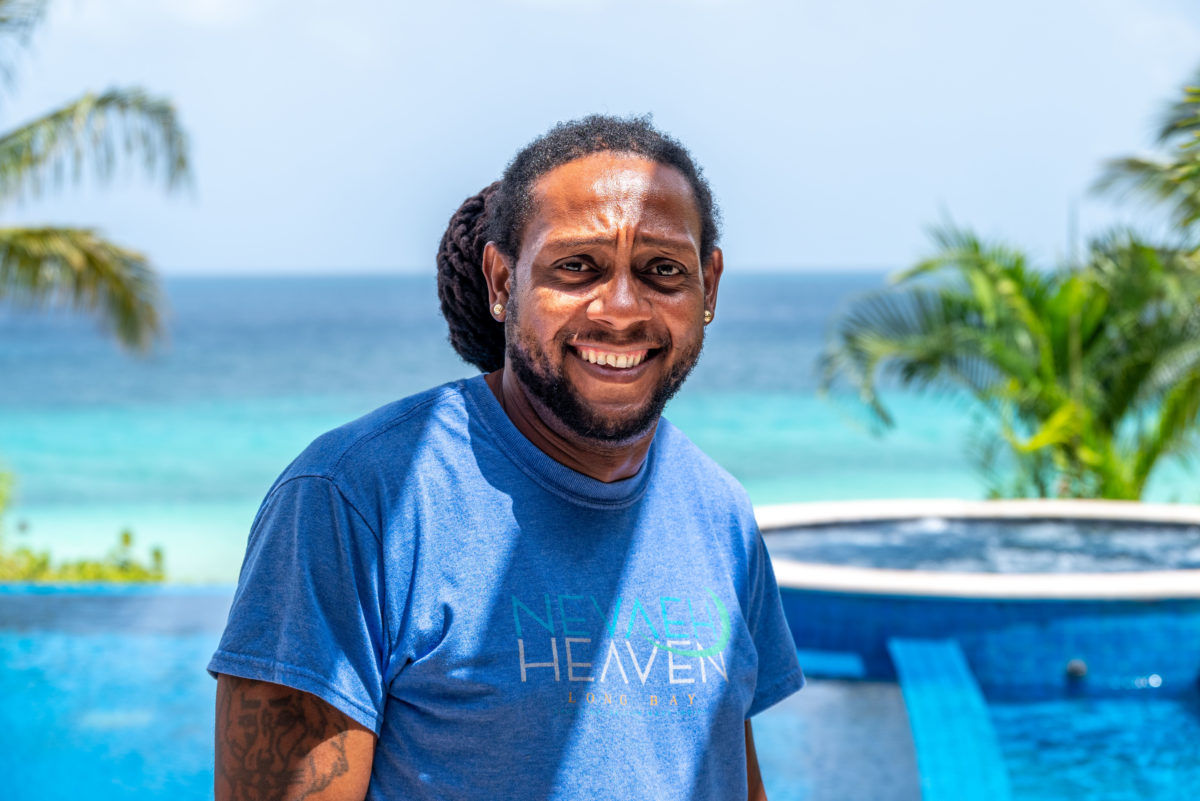 Winston and his crew made me feel like a millionaire during my stay at Nevaeh. More than that, he also introduced me to many different aspects of the local scene that I likely would've missed if left to my own devices.
We ate coconut bake together from an authentic West Indian stone oven in South Hill Village. We enjoyed a nice lime down on The Strip in The Valley. Winston even endured my persistent need to check the rum/rhum selection at every grocery store in Anguilla.
Now, if that's not a true friend, I don't know what is!
There are lots of fancy places that you can stay at in Anguilla. Without Winston, though, I doubt that the experience will be as special as what you'll find at Nevaeh.
For more on this special place, please sure to visit Nevaeh Anguilla online and follow them on Facebook.
Related Posts