Pear's Bar for Killing Time (and Travel Stress) on Anguilla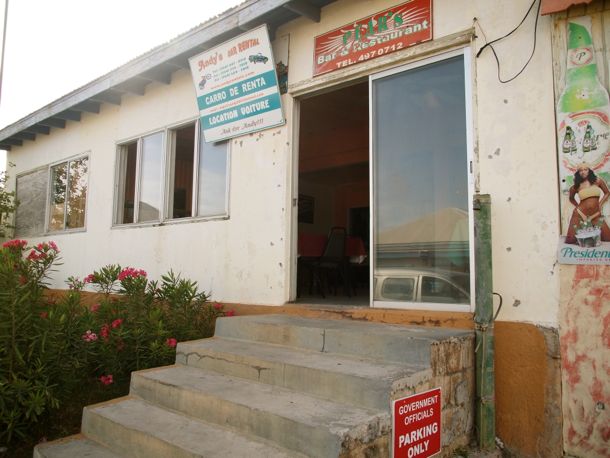 Stress. We all run off to the Caribbean to escape it. At the same time, we stress ourselves out rushing to get on Island Time.
Yes, a lot about modern-day travel sucks, but there's much to be gained from easing your way into your next Caribbean destination, especially if that destination is Anguilla and you arrive by boat at Blowing Point. That's where you'll find Pear's Bar.
I was forced to de-stress at Pear's immediately upon clearing Customs at Blowing Point when I met my pre-arranged taxi driver and he uttered the two words you rarely want to hear while traveling in the Caribbean:
You're early!
I had heard those words before… I knew what it meant… I'd have to wait.
Pear's is about the first thing you see when emerging from the small terminal at Blowing Point, so naturally, I sauntered up the steps. Within minutes this island boy felt right at home…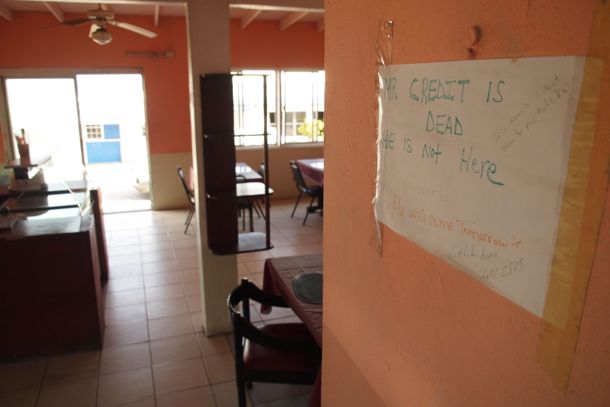 As you can see, there's nothing fancy about Pear's. Simple tables, simple chairs… a funny handwritten sign scotch-taped to the wall…
I settled down at the bar. A local radio program offered a trivia game for the listeners. The question, repeated frequently over some sweet calypso: How many people are employed by the Department of Corrections? If I closed my eyes and forgot where I was, I might've thought I was listening to WSTX during my childhood years back home in St. Croix. My travel stress began to melt away amid the endless stream of incorrect answers.
Behind the bar, the Carib Beers were cold, the service: welcoming, friendly and capable of much more than simply feeding folks and quenching thirsts.
You see, Pear's is also the home of Andy's Car Rental, a local outfit offering slightly dinged island cars for some of the lowest prices on Anguilla ($35/day when I visited). There also appeared to be a water sports concession of some kind (turns out Andy runs that too), though I didn't get a chance to ask about it. That's because I was distracted with the view…
…that rooster, who seemed to enjoy dodging cars as they came through the parking area, and a nice lady visiting Anguilla for a weekend wedding from her home in St. Maarten.
It's easy to strike up a conversation at an authentic local bar like Pear's – even easier when you realize that the person you're speaking with lived for some time on the island where you're from. We could've talked for hours about the St. Croix we both knew pre-Hurricane Hugo, her high school experience at Central High vs mine at Country Day and on and on and on. By the time my driver returned to collect me, I didn't want to leave… but my stress was already long gone.
Pear's is one of several bars and restaurants that line Blowing Point Road. If you come into Anguilla via the Blowing Point Ferry from St. Maarten, definitely stop in for a beer on your way to your hotel… whether you're early, or not.
Related Posts