Pyrat Rum XO Reserve: A blend of Nine Caribbean Rums
Last week we told you about a not-so-flavorful rum from an island bursting with tropical spices. This week, we're switching things up by turning our spotlight on a wonderfully tasty blend from an island with very little capacity to produce… well, much of anything. The rum is called Pyrat Rum (pronounced pirate). Pyrat XO Reserve Rum to be exact. And it hails from the island of Anguilla.
First Impressions
Like my experience in Grenada, my one and only stop thus far in Anguilla was extremely brief. Still, this amazing little island left a BIG impression on me. I was literally there for an hour as part of a press tour. We flew in, conducted a press conference at the airport, and left.
Within that hour, though, I enjoyed as much warmth and hospitality as I might've received during an entire week spent someplace else. The people were just that friendly; that welcoming. It truly was wonderful, and I can't wait to go back.
Anguilla and Rum?
Certainly, one of the top things I aim to do when I get back to Anguilla is learn more about how such a marvelously tasty rum ever got to be born in such an ill-equipped place to produce it. I mean, Anguilla is beautiful, offering some of the most picturesque beaches and seascapes anywhere. However, it's not the kind of place you'd ever think could produce anything requiring the type of dynamic agricultural sector necessary for rum production.
For one thing, there isn't a whole lot of land on Anguilla – just 35 square miles to be exact. For another thing, what little land they have is essentially useless from an agricultural perspective.
Anguilla is a very flat coral and limestone island. Only about 35 inches of rainfall here each year. For those keeping score, that's one inch for each square mile… per year! The dry, thin soil and endless sunny days are ideal for those seeking a virtual guarantee on great vacation weather and awesome beaches, not so much for a distiller seeking to produce excellent rum.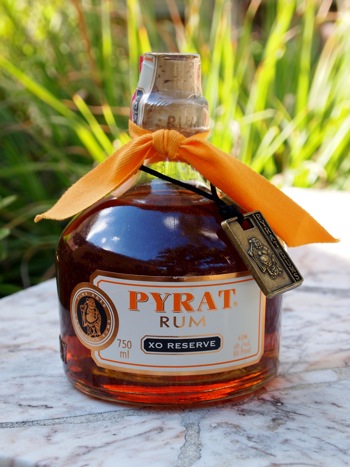 Pyrat Rum
Anyway, I may not know how or why Pyrat came to call Anguilla home, but I'm sure glad they did.
Pyrat is a product of the Patrón Spirits Company, best known for their excellent tequila. Based, as Patrón is, in the desert environs of Las Vegas, Nevada, I guess if anyone can produce a quality spirit without the benefit of rain or arable land it's them. It only takes one sip to know, they pull off the trick masterfully.
Pyrat is just loaded with flavor. Even for an untrained palate like mine, it's easy to detect rich notes of vanilla and cinnamon right from the start. According to the Pyrat label, there's also some honey mixed in. It's all part of Pyrat's unique formula, blending nine different Caribbean aged rums and aging up to 15 years in french limousin oak and American oak barrels to create a truly exceptional rum.
The high quality comes through in everything from the taste, soft and smooth with all those nice flavors; to the hand-written serial number on each bottle; and the bottles themselves, distinctively squat hand-crafted corked decanters consistent with the style used by pirates in the 1800's. To top things off, each bottle is decorated with a Hoti, the zen patron saint, and protector of fortunetellers and bartenders.
So, not only do you get great flavor and a pretty bottle, but you also get a little peace and good luck with each bottle; what's not to like?
Personally, I like my Pyrat neat or on the rocks, though a little cola probably wouldn't be bad either. No matter how you take it, those bold, rich flavors are sure to keep you coming back for more…
Cheers!
Related Posts