Saint Gerard's Catholic Church(es), Anguilla – Uncommon Attraction
Even among Anguilla's surprising assortment of beautifully distinctive churches, Saint Gerard's Catholic Church stands out.
Maritime Motif
The elegant facade resembles three ships pressed together and propped up on their sterns. The maritime motif carries over to the pediments atop each window.
Taken together, the style presents a graceful homage to Anguilla's celebrated seafaring history.
It also very much echoes this…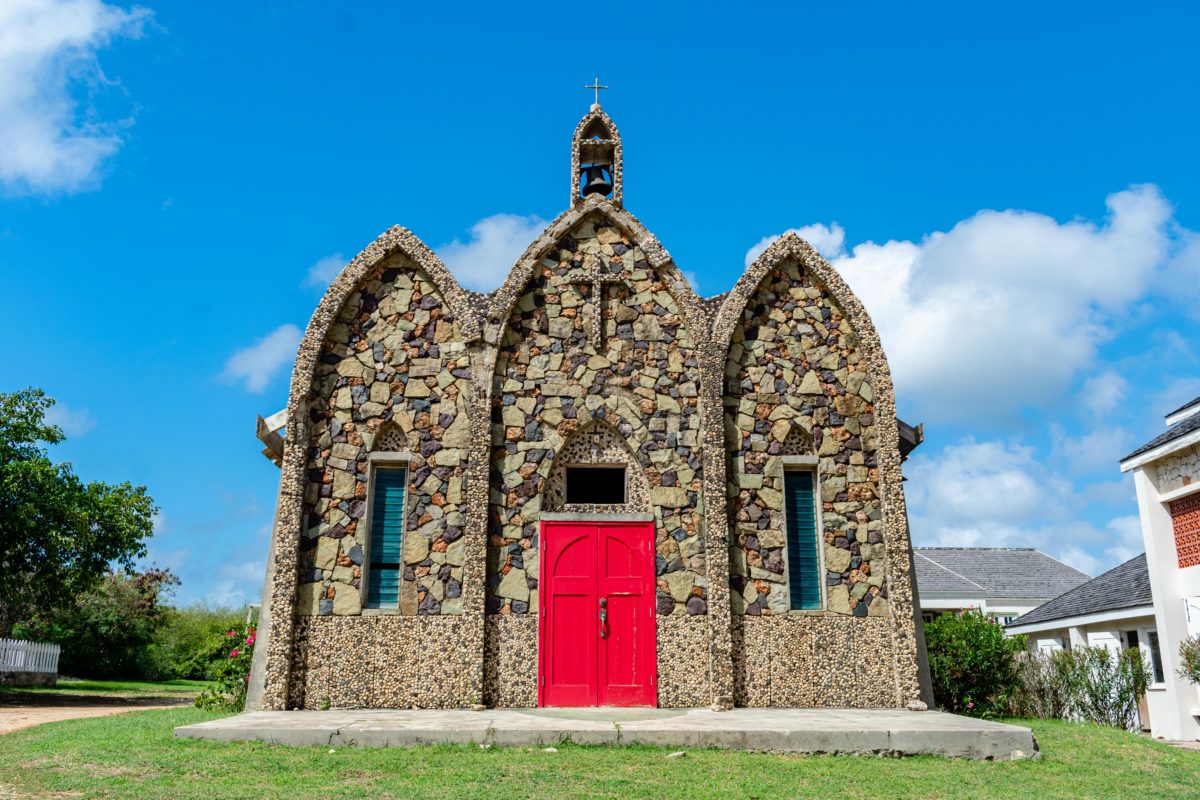 Instagrammable Old Saint Gerard's
This is the previous incarnation of St. Gerard's. Constructed in the mid-1960's, the old Saint Gerard's is positively striking. The myriad of multi-colored stones and scarlet-red entry doors make this church one of the most instagrammable spots in Anguilla.
(The new church is a pretty popular spot for IG adventures as well.)
It's not often that you'll find a church and its predecessor still existing and in use in the Caribbean. More often than not, hurricanes, earthquakes, fires, and other disasters have necessitated the transition from one structure to the next. Such was certainly the case for the original St. Gerard's. That structure, constructed in 1948, was felled by a hurricane in 1961.
In the case of the new Saint Gerard's, though, the move had nothing to do with any kind of disaster. Quite the opposite, in fact.
They built the new one as the congregation grew.
Outgrown, But Not Forgotten
So said Father Xuan Ho, the missionary priest currently leading the flock at Saint Gerard's Catholic Church today. Father Ho told me that the new church was built about 12 years ago, and that the congregation now numbers around 300.
So, what purpose does the old St. Gerard's serve today? (Aside from uncommon photo-ops, that is..?)
The smaller old church is used as a parish center for Sunday School, meetings, and things like that.
Things like that can also include private events too. Even yoga classes.
Your activity must meet church standards, of course. A revival of the sinful 1980s/90s Limelight NYC party scene would not fly here.
To learn what would and for details on attending mass, check in with Saint Gerard's Catholic Church on Facebook, or call 'em at Tel: 264-497-2405.
Both the old and new St. Gerard's Churches are located right next to each other in The Valley, the capital of Anguilla. They are, of course, impossible to miss.
Related Posts