Uncle Ernie's Beach Bar: The Legend Continues on Shoal Bay, Anguilla
Legends never die. For the people who embody them, of course, it's another story. When beloved personalities like Anguilla's Uncle Ernie pass on, leaving the institutions they've built to carry on under the care and guidance of others, it always raises the question: Is it still any good?
I never met Ernie Benjamin Harrigan, but I'd heard of his breezy little beach bar on Shoal Bay East for years. Uncle Ernie's Shoal Bay Beach Bar, as it's officially known, opened in 1984, a time when tourism was just getting started in Anguilla.
There was no electricity out at Shoal Bay East in those days, so the scant few beach bars (shacks, really) ran on generators. Food was prepared on BBQ grills. Beers were kept cool over ice. The only access road was a mess of car-eating potholes. Uncle Ernie's itself was a simple wooden hut with a couple of plastic tables and a few chairs in the sand.
And so the legend began, Uncle Ernie's humble shack gaining in popularity and growing in size as more and more of the world caught on to Anguilla's wonders. Luxury resorts and villas on a scale not seen before in the Caribbean came online, the island growing into the most exclusive tropical playground for the Jetset this side of St. Barts.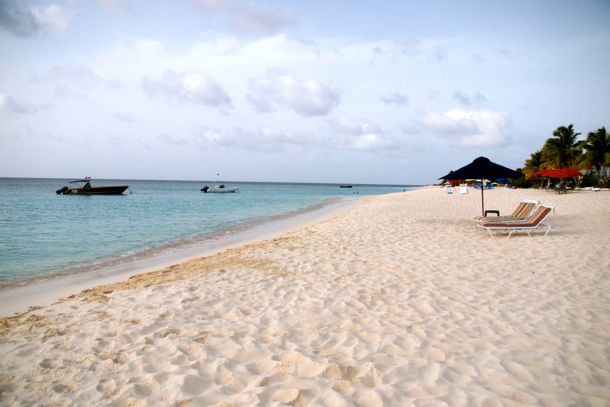 For his part, Uncle Ernie continued to keep things simple, maintaining the low prices/strong rum punch combo that had drawn crowds of locals and visitors alike since the early generator days. No matter who you were, where you came from, or where you stayed on-island, Uncle Ernie's would eventually become your preferred Anguilla hangout, the relaxed family atmosphere, and warm service – plus those cheap eats and strong drinks – always drawing you back.
Or at least so I've heard. Like I said above, I missed out on the heyday here. Uncle Ernie passed away in 2007 at the age of 89. So when I arrived here last June, I wasn't quite sure what to expect. Would the vibe be the same? How could I know for sure, having never been there before?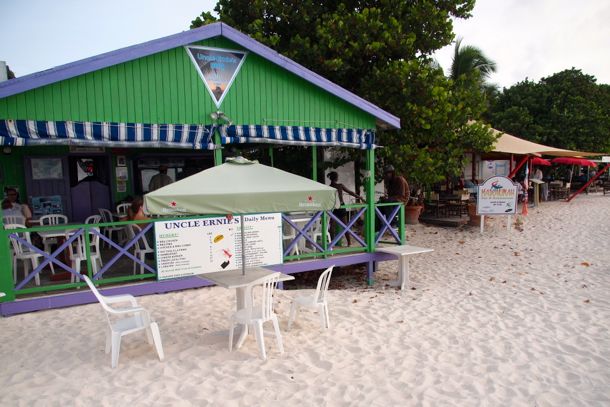 It was late on a Sunday afternoon. A few lazy stragglers lingered on the beach. On the patio at Uncle Ernie's sat one lonely couple. For him, a Carib; for her, Coors Light. The loudest sounds, the waves lapping at the shore a few yards away. Yeah, it was that quiet.
Considering the date and time of day, I was sure I wasn't getting the full Uncle Ernie's treatment. The bar's long-held tradition of live music on Sundays remains, so certainly, the party must've been pretty good here just a few hours earlier, right?
I had missed it and my chance to give Ernie's a fair shot. Or, at least so I thought…
I ordered a rum punch, sat down and stared out at the fading light dancing on the sand, the sea.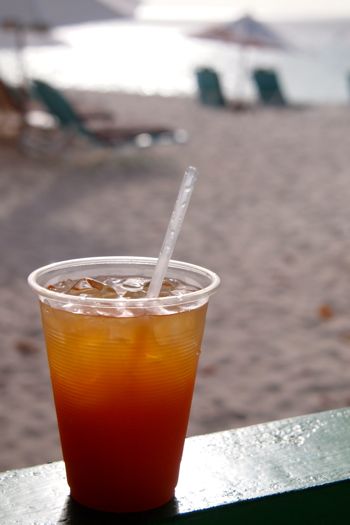 It was 5:47 pm. The bar closes daily at 6 pm. No one rushed me out.
My drink, super-strong as advertised.
I looked at the menu. BBQ Chicken, $6. Hot dog a la Ernie, $5. Hamburger, $6. My rum punch, $4.
I looked out at the beach again. Had I ever seen sand so white, so soft and pristine?
Low prices, strong drinks, amazing beach location… the legend continues…
Uncle Ernie's is open every day from 10 am to 6 pm. If you're going to Shoal Bay East, you can't miss it, literally, as it sits right on the sand at the public entrance to the beach. For more info, visit Uncle Ernie's online.
Related Posts