Bambu White Rum: Perfect Your Rum Drinks if You Prefer Vodka
This is Bambu White Rum from Antigua, and if you're as partial to vodka as my wife is, it's the rum for you.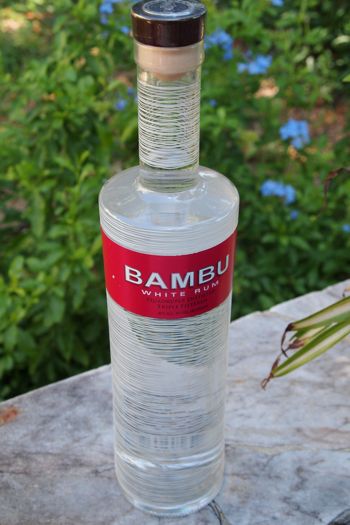 My wife doesn't like rum.
Sad, shocking, but true.
It wouldn't be fair to say she hates the stuff like poison. No, better to say that she just plain doesn't like the stuff, period. (No need to draw poor, old, innocent poison into this.)
Her preferred spirit of choice: vodka.
Nothing wrong with that, though as a native West Indian proud of my home region's rum heritage, I've always wanted to find a blend that would suit her taste. I tried everything from spiced rums and flavored blends, to top-shelf favorites and reliable, old stand-by's, but nothing worked for her.
Then, earlier this year, I stumbled upon the skinny, striped bottle pictured above.
Bambu White Rum
Bambu is the brainchild of David Kanbar, nephew to Maurice Kanbar, the man who founded Skyy Vodka. As the story goes, David aimed to fill the void in the premium spirits market for a white rum that wasn't overly harsh, but still retained those tell-tale bold, rich flavors that appeal to us rum-lovers.
His muse: his wife.
It seems that David's wife, like mine, was also none too keen on rum. More to the point, she wasn't keen on the headaches she would always get after consuming a few rum cocktails. Drawing upon his experience in distilling vodka, David set out to craft a rum free of headache-inducing impurities that his wife would also love.
I don't know what David's wife thinks, but my vodka-loving wife gives Bambu two enthusiastic thumbs up!
Why? Well, because it's just like vodka!
The Bambu White Rum Difference
Bambu is the only rum in the world that is quadruple distilled and tripled filtered in the same fashion used to make super-premium vodkas. The flavor is clean and neat, with no hints of the rubbing alcohol medicinal taste often associated with white rums. There's definitely some nice rum flavor (maybe a little vanilla too), the presence of which is no easy trick.
You see, when Davis and Co. initially tried to produce Bambu in mass, they found that the quadruple distillation, triple filtered method stripped all the flavor out of the rum. To get it right, Bambu is produced in small batches, slow-filtered one gallon at a time.
The result is a fine white rum, that though brimming with complex flavor, still leans decidedly more toward vodka to me. Not necessarily my cup of tea, but perfect for the wife, or anyone else who prefers vodka.
Skal!
Related Posts