Antigua Black Pineapple Taste The World's Sweetest Pineapple
The Antigua Black Pineapple, or just Antigua Black for short—I got my first taste of 'em minutes after I checked into my comfy hillside hideaway at the posh Sugar Ridge hotel on Antigua's sleepy West Coast.
Sugar Ridge stretches up a rather steep hill, affording guests staying in the very highest guestrooms (I was in unit 60) with fantastic panoramic views of Jolly Harbour, the surrounding seascape, a few islets, and the daily passing boat traffic. It was pretty hot when I arrived, making a tasty in-room amenity of chilled and sliced Antigua Black Pineapple a most welcome treat indeed!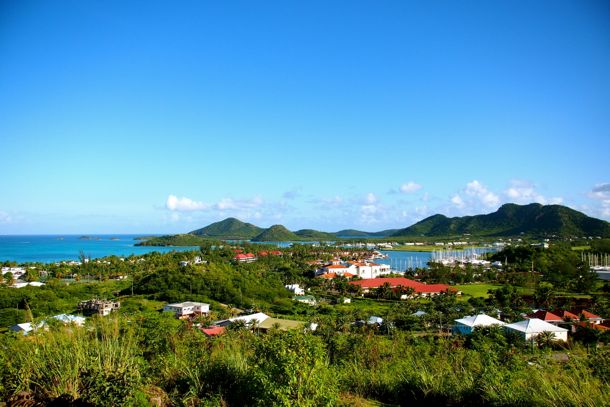 As I sat in my private plunge pool staring out at this view while munching on my pineapple treat, I tried to recall a better first impression of any hotel I'd experienced lately…
I could not.
Incredible view and nice room aside, I was pretty sure I'd feel special eating Antigua Black most anywhere. Little did I know, I'd soon have a chance to put that notion to the test…
About the Antigua Black Pineapple
But, before I get into that, let's talk more about these special fruits…
I had long heard that they were the sweetest pineapples in the world, and after a taste or two, I was not prepared to argue. Unlike the pineapples we eat most everywhere else in the world, black pineapple fruit is more golden in color. The flavor is also very crisp and low on the acid, which when combined with the amped-up sweetness makes 'em very refreshing and invigorating.
People in Antigua and Barbuda have been reaping the benefits of this special fruit since the earliest days of human settlement on the island. It's said that Arawak Indians brought the first pineapples to Antigua's shores more than 1,000 years ago. Upon cultivation in the island's unique environment, these early pineapples soon adopted the distinctive flavor, appearance, and make-up of the Antigua Black we know today.
So, what makes the Antigua Black Pineapple so perfectly sweet?
Some say it's the unique combination of Antigua's rich soil and just the right amount of rainfall – not so much that the sweetness gets watered down, but plenty enough so that it shines. I had hoped to get the full story at the Cades Bay Agricultural Station, but unfortunately, they were closed when I stopped by.
Still, it was no problem finding and enjoying Antigua Black Pineapples at Sugar Ridge and at various roadside stands like this one…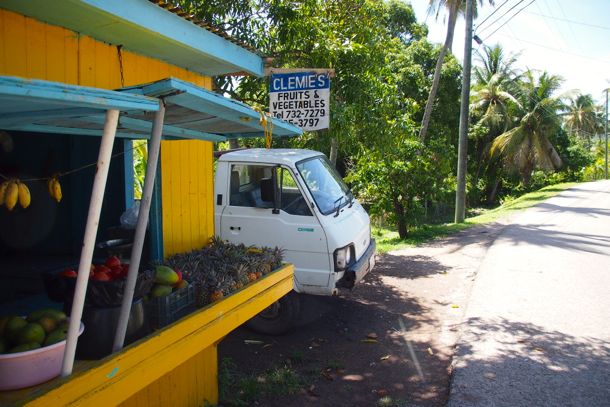 Clemie's Fruit Stand
Clemie's is so roadside that there's barely any space to pull over and park. The namesake proprietor lives directly across the street, where she grows most everything that she sells. Clemie had all manner of tropical fruits and vegetables when I arrived, but the pineapples, she said, were her specialty.
Most of the available stock Clemie had on-hand during my mid-August visit was pretty small, but she assured me that the Antigua Black can get much bigger. Unlike the longer, thin slices served on a fancy platter back at Sugar Ridge, Clemie's Antigua Black Pineapples came in chunks that I watched her cut and stuff into a small styrofoam container. My utensils: toothpicks.
There were no pretty islets in view; no passing boats to tickle my fancy; no plunge pool to cool me off… Just the road, a gentle breeze, some smiles among new friends, and the sweetest pineapple in the world offering a flavor experience as rich as the one back at my posh digs.
Yeah, I knew then that I'd feel special eating Antigua Black most anywhere. I also knew that I wouldn't trade the two places I was lucky enough to enjoy my first tastes…
Related Posts