Bushy's 1 & 9 Best Matured Rum from Antigua
Rare, celebrated, hand-crafted, unique, unattainable – all words music to the ears of connoisseurial rum collectors. For them, price and purview are of little concern once a special blend – one that very few possess or could ever even hope to get their hands on – comes into view. They stop at nothing to make theirs the most uncommon rum collection around, which is why I'm not opening the bottle of Bushy's 1 & 9 Best Matured Rum that I purchased in Antigua last summer.
Even if you've been to Antigua many times, it's likely that you've never heard of this stuff. At least not by the name printed on the label. No one calls it that.
The name you may know is Bushy's Best Matured Rum, or Bushy's, or, if you're really in tune with the local scene, simply 1 and 9, a reference to the paltry pound sterling price some of this used to fetch. The man behind the blend: John Gonçalves, better known as Bushy.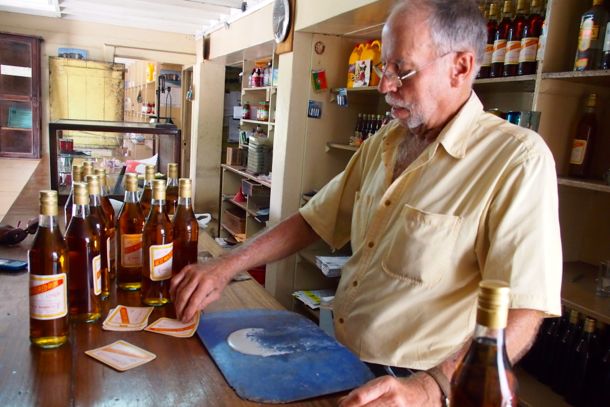 Originally from Madeira, Bushy was brought to Antigua by his uncle in 1956 when he was all of 11 years old. The family had a variety of business concerns on the island, including a general store/post office and gas station located directly across the street from each other in the small village of Bolans.
They also dabbled in rum.
Not just any rum either. Most people I talked to around the island agreed that 1 and 9 has been the local rum of choice in much of Antigua for as long as they could remember. The price, about US$8 for a bottle, had something to do with it, no doubt, but 1 and 9's quality is a factor as well since it far surpassed the small dent to your pocketbook.
Starting with a base of overproof obtained from Antigua Distillers Ltd., 1 and 9 became its celebrated self after a bit of aging in oak barrels and the addition of several secret ingredients and blending techniques that Bushy was all too keen not to tell me a thing about when I wandered into his place last summer.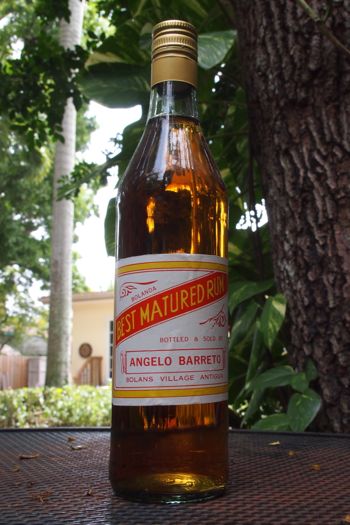 Not that I was put off by this. Bushy was so affable and his rum so good that after a few sips I was compelled to stop asking questions and simply enjoy what little time I had with one of Antigua's most colorful characters.
I visited Bushy a couple of times during my brief summer stay, each time finding him purposely affixing labels to the recycled bottles into which he funneled his rum by hand.
Each time he happily went on about his life and times growing up in Antigua as though we were old buddies. Each time he was the only one behind the counter – the sole proprietor of three businesses, plus the island's most popular local rum concern, doing everything himself; cracking jokes and shouting greetings to all who passed by along the way.
How this guy found time to make such an exceptional rum was beyond me.
From the notes I took with those initial sips, I remember 1 and 9 to be surprisingly smooth and heavy on the vanilla and nutmeg (and butterscotch?) flavors. It's dry and spicy, usually not my favorite combo, though somehow it all works really well for me in this stuff. I wouldn't mix it with anything, except perhaps an ice cube or two, and good company.
Recalling my encounters with Bushy and his great rum now, I'm really jonesing to pour a nice tipple or two.
Recalling those collectors, though, I'm thinking better of it.
You see, Bushy passed away several weeks after my visit, leaving no one to carry on the 1 and 9 tradition.
Stocks remain, no doubt, but for now, I'm holding onto my as yet unopened bottle and my great memories of Bushy.
Related Posts