Cavell's Cook Shop, Antigua: For Real Island Food, Sit on the Steps
Cavell's Cook Shop hides in plain sight along the road that hugs the shore on Antigua's southwestern coast. Its humble, nondescript outward appearance bears every likeness of a simple storage shed or roadside workshop. Thick, encroaching foliage on either side further suggests its owner might prefer his or her place to maintain a low profile.
Indeed, this is not the very picture of warm and welcoming…
The long line of cars regularly parked astride the road outside Cavell's at all hours of the day, however, tells a different story. So too do the savory aromas emanating from beneath her galvanize roof, and the smiles on the faces of her steady stream of people filing in and out of here.
You see, small and simple though it may be, Cavell's is the prime spot for real local food in Antigua.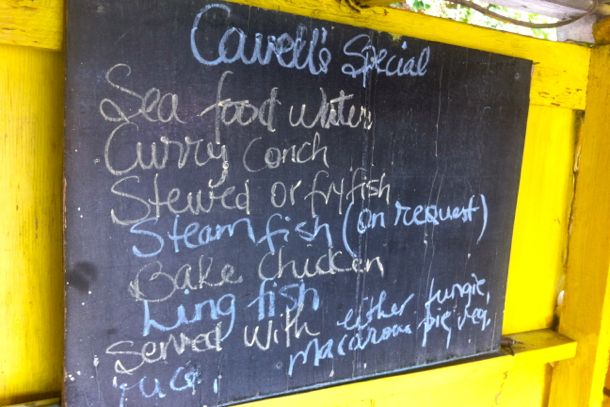 I came to know this while making my way back to my posh digs at The Sugar Ridge Hotel after my beach bar-hopping escapade in search of the ultimate rum punch along Turner's Beach. It was about 4:30 in the afternoon, a lavish dinner at Sugar Ridge's exceptional Carmichael's Restaurant was just a few hours away.
Still, I couldn't resist the smells coming from Cavell's. They literally pulled me off the beach, across the road, and into the shack for a succulent fried red snapper so big it couldn't even fit in my styrofoam container!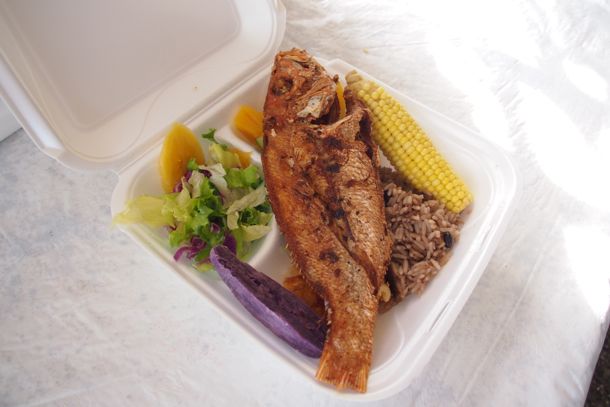 The sun pounding down on the galvanize roof combined with the heat put forth by the various cooking apparatuses made standing inside Cavell's feel like limin' in an oven. No one was complaining, though. Cold Wadadli's and good company have a way of keeping things cool here. Come to Cavell's with a smile, some patience, and an open mind and you'll make friends of the broad swath of local Antiguans, representing all walks of life, easily.
The guys I met here during my visit all vouched for Cavell's legendary status.
People does come from quite in town during they lunch break to sit on these steps.
Cavell's steps, pictured above, are found inside the simple shelter. They lead nowhere, but sitting here with a cold beer and a healthy serving of local food will take you to culinary heights of authentic West Indian fare unmatched on this magical island.
Cavell's is open Tuesday-Saturday from 11 am to 6 pm. To get there from Sugar Ridge, take a left out of the main entrance and head south. Just past Crab Hill, directly across from Jacqui O's, and no doubt hidden behind a line of cars, you'll find Cavell's.
Related Posts