Toasting Perfect Locations with English Harbour 1981 Rum
Look at this photo. What do you see?
Well, the first thing you might notice is the beautiful bartender flashing a patented Antiguan smile. It says, "Welcome, handsome, come in out of the sun and join me for a drink."
Then you might notice the Sheer Rocks logo on her shirt and think to yourself "Hey, haven't I heard of that place?" Chances are, even if you've never been to Antigua, you have. It regularly graces "best of" lists of Caribbean restaurants like this one from @10Best.
And you've likely stared in awe at photos of the place. It's set right into the cliffs of a small rock outcropping between Little FFryes Beach and Valley Church Beach. The location affords an absolutely stunning environment to dine on some of the finest tapas you'll find not just in Antigua, but anywhere in the Caribbean.
So, yeah, you may have noticed those things.
But I have to admit: I wasn't focused on them when I took the photo.
No, my eyes wandered a little higher. Up at the top. Do you see it? No? Let me help you: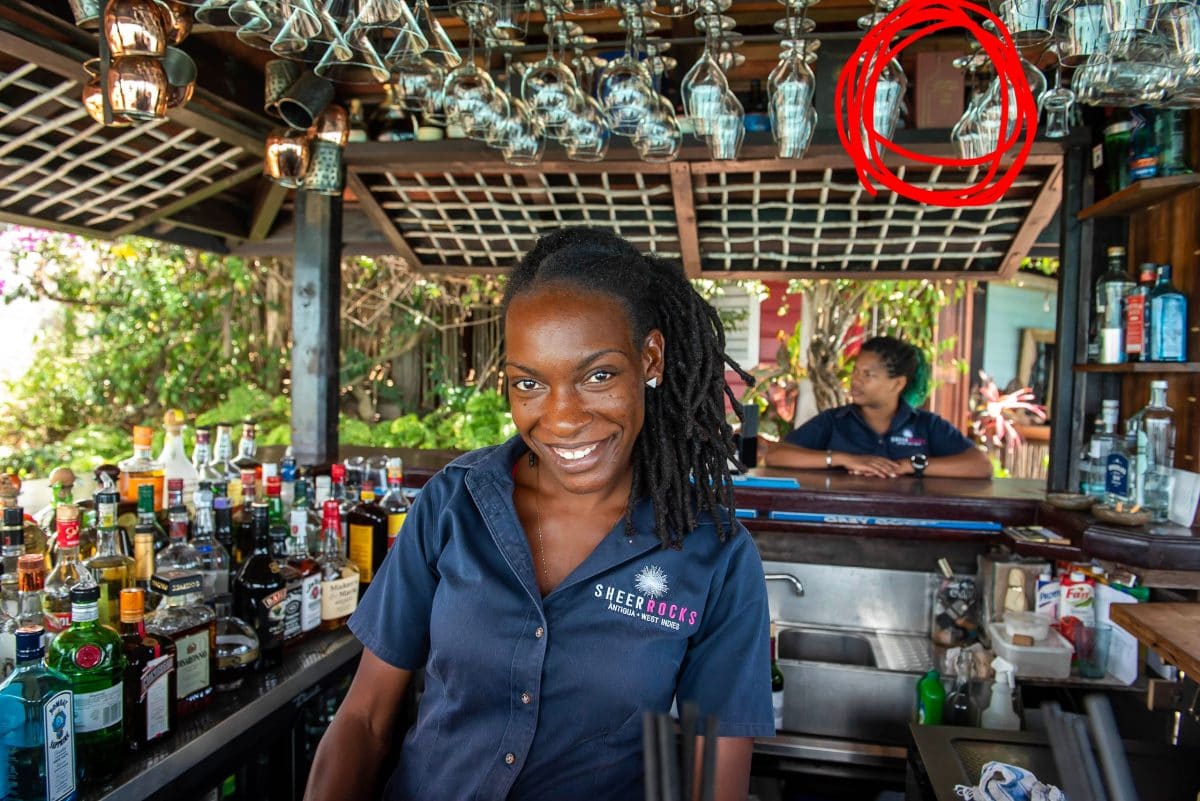 I could recognize everything else on the top self except this beautiful little gold-accented box. I had to get a closer look.
Upon closer inspection, this beautiful leather case was protecting a stubby bottle with an extraordinary spirit: English Harbour 1981 Rum.
This rum is the last rum ever produced on English Harbour's original 3-column Savalle Still first put into service on day one of the distillery's founding back in 1933 — the last surviving product of the brand's original pumping heart.
This rum is the product of celebration as 1981 is the year of Antiguan Independence. On November 1st, 1981, for the first time in 328 years, the Union Jack was lowered and replaced with the Antiguan Flag. Three hundred and twenty-eight years! Can you imagine the joy and pride with which this rum was distilled?
This rum is old. Think about what was happening in 1981. Raiders of the Lost Ark dominated the silver screen, the DeLorean Car debuted, Reagan became president of the United States, and MTV was just launching! Distilled in 1981, this rum aged for 25 years until it finally made its grand entrance on the world stage in 2007.
This rum is exclusive. Only 5,712 bottles were ever produced. And of that bounty, just 600 individually numbered bottles are released each year for the entire world to enjoy. As you can imagine, they can be difficult to procure. They also carry a price tag to match their elusiveness. I've seen bottles of English Harbour 1981 retail for $399! (Though they can be found cheaper.)
OK, ok, so while sitting under the attentive gaze of the beautiful bartender and surrounded by the magnificent vistas at Sheer Rocks… How did English Harbour 1981 taste?
Swiveling open the case and popping the cork, vanilla, caramel, and oaky notes that quickly betrayed the rum's age lightly wafted my way; floating on the sea breeze.
Once entrusted to my glass, English Harbour 1981 glittered with a vibrant golden color. Again wearing its age proudly.
And the taste?
My mind said "Balanced." Not too oaky from the extended aging. Vanilla, nutmeg, allspice, and toffee expertly offset by the aged oak notes. It doesn't push you. It doesn't really challenge you. It just complicated enough to excite the senses without feeling like it's trying too hard.
And my heart said "Magic! I love Antigua! Leave me here forever!"
Yes, English Harbour 1981 is dangerously drinkable. And perhaps there was no better place for me to be introduced to this exceptional spirit than on a cliff pinched between two beaches at Sheer Rocks.
Just be mindful when you sip, because once those 5,712 bottles are gone, all we'll have are the memories.
Cheers!
Related Posts