Friday Happy Hour: Tonight's USA vs Antigua Match May Require Many Wadadli Beers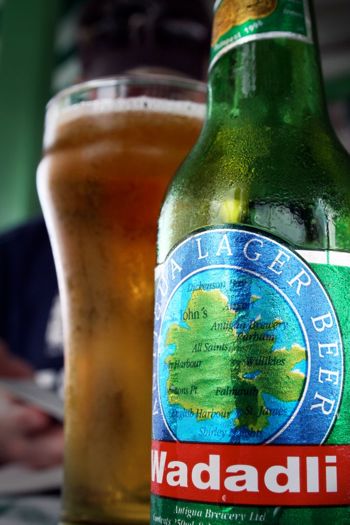 There are big goings-on in the world of soccer, err football, today as one of the sport's premier tournaments, the UEFA European Football Championship, gets underway. While most pairs of sports-loving eyes will be trained on UEFA Cup action, we've got our sights set on a veritable David vs. Goliath match much closer to home.
I'm talking about tonight's 2014 World Cup qualifying match pitting big, strong Team USA versus tiny and untested Antigua & Barbuda.
The tilt has mismatch written all over it.
Consider: The U.S. is attempting to qualify for the World Cup for a sixth consecutive time. For Antigua & Barbuda, this marks their first attempt… EVER!
So far this year, Team USA has tallied wins against the likes of Venezuela, Panama and Scotland. Most impressively, though, they beat perennial powerhouse Italy on their home turf in Genoa back in February!
Antigua & Barbuda? In recent months they split a home-and-home series versus Haiti, and destroyed my home team, the U.S. Virgin Islands, 10-0, last October.
Impressive? Yeah, not-so-much…
I should also mention that the teams have never faced each other, and the game is being played on U.S. soil in Tampa, Florida.
Indeed, the rout may be on as early as the warm-ups… No better time than to load up on some Wadadli.
The local beer of choice in Antigua & Barbuda, Wadadli is also the original Amerindian name for Antigua. The beer was launched in 1993 by Antigua Brewery Ltd., which also produces the twin-island country's supply of Red Stripe, Carib and Guiness, as well as a variety of soft drinks. Wadadli, though, is the most cherished among the lot by local residents and most beer-loving visitors to the island.
Now, if you've never been to Antigua or Barbuda, but you think you've seen that label before, then you may be confusing Wadadli with its close cousins, Kubuli from Dominica, or Hairoun from St. Vincent. The similarities in appearance trace back to a German company named Brauhaase International Management G.M.B.H., which helped establish the breweries that produce these fine Caribbean beers. Brauhaase, formerly E. HaaseLagerbierbrauerei, has been in the business of making German beer since 1858, so it's little wonder that Wadadli, and its close cousins, are so tasty.
How tasty? Here's what our beer expert buddy, Mark McKenna, had to say about Wadadli in his McKenna's Guide to Caribbean Beers…
A champagne colored lager, it presents an enticing aroma of a faintly floral nature from a touch of Perle hops. The brew's taste is sweet and malty coupled with a complex character of Hallertauer and Northern Brewer hops. Its strikingly crisp finish tingles the palate and will make you want another round immediately.
Can't think of a better brew to enjoy while watching Antigua & Barbuda shock the world tonight!
Sadly, though, we'll have to enjoy Wadadli in spirit, as it's only available in its home islands – another great reason to pay these twin islands a visit! If Antigua & Barbuda pulls the upset and qualifies for the World Cup, though, you can bet we'll be down there in the summer of 2014, rooting on the Wadadli Warriors with a steady supply of the local brew.
Wadadli to the World!
Related Posts