Hiking Over The Hills and Through The Bush to Bolans with Melvin
Just step where I step and everything will be alright.
You tend to hear these words a lot when being led along guided hiking tours. Usually, it's meant as a helpful warning against loose rocks you might encounter upon making a steep descent, some razor-sharp shrubbery encroaching upon your trail or another such similar element of peril.
At the start of my last hiking adventure in Antigua last summer, the warning came again; sharply, sternly so as to underscore the absolute jeopardy confronting us. Only this time the menacing hazard, the perilous pitfall, the critical threat was… well… umm… it was mud.
That should tell you a lot about the morning hike through the bush to the nearby town of Bolans offered by the fine folks at Sugar Ridge, Antigua. Like the resort itself, the hike is easy, breezy, fun, and relaxing, offering very little by and in the way of chest-thumping thrills.
That was just fine by me when I did it, though. A little too much English Harbour the night previous meant that low impact was about the only impact I could manage that morning. Thankfully, Melvin was happy to oblige.
Melvin is the catch-all/do-most-everything guy at Sugar Ridge. You'll mostly see him driving the resort shuttle back and forth to various nearby beaches (like this one), or helping to sort out some issue or another in his own unique island style.
If you catch him in the morning, though, before 8am, it's a good idea to join him for his daily walk. When you do, wear proper shoes.
You can't be out here in flip-flops.
I wasn't, of course, but a pair of other Sugar Ridge guests in our company were. Stepping where Melvin stepped in the mud that marked the start of our trek proved quite useless to them, but with a little extra coaxing from Melvin and some minor flip-flop repair, we soon made it to higher, drier ground.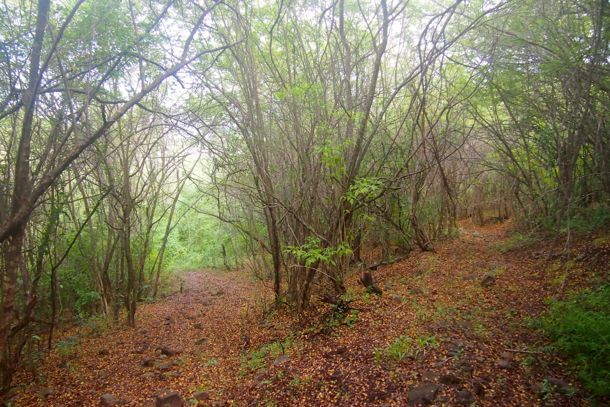 The morning fog, right in line with my head, cast an eerie pall as the surrounding thicket progressively thinned. We had climbed that first section, after emerging from the mud, for about 10 minutes. Along the way, Melvin pointed out various shrubs and trees, talking of their uses and medicinal values. Most of it I had heard before, but it was still fun to hear Melvin run it down in his own unique style.
Less than 15 minutes into our trek and the taller trees and mud were squarely behind us, replaced by prickly kasha trees and goats grazing among us. The new "peril" that kept us carefully stepping where Melvin stepped was now poop.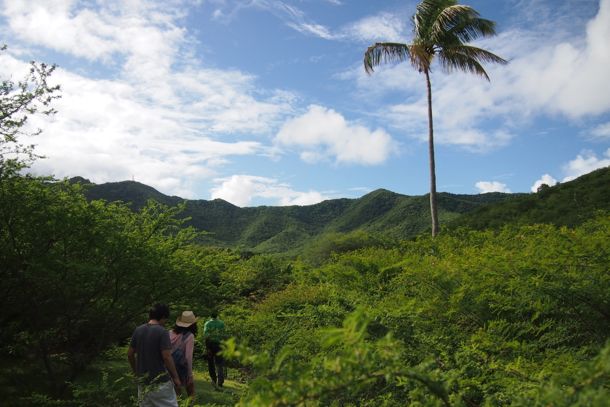 All joking aside, though, the hike to Bolans revealed some beautiful vistas one might find easy to miss in Antigua, what with its famously amazing, and deservedly so, 365 beaches. Here in the countryside lies a very different Antigua; one well worth leaving the beach to explore for awhile.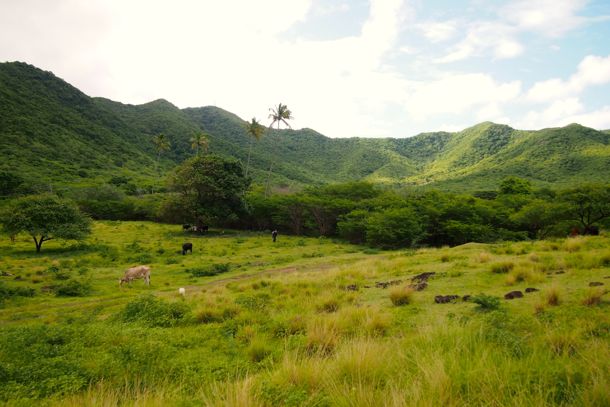 Melvin led on through the cow and goat pastures, speaking of his family members who owned most of the land, and various other key people in the area.
Eventually, we entered the small and humble village of Bolans, where it promptly started to pour down rain. Melvin had us covered, though, taking us to a relative's house to shelter the weather on her porch. We stopped again at another relative as we made our way along the water-logged streets.
Even with the impromptu stops, wardrobe issues, and my constant stops to take photos, the whole soft adventure took less than an hour. It was fun, though, and certainly a little side trip I'd recommend to get a small sense of the Antigua beyond the beach.
Related Posts