On-Site Antigua: Nonstop "Nice" Music at Turner's Beach Bar
When it comes to giving out good advice on what to see, do, eat, and drink in Antigua, I give high marks to the folks at Sugar Ridge. From the popular (Nelson's Dockyard), to the uniquely Antiguan (Betty's Hope), and the absolutely uncommon (Bushy's 1 and 9), the staff at this smart and stylish boutique hotel guided my initial explorations of their home island beautifully.
(More on the guest experience at Sugar Ridge here.)
Despite their location off the beach (or maybe because of it), they were also able to give me great advice on local beach bars. As I mentioned before, staying at Sugar Ridge on the all-inclusive plan enables you to sign for select menu items at a collection of preferred seaside watering holes just like if you're still on-property, a great perk for those traveling on a budget, but still keen on getting in on the local bar scene.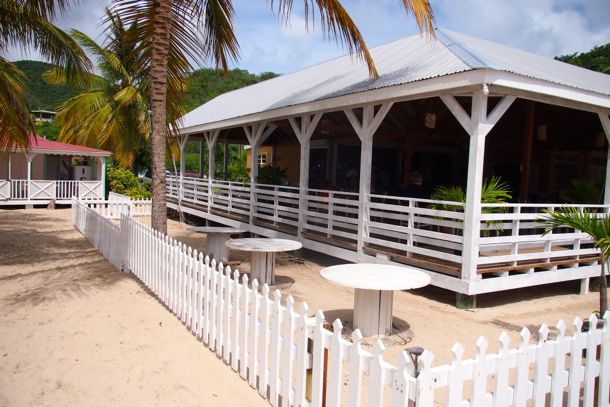 I was doing just that on a Saturday afternoon last August, reveling in the joys of the"Top Secret" rum punch at Turner's Beach Bar while perched at the bar pictured above. The sun was blazing away through a smattering of wispy clouds, though a sweet ocean breeze kept things comfortably cool. A mix of locals and tourists filtered in and out, laughing and smiling as they carted drinks and eats to their lounge chairs in the sand.
Ahh… another perfect afternoon at another perfect beach bar in the Caribbean. I yawned a little, stretched my arms up high and resettled on my bar stool, absolutely content. I remember thinking "I could sit here all day."
Then, I heard it…
Please release me / Let me go / For I / Don't love you anymore…
Engelbert Humperdinck? Here?
Indeed, it wasn't quite the soundtrack I was expecting, what with all the authentic local seafood and curry dishes on the menu and real West Indian vibe oozing all around.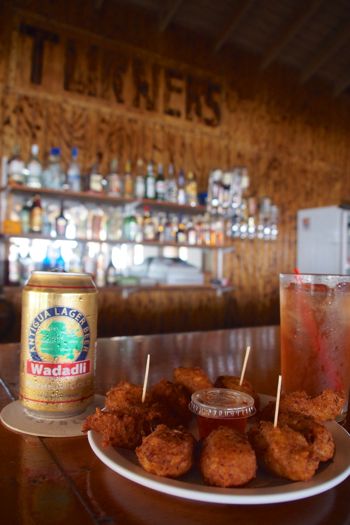 Hmmm… Maybe it was an anomaly; a little easy-listening interlude for those of the elder set. Surely some soca, salsa, or reggae would come next…
I am a lineman for the county and I drive the main road / Searchin' in the sun for another overload…
Okay, wait. I was all about the music now; the blazing sun and sweet ocean breeze forgotten in my fascination with what to me couldn't have been a more incongruous musical selection.
The only girl I care about has gone away / Looking for a brand new start / But little does she know / That when she left that day / Along with her she took my heart
The Humperdinck–Glen Campbell–Johnny Rivers medley came courtesy of NICE 104.3 FM, an adult contemporary station based in St. John's, Antigua that appears to be the main soundtrack at Turner's.
Not generally my cup tea – especially not in a setting like this – but once Jailhouse Rock came on after a few ads and the station ID, the music, somehow, better seemed to fit.
Maybe the sun–breeze–beach combo won out, assisted, no doubt, by another rum punch. Or maybe it was that Wadadli Gold…
Whatever it was, in the end I guess the old tunes added a warm, classic feel to Turner's. Not the kind you'd get with some Sparrow, Kitchener, or Learde, but classic nonetheless. Light, breezy… nice.
Related Posts