Sugar Ridge Antigua: Sweet Boutique Resort High Above the Beach
Beaches, beaches, beaches. Antigua's famous for them and their attendant stable of seaside resorts. Oceanfront accommodations are ideal for most Caribbean travelers, of course. Sugar Ridge Antigua, though, offers something different. I was lucky enough to stay at the hilltop luxury boutique property on a recent ANU escape. What I discovered is a property that many uncommon travelers will no doubt find to be a cut above…literally!
So Much More Than a Pretty View
The fantastic view up top is from the pool at Carmichael's. The swanky formal restaurant is nestled at the highest point of the sublime Sugar Ridge Luxury Boutique Resort. From the entrance along the road you see snaking up the middle of the image, the resort spreads out and up a fairly steep hill.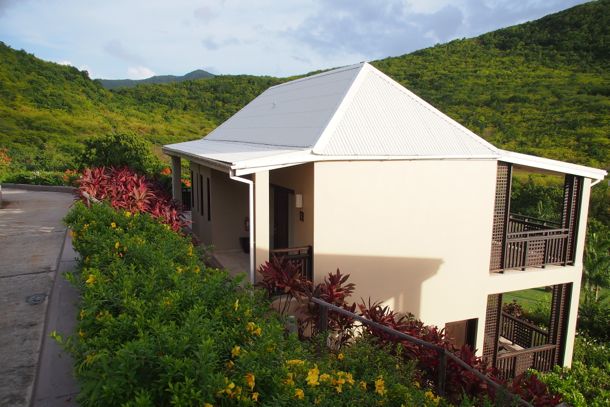 Accommodation units here are comprised of one- and two-story structures. They're all uniform in character and design, each espousing an easy-going, understated elegance both inside and out.
Nope, there's no beach here, which for any adventurous traveler is a great thing. After all, there are 365 beaches in Antigua, right? Why get yourself tied primarily to one stretch of sand because you paid a bunch to stay at a hotel there? Sugar Ridge encourages you to get around the island, which of course, is right in line with our style of uncommon travel.
Luxuries Aplenty
Also to our liking, Sugar Ridge's luxurious accommodations.
Each of the two-story units houses four individual accommodations. Rooms on the upper floors have large verandahs equipped with an outdoor dining area and a day bed for lounging. Lower floors have all that too, plus a cozy plunge pool that's perfect for two.
You might think that grouping four units in one building like this might lead to some privacy issues. Not so at Sugar Ridge.
All around, lush, well-kept gardens feature a mix of flagrant flowering shrubs and fruit trees. The landscaping further amps up the romantic hillside hideaway feel.
Verandahs here are also designed expressly to enable guests to avoid prying eyes. This, however, does noting to diminish the view…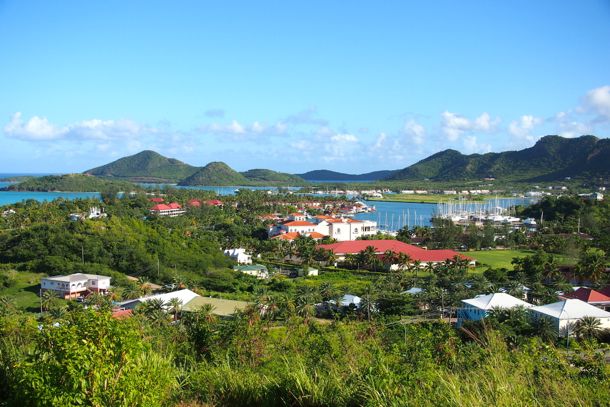 Sweet Sugar Ridge Guest Suites
Views like this are great, of course. Don't be surprised, though, if the ultra-comfy beds at Sugar Ridge lead you and your significant other to miss a few of them…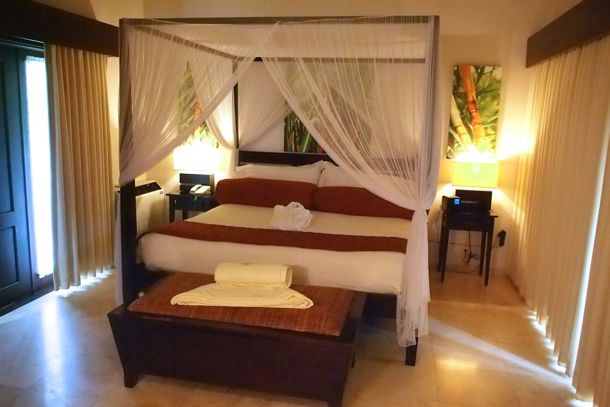 As with the exterior styling, natural earth tones combine nicely in the rooms. Rich, dark woods and burnt red/orange accents create a living environment that's as cool and relaxing as it looks.
Rooms at Sugar Ridge are also equipped with all the basic bells and whistles. Wi-Fi, flat-screen TV, iPod docking station, in-room mini fridge, electronic safe – it's all here, ensuring added comfort and peace of mind.
Downhill at Sugar Ridge
Luxuries and amenities at Sugar Ridge aren't exclusive to its highest elevations, however.
Back down the hill at the entrance to Sugar Ridge, you'll find The Sugar Club, the property's less formal dining option. A second, more expansive pool area invites additional swimming fun.
Downhill is also where you'll find Sugar Ridge's spa, yoga, and fitness. And believe me, if keeping in shape is a priority for you during your travels, you'll want to find yourself here. Sugar Ridge Antigua's workout and wellness facilities are far more expansive than you'd typically find in a boutique property of this size.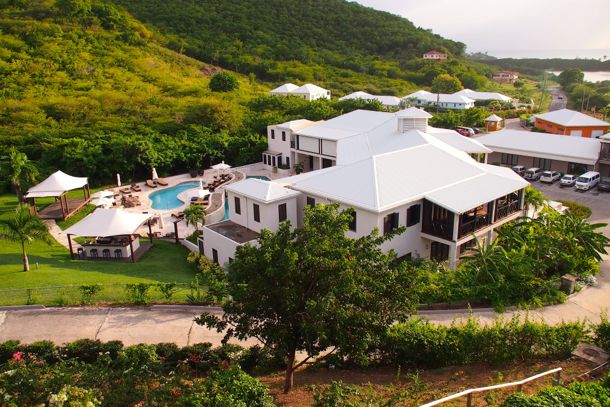 The reason they're so large, as General Manager Keith Martel explained to me, is that the resort caters to both visitors and locals alike. In this way, it's easy to meet and make friends with residents while working out in the gym, relaxing in the spa, or enjoying a drink at the bar.
Facilitating Local Connections
But, that's not the only way Sugar Ridge helps guests get in tune with the local scene in Antigua.
As we noted earlier, the property also partners with a number of local beach bars and restaurants. In fact, Sugar Ridge Antigua even going so far as to allow guests taking advantage of the all-inclusive plan at Sugar Ridge to maintain signing privileges on select menu items at participating independent off-property establishments.
Sugar Ridge also makes sure to advise guests of major local events, assisting in ticket sales and also providing dedicated shuttle transportation.
I'm not talking about the tame tea and crackers type events usually associated with exclusive resorts either. During my stay in mid-August, a major cricket match was being held pitting Antigua versus Guyana. To say it was the talk of the entire island would be an understatement. To note that it was also the talk of a luxury property like Sugar Ridge, whose staff arranged for me and other guests to attend, was a bit of a great surprise.
All too often around the Caribbean, the poshest resorts are also the ones that are most disconnected from the local scene. Sugar Ridge is different, which makes it just about perfect for me.
Related Posts