Sweet & Sexy Papaya Pie: Taste of the Caribbean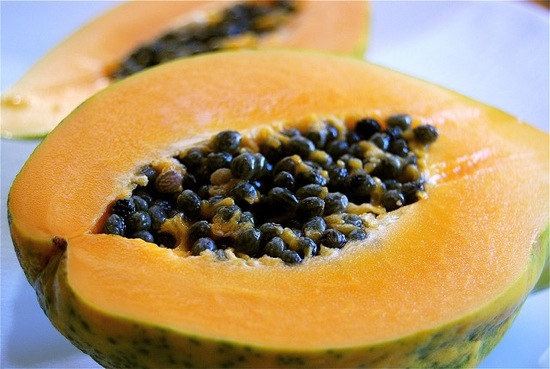 Just try to say papaya without cracking a smile… Not only does it remind me of warm childhood days back in St. Croix traipsing through the bush on imaginary adventures with my brothers, but this fruit is also just damn sexy!
It's sweet, yes. It's juicy too, but so are a lot of other fruits. The sexy difference lies in the papaya's distinctly feminine physical traits.
On the outside, papayas have a sensuously round, bosom-like shape, the full effect of which is best represented pre-harvest when they're still, um…hanging in the trees.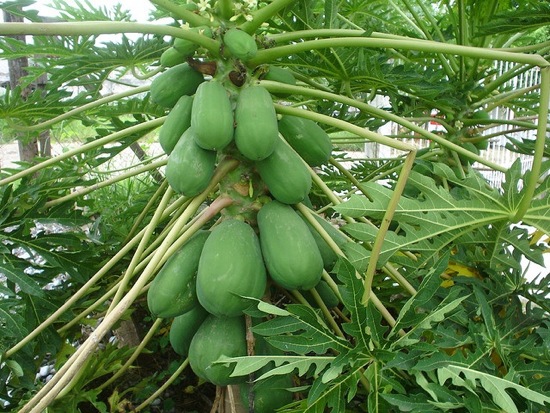 On the inside, well, take a look at the photo above… Do I really have to spell it out?
All this sexiness is not just for show either. It's said that the papaya increases libido in women and boosts hormone levels for improved fertility. The fruit and its spicy, edible seeds (sometimes called papaya caviar) are also packed with vitamins A, C, Bs, E,  K, a natural digestive, antioxidant nutrients, potassium and magnesium. The perfect combination of all these nutrients promotes digestion and a healthy cardiovascular system for good blood flow, which obviously carries some bedroom benefits for us guys as well.
If a boost in the bedroom is behind your hankering for papaya, though, make sure you stick to the ripe ones. Apparently, women in India, Bangladesh, Pakistan and Sri Lanka swear by green papayas as a natural form of contraception and abortion. Among men in the Philippines, papaya is also alleged to limit libido, though my Dad (age 70) eats 'em every chance he gets with no ill effects.
Either way, papayas are a tasty, healthy treat that's great any time. They're wonderful on their own, of course, but there are also many great cooking and baking recipes throughout the Caribbean that incorporate this super fruit. Here's one that a friend from Antigua recently shared with me for Papaya Pie…
Ingredients:
1 Medium Pre baked Pie Shell (sweet)
3 Medium Ripe papayas
2 tsp. Lime Juice
1/2 tsp. lime Zest
Pinch of Cinnamon
1 dash Orange extract
4 Tbs. Flour
4 Tbs. Sugar
4 Egg Whites
Directions:
Remove seeds and mash the papayas in a large bowl. Combine the lime juice, zest, cinnamon and orange extract with the mashed papaya. Mix in flour and sugar. Separately, beat the egg whites until stiff, then add it to the bowl. Mix it all up, then pour the batter into your pie shell. Bake 25 minutes, or until the top is lightly brown. Refrigerate and serve chilled.
Enjoy!
Related Posts