Turner's Beach, Antigua: In Search of the Best Rum Punch
Turner's Beach (also known as Crab Hill Beach) has much to offer any beach-loving visitor to Antigua, especially guests of the Sugar Ridge hotel.
Located just a few minutes down the road, Sugar Ridge is a deluxe hillside property overlooking Jolly Harbour. There's no beach, of course, but that's no problem as the hotel offers a free shuttle to several nearby beaches, including Turner's.
If you're on the all-inclusive plan at Sugar Ridge, your meals and drinks at certain select beach bars and restaurants are also included! (More on Sugar Ridge rate plans here.) Case in point, this little snack I enjoyed at Turner's Beach Bar just a few weeks ago…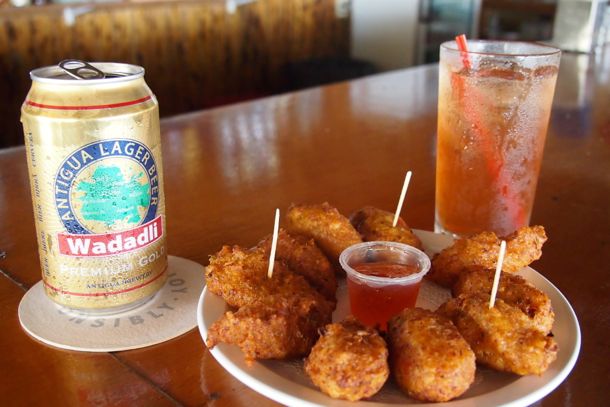 The value as a Sugar Ridge guest is great, of course, but that rum punch you see pictured at the right is even better!
Sometimes the guests complain and say it's too strong!
So said my lovely bartender at Turner's, who also told me that there's no big secret to the drink despite the words "Top Secret" being printed next to the listing for the rum punch in the cocktails menu.
150-proof rum, lime juice, bitters, and simple syrup.. that's it!
I was hooked, no doubt, but I wondered, as my plate and glass emptied, what else Turner's Beach had to offer by and in the way of rum punches. You see, there are a few different beach bars on Turner's. Could the rum punch at the beach's namesake bar be the best? I set out northward along the sand to investigate…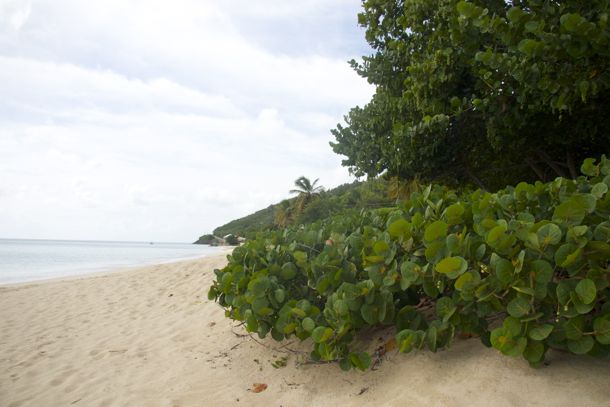 It wasn't long before I encountered the fine rum punch pictured at the head of this post. I found it at Keyonna Beach, a small boutique property with a bar and restaurant right off the beach.
Again, my bartender was a lovely lady. Again, the rum punch was nice, made in the traditional style with just the right few mix of ingredients, highlighted by some excellent Antiguan rum.
I didn't find the Keyonna rum punch as strong as the one at Turner's, though, and the smaller glass/higher price combo wasn't so great either.
I pressed on, eventually arriving here…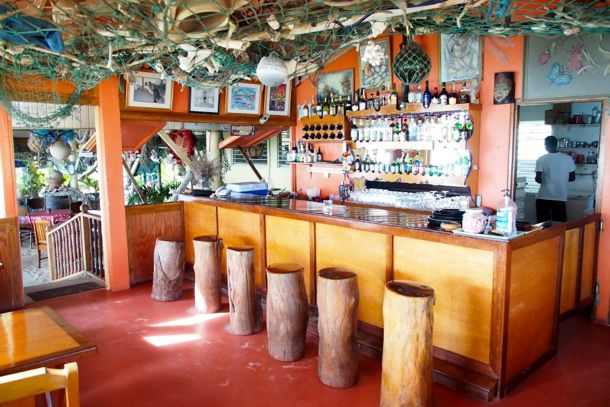 This is the bar at OJ's Beach Bar & Restaurant. By the time I arrived here I was dripping with sweat. It had been drizzling intermittently all afternoon, but by this time the sun was out and raging with full force in combination with the humidity. Salvation came in an exceedingly fantastic rum punch.
Like the previous two I'd tried on my trek, the rum punch at OJ's was perfectly simplistic, following the tried and true old recipe to a "T." At the same time, though, the OJ punch seemed to have more flavor; more umph, though not in the sense of employing a stronger rum.
The secret, yet another beautiful lady bartender told me, was OJ's use of Guyanese rum in producing the punch. El Dorado 15 being among my all-time favorite sipping rums, it made sense that my taste buds would tingle just a tad bit more for OJ's rum punch, but truth be told, all three were nice.
Whether you prefer your rum punch strong (Turner's), more flavorful (OJ's), or somewhere in-between (Keyonna), Turner's Beach has something for you…
Cheers!
Related Posts