Twin Mills at Betty's Hope, Antigua: Uncommon Attraction
Sugar mills are a common site across much of the Caribbean, but I've never seen any quite like the ones at Betty's Hope, Antigua.
I first learned of Betty's Hope while paging through a visitor's brochure from the comfort of my own little personal plunge pool at the Sugar Ridge resort. As you might imagine, this in not a spot one just up and leaves lightly.
As noted here, though, Sugar Ridge is that special kind of uncommon luxury property that actually encourages exploration of the local scene in its island home.
And so it was, after a brief few conversations with Sugar Ridge staff, a nice drive around Antigua's southern coast, and a quick stop for some roadside Antigua Black, that I found myself in the shadow of these amazing ancient structures.
Betty's Hope is the oldest and most successful sugar plantation in Antigua. Originally established in 1650, it operated in varying capacities all the way through 1944!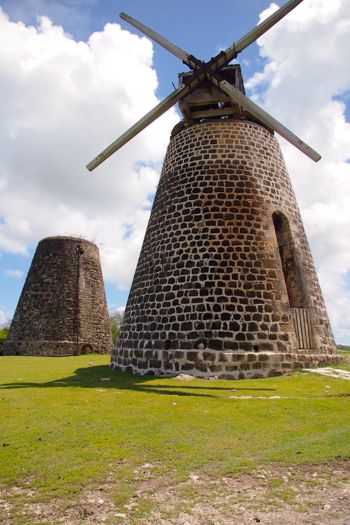 The legacy of the estate alone is enough to draw a history buff like me to a place like this, but it's the windmills themselves that really captured my imagination once I finally arrived.
Again, you see sugar mills all over the Caribbean. In St. Croix where I grew up, they were as normal an every day thing as any gas station, Church, or school you might happen by in the regular course of your daily travels.
All the other sugar mills I've seen everywhere else, though, are widely spread out across their island homes. I don't even remember ever being able to see a second mill while exploring a first.
The twin mills at Betty's Hope are different; literally standing side-by-side, giving you have the rare opportunity to explore two sugar mills on the exact same site.
There's a lot more to see here – ruins for The Still House, where the rum was made, and The Cistern Complex remain as well.
Nothing quite compared to the uncommon pair of sugar mills for me, though. I might've felt differently if an onsite visitor's center, purportedly offering additional information on the history of the estate, had been open during my visit.
As things stood, I got enough enjoyment out of savoring my special pineapple treats amid grazing goats, a steady cooling breeze further helping me to envision how these unique mills must've worked in unison long, long ago.
You can find Betty's Hope just outside the village of Pares due west of Nonsuch Bay. There's a well-marked turnoff from the Pares Village Main Road, so it's tough to miss. Go here for the peaceful serenity, sweeping views of Antigua's rural countryside, and to use your imagination to step back into time, but don't expect hand-holding, guided tours, and the like…
Related Posts