Aruba Gold Mines: Forget the Casino, Strike it Rich in Bushiribana
It's no surprise that modern day visitors to Aruba are often drawn here by gold. The island boasts an endless string of swanky jewelry stores. Aruba's golden-sand beaches are also legendary. Balashi, the island's homegrown golden pilsener, is one of the best beers in the Caribbean. If you were among the hordes who trekked here nearly 200 years ago, though, it's a good bet you made the trip expressly to find, or better said mine, the real thing. Your destination: the Aruba gold mines.
That's right, people used to mine for gold in Aruba! Specifically, the mining took place along the island's remote north shore.
Aruba Gold Rush History
As the legend goes, the first gold discovery in Aruba was made in 1824. That's a good 24 years before the start of the famed California Gold Rush!
The lucky prospector was a 12 year-old sherpherd boy named Willem Rasmijn. He came across a glittering rock while looking for a wayward sheep that had strayed from his flock. Soon after Willem's chance discovery, a young girl found more gold nuggets. The Aruba Gold Rush was on!
Initially, locals, or anyone else who happened to take a stab at prospecting, were allowed to dig wherever they pleased. Anyone lucky enough to strike gold could only sell it to the government, which did little else to regulate the Rush. Then, in 1854, a major new gold deposit was unearthed and a more structured mining industry was born.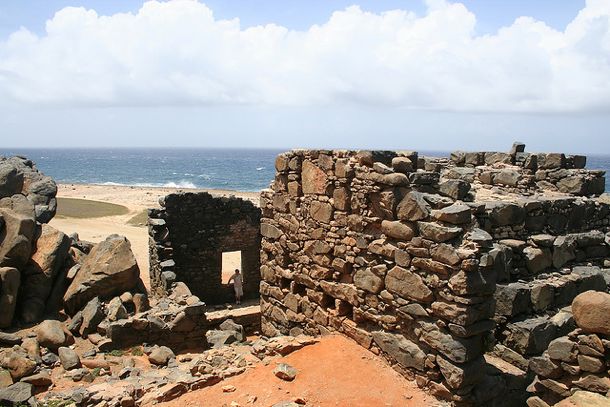 Gold mining continued on the island through the early-20th Century. Over the years, more than three million pounds of the glittery precious ore were extracted.
Like all good things, though, the Aruba gold rush couldn't last.
A shortage of mining materials brought on by WWI combined with the discovery of oil in 1924 spelled the end of the Aruba Gold Rush.
Aruba Gold Mines Today
These days you can still see evidence of the boom times at gold mill ruins. The ones pictured above are at Bushiribana. This particular mill was built by the Aruba Island Gold Mining Company Ltd. The company had an exclusive right to mine gold in Aruba for 25 years beginning in 1872.
Additional ruins can also be explored near the town of Balashi. A smelting and stamping mill was originally constructed there in 1899.
On a recent trip to Aruba, a bartender at my hotel told me that people still sometimes find gold bits around the old mills and other former mining spots on the north shore.
Hmmm, sounds like an uncommon adventure that's really worth pursuing next time you're in Aruba…
Related Posts