On-Site Aruba: Wasting the Day Away at Moomba Beach Bar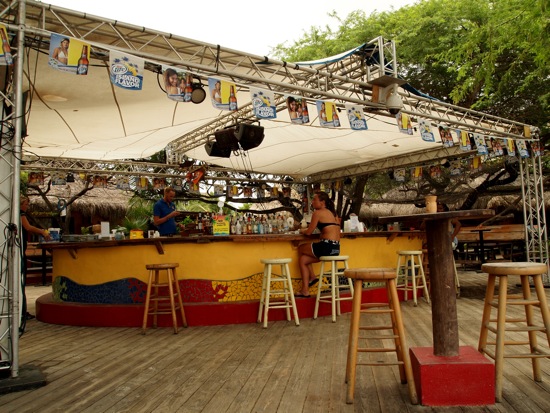 Of all the Caribbean destinations I've frequented in my nearly 20 years in travel & tourism PR, Aruba is probably the least uncommon… Not that there's anything wrong with that.
There's actually quite a lot to love about this special little Latin-infused Dutch paradise, even for the adventurous and culturally curious traveler. The thing is, you tend to have to search a little longer and a little harder for Aruba's special charms. The reason: Disneyland.
That's the nickname for the island's gleaming tourist zone located in Aruba's northwest corner along picture-perfect Palm Beach. I picked up the moniker from a couple locals I met while visiting the island last week. They were poking fun initially, but as the conversation wore on even they had to admit that their favorite hang outs – familiar names like Hooters, TGI Friday's and Señor Frogs – were located in and amongst the sprawling collection of high-rise hotels that comprise one of the world's most-visited swaths of beachfront real estate.
Clearly I'd have to venture outside of Aruba's "Disneyland" to find the types of uncommon places and experiences we love, right?
Well, yes… and no.
Before I could get into my rental car and head to Aruba's second city, San Nicholas (a story for another time), I stumbled upon the beach bar above located right in the heart of the tourist zone. My best-laid plans immediately changed…
The bar is called Moomba. I found it right next to the Holiday Inn Resort Aruba (walk out past the pool to the beach, take a right and it's just a few yards away). Having wrapped up my client meetings with the Holiday Inn the day before, I was anxious to if there was a beach bar nearby worth recommending. Moomba did not disappoint.
Sure it lacks the heritage, quirkiness and shacktastic appeal of some of my other favorite seaside watering holes – Billy Joe's, Le Petibonum, Sunshine's, Reggae Beach – but Moomba more than makes up for it with friendly service, ice-cold beer, great music and an incredible view. The minute I arrived I became so relaxed and comfortable that I knew I wouldn't want to leave the whole day.
Why the suddenly sedentary state? I blame Roel, my bartender that morning, and his special drink creation, the Caribbean Pirate.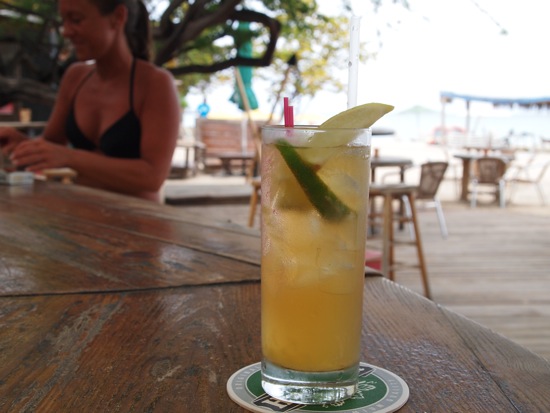 Roel created the drink some years ago in response to early-morning patrons requesting something, anything to cure a hangover. After experimenting with a few different combinations, Roel came up with a tasty mix of Captain Morgan, fresh lime, brown cane sugar, Red Bull and pineapple juice that provides the perfect start to any vacation day.
Of all the bartenders at Moomba, only Roel makes the Caribbean Pirate. You won't find it on the drink menu, so you'll definitely want to seek him out when you get there. Luckily, he's about 6'6″ tall, so he's also tough to miss.
One Caribbean Pirate plus a few munchies later and I had to leave Moomba, but the good vibes I experienced there to start my day stuck with me throughout day of exploring around Aruba. I felt compelled to rush back to see if it was just as good at night. Again, there was no disappointment.
Roel and his Caribbean Pirates were gone, but the beers were still ice cold, the upbeat mix of reggae and lounge beats were still cool, and the mostly local crowd very friendly. And as you can see below, the view was spectacular; a really nice reward for putting in a long day at Moomba.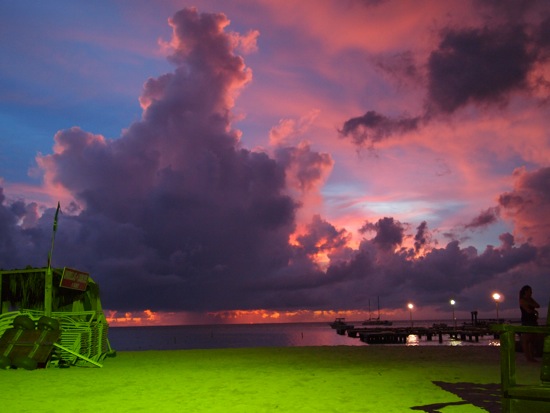 Moomba opens daily for breakfast at 8am and serves food until 11.00pm. Happy Hour, with spectacular sunsets like the one I witnessed, runs from 6 to 7pm. Click here for more info.
Related Posts