The Dushi (Sweet) Flag of Aruba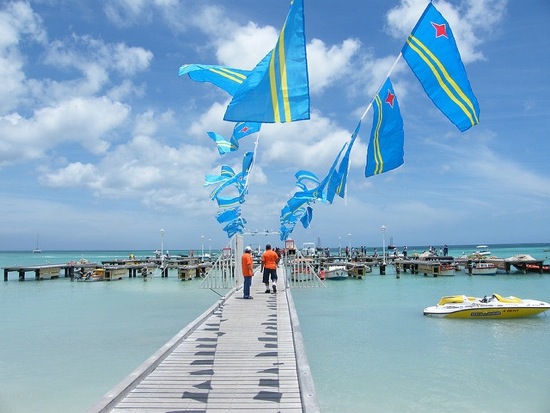 The islands of the Caribbean are known for their amazing array of brilliant blue hues, and Aruba is no exception. Just look at this photo! I didn't capture it, but I sure know where this is. From this spot just turn around, take a few paces up the beach and you'll find yourself at Moomba, one of my favorite new bar finds in 2010.
As noted previously, I don't usually see too many bright, sunny days like this on my trips to Aruba, but I'm definitely in the minority. This place sees as many days of clear-blue skies as any destination in the region, a fact that draws droves of people from all over the world to its magnificent beaches year after year.
All this and more is reflected in Aruba's national flag, which for me, is one of the best-looking in the world.
Officially adopted in 1976, the Aruba flag carries a great deal of symbolism tied to the country's primary industry, tourism, as well as its history and cultural pride. It all starts with the star, which represents the island itself with the four points symbolizing a compass. The inference is that Aruba attracts people from all over the world, which of course is totally true. Don't believe it? Just read the graffiti and check out the lost treasures at Charlie's Bar in San Nicholas. There's stuff there from EVERYWHERE.
Red often denotes love, and that's exactly why it's the color of the star, the tint meant to show the deep affection each Aruban has for their island. It's also for the ancient Brazil wood industry long overshadowed by travel and tourism. A hint of Aruba's now #1 industry is seen in the white border surrounding the star, which symbolizes Aruba's pristine white-sand beaches.
The parallel yellow stripes signify the separate position Aruba holds within the Kingdom of the Netherlands. Traditionally a color of abundance, the yellow represents Aruba's top industries over its history – oil, aloe and even gold (we'll cover the gold rush that happened here in the near future).
As for the blue, of course, it represents the marvelous waters surrounding the island. It's a fairly atypical blue for a national flag, IMO; like a powder-blue, soft and friendly… Kind of fitting for One Happy Island.
Related Posts