The Floor Show At Sea At Zeerovers, Aruba
You'd expect the entertainment at Zeerovers to be very much on the uncommon side. This, as noted before, is a very local place; one that stands at the opposite end of the spectrum from the ultra-touristy haunts packed together in Aruba's downtown and resort resort areas.
In fact, when I happened back in here with the wife on a Sunday in late-July (still not sure how I managed to convince her to leave our amazing Aruban home away from home at Bucuti and Tara Beach Resort for the afternoon), I wasn't expecting to see a show of any kind.
Zeerovers is raw, authentic; its roots and continued primary function as the center of the commercial fishing industry in Aruba still very much in evidence.
Long lines greet you at the entrance, denoting the exceptional quality of the seafood; you pay in cash… ONLY (no exceptions); it's hot (no a/c); black flies buzz about with the breeze; a few happy drunks prop up a wall near the bar; and at lunchtime on a Sunday Zeerovers is jam-packed.
I'm guessing that the large crowd combined with the carefree vibe that distinguishes every Sunday in Aruba are what spurred the spectacle – two guys in a small fishing boat parading between the restaurant and the islets just offshore, a horde of seagulls in their wake.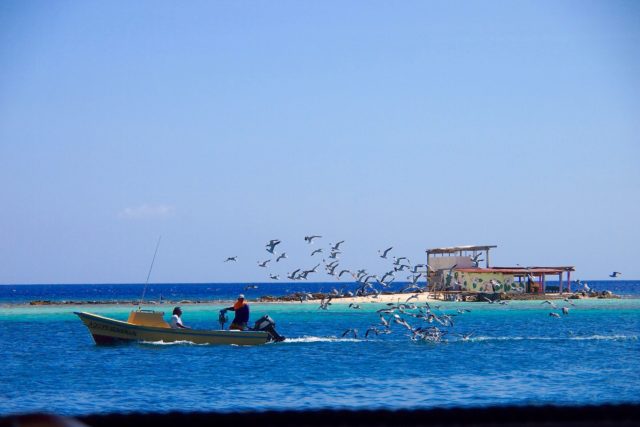 The fishermen purposely incited the birds, chumming the water as they went, while waving at all the people otherwise consumed with their plates of mahi, snapper, shrimp and sides.
It was beautiful. It was bizarre.
It was Zeerovers on a Sunday.
Learn more about what makes Zeerovers a must for uncommon travelers visiting Aruba here.
Save
Related Posts