The Naughtiest Table in Aruba
It looks like the choicest seat on the beach; a lone table and chairs topped by a distinctive aqua-blue umbrella set in the sublime Eagle Beach sand with just a singular sinewy coconut palm nearby.
The minute I saw it upon arriving at the Bucuti and Tara Beach Resort in Aruba a few weeks ago I was intrigued.
All of the resort's other beach umbrellas were white. At the same time, no other tables or chairs were positioned anywhere close to the blue umbrella.
What gives?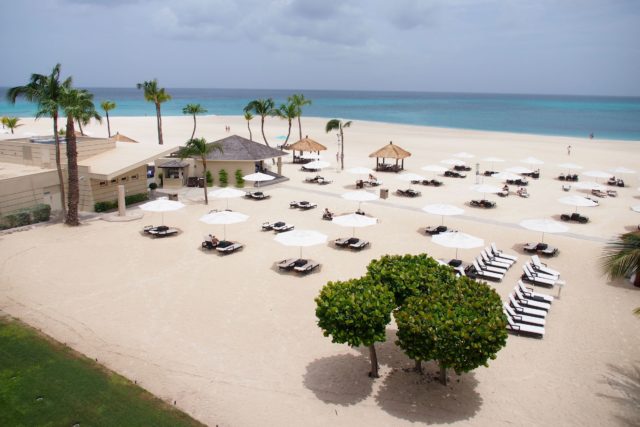 Turns out this is one of only three designated smoking areas within the entire resort.
Smoking isn't allowed in any Bucuti guestrooms or suites. Restaurants, bars, and all common areas, including all parts of the beach not shaded by that blue umbrella, are smoke-free at Bucuti as well.
Cigarettes aren't the only cancer sticks outlawed here either. Cigars, pipes, and yes even e-cigs are all banned big time.
Bucuti's staunch anti-smoking policy speaks to the resort's commitment to promoting health and wellness, which I found to be omnipresent without being overbearing.
(Go ahead, choose that muffin over the yogurt for breakfast; no judgement.)
That commitment was expanded during our stay when Bucuti became the first resort in Aruba to offer fully-customized wellness programs for guests.
Led by health and wellness specialist Isabel Struve-Rasmijn, the Bucuti wellness program helps guests to stay fit and feeling their best during their time in Aruba and beyond.
Isabel works with guests individually to create customized programs supporting wellness goals in four areas – Nutrition, Physical Fitness, Mental Wellness, and Mind/Body balance.
No doubt, she also steers 'em clear of the naughty table with the blue umbrella…
For more on the wellness offerings at Bucuti and Tara Beach Resort, visit the property online.
Save
Save
Save
Related Posts