Things to do in Aruba When it Rains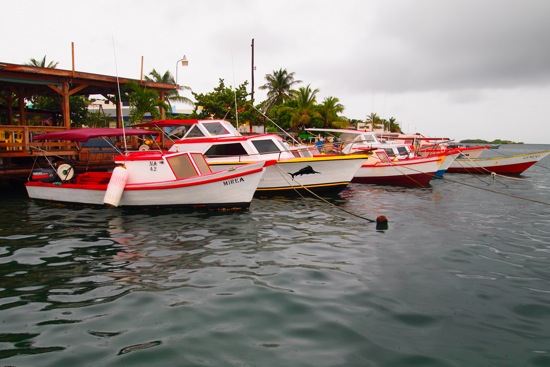 Aruba is famous for its endless days of sunshine, clear-blue skies and arid desert landscape. It's the one place in the Caribbean where vacationers are virtually guaranteed to avoid rain (average annual rainfall is less than 20 inches). The weather here is so consistently good, in fact, that I've heard the local newspapers hardly ever bother to publish a forecast. It just NEVER rains in Aruba… period.
Err, correction: it never rains in Aruba unless I'm there.
I've made two trips to Aruba over the past five years… It rained both times. At least on the first trip five years ago it only rained at night. When last I was in Aruba just a few weeks ago, it rained pretty much all day for two of my three days on-island.
Most of the guests at my hotel took the rain in stride, especially those on the all-inclusive (i.e.: all-open bar all the time) plan. The on-site mega-casino was packed both days as well.
Now far be it from me to eschew drinking and gambling, but I looked at the inclement weather as an opportunity to explore the Aruba that lies beyond the Palm Beach tourist area. I was planning to do that anyway, of course, but if the skies had been clear and sunny, I might be tempted to stick and stay on Palm Beach to take advantage of the endless watersports and good vibes at Moomba Beach Bar. Instead, I hopped a rental car and headed southeast toward the unknown.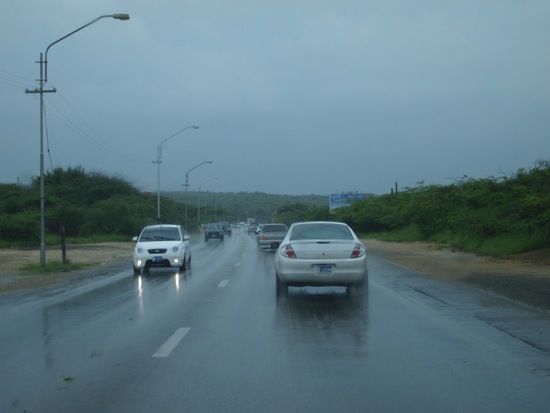 I ended up in the seaside village of Savaneta, about half-way between the capital city, Oranjestad, and Aruba's second city, San Nicholas. Savaneta is a fairly nondescript area with a nice collection of seemingly working-class homes, a rum shop or two… and a couple of the finest restaurants in Aruba.
Flying Fishbone and The Old Man & the Sea look like my kind of eateries. Located just a stone's throw from each other, both restaurants offer fine dining in unique settings. Tables extend away from the main dining areas into the sand where the water laps at the shore just a few feet away. Both places also serve a variety of seafood and meat dishes. Old Man & the Sea even stocks an impressive wine cellar with more than 1,000 international vintages. Sounds perfect, right? I'm guessing either place probably would've worked great for me, except that neither was open during my mid-day pit-stop in Savaneta.
A little rain hadn't stopped me from getting this far, so obviously I wasn't about to be deterred by this latest hurdle.
Just a few doors down from its fancier neighbors, I found a local hangout called Zeerovers. It was there that I learned what really makes Savaneta special.
According to one of the local fishermen hanging out that rainy afternoon, Savaneta is the main hub of fishing in Aruba. "The fish you eat at your hotel comes from this spot," he said, pointing to the row of boats pictured at the top of this post.
Naturally, if you're lucky enough to find "this spot" and order fish at "this spot," then you'll enjoy the freshest seafood found at any spot in Aruba.
Now, a couple things about Zeerovers: first, it's not a fancy restaurant. You sit on plastic chairs and eat off plastic tables. Instead of a table cloth or even a placemat, they tear off a sheet of paper upon which you place your plastic plate loaded with food (see photo below).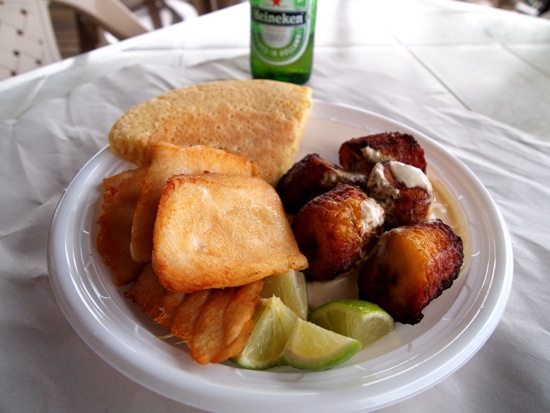 Second, there are no utensils. I know because I was silly enough to ask the cook, who is also the server, for a fork. "Here we eat with what we call our 10 Commandments," he laughed. This explains why there's a pedestal sink siting in the middle of the dining area.
Zeerovers is as much about serving its own great fish as it is about serving the island's seafood industry. Just a few feet from where I sat enjoying my meal, a couple of fishermen were busy cleaning and filleting the catch of the day before sending it off, likely to one of the hotels in the tourist zone.
It felt pretty good sitting there cleaning my plate amidst the rare driving rain and Zeerovers' decidedly humble surroundings. After all, I had just gotten the jump on the rest of the tourists back on Palm Beach for the freshest seafood on the island.
Related Posts