Boning Up on Eleuthera Through the Eyes of a Dog, Part I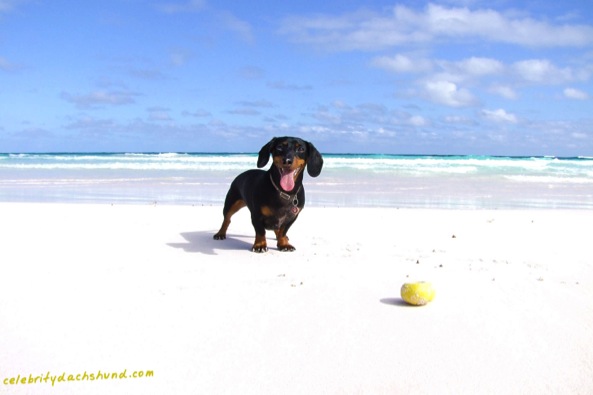 Editor's Note: We started out slow, but lately we've done a pretty good job covering The Bahamas, with Abaco, Exuma, Grand Bahama and Nassu all receiving the UC treatment recently. Still, one very special corner of the famed island chain continues to elude us – Eleuthera. We're hoping to get there this summer, though. As part of our prep, we've solicited the advice of a very uncommon traveler. Meet Crusoe, The Celebrity Dachshund…
One of my latest adventures entailed a week-long trip to the island of Eleuthera, Bahamas. What originally drew me there were the tales of fascination with the island by such celebrities as Mick Jagger and Lenny Kravitz. Yet with expectations of a quiet but luxurious place, I was taken aback for my first impression. And although not what I expected in the celebrity sense, I did eventually develop a certain appreciation for this secluded, often decrepit but authentically beautiful place.
Eleuthera is a very long and narrow island with the quiet shores of the Caribbean Sea along its west coast and the rougher Atlantic swells to its right. It is only at the very point pictured below, which they call the Glass Window, that you can see both oceans from a single spot.

I had rented myself a private villa in the small town of Governor's Harbour as I like my privacy while traveling to escape the paparazzi.
One of the first places we visited was just over the small hump that is the island to the Atlantic side where rests a long, abandoned beach by the name of French Leave. Although cluttered with ocean debris to the back, the beach was blessedly clear of footprints. Down by the water, shimmers of pink shone up from the sand. As I later found out, small microorganisms in the nearby reefs help contribute to the unique pink hue in the sand.
All-in-all, a perfect spot for playing fetch with my squeaky ball.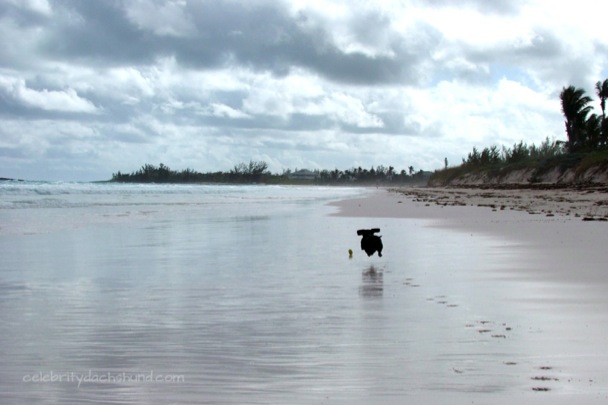 Now, when I say French Leave had an air of "abandoned," I do mean this literally. Just up the hillside rests the decaying, crumbling remains of a Club Med Resort destroyed by Hurricane Floyd in 1999 and never rebuilt. For this reason some people still refer to French Leave as Club Med Beach.
Now this is what I'd call a 'fixer-upper'.
But it wasn't just the resort that gave Eleuthera a sometimes "empty" feeling. The island does not have many full-time jobs to offer (anymore), so many locals cannot afford to stay there. As you drive down the one main road, you'll see plenty of perfectly good, but abandoned homes.
This quietness, however, helps Eleuthera maintain its pristine nature and peacefulness. The locals were almost exceptionally friendly. A few even asked if I was for sale, which I couldn't help but laugh at.
If only they knew…
This is Crusoe's first guest post for Uncommon Caribbean. Tune in for part II in which he'll give us the lo-down on Eleuthera's dining options. Also, be sure to check out more of Crusoe's travel adventures on his very own website here.

Save
Related Posts