Flying High (And Low) at the Grand Bahama Island Air Show
For just over 100 years, air shows have been drawing crowds from around the globe to pique interest in the aviation industry by leaving audiences slack-jawed beneath a spectacle that pushes man and machine in the quest for aerobatic excellence. Mix that high-flying showmanship with the natural splendor of The Bahamas (plus some cracked conch and a Kalik) and you get something even more special: The Grand Bahama Island Air Show.
Air Shows in the Caribbean?
To be honest, I'd never been to an air show (aka air fair, air tattoo, or air meet) before. Although, it's not like they haven't been happening in the Caribbean.
Here's an ad in the June 1963 issue of Flying Magazine touting the fun to be had at the 2nd Annual Dorado Beach Fly-In.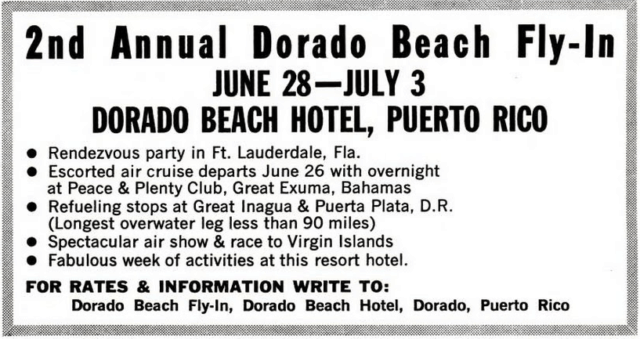 "Spectacular air show & race to Virgin Islands?" Sign me up! (Of course, I wasn't born yet… So, that may have presented some problems in me attending.)
The BVI's had their first air show back in 1967 over Beef Island when 52 aircraft from throughout the Caribbean strutted their stuff. There were even fly-bys by US Navy jets based out of Puerto Rico. (Of course, I still wasn't born yet, so…)
Still, while the Caribbean is no stranger to air shows, I guess they just weren't on my radar. (Ba-dum-tss.)
Editor's note: Apparently, Patrick's notoriously poor powers of recall have caused him to forget about the aerial acrobatics we witnessed above the skies of the Sunny Isles parking lot when the Blue Angels visited St. Croix during our MUCH younger days. Oh well, we'll just let that slide so as not to ruin a good story…
Bigger, better, longer and even more exciting
When I heard about the Grand Bahama Island Air Show, I immediately thought: "That's something I've got to check out."
In partnership with Sun n Fun, the second largest aviation event of its kind in the world that's been producing oohs and ahhs since 1974, the Grand Bahama Island Air Show is just the mix of aeronautics and authentic Bahamian culture I was hoping for.
On the ground, crowds milled around stands offering cracked conch, conch salad, grilled conch, conch fritters, crab soup, jerk chicken, barbecue chicken, macaroni pie, plus crab and rice. There were Kalik and Sands on offer. Kids were running everywhere. There was a kite festival. And sweet island jams pumped from speakers towering on either side of a stage.
Even if there wasn't an air show, I'd already be happy!
But the main event wasn't happening on land, the aerobatic box (a three-dimensional imaginary cube that acts as the stage for air shows) was designated just off shore. And while last year's show had featured some of the most talented and skilled aviation stunt performers in America, this year promoters were promising a show that would be bigger, better, longer and even more exciting.
They didn't disappoint.
Paul Schulton flying a biplane named Christen Eagle, John Black in a Super Decathlon, and the AeroShell Aerobatic Team were pulling off double hammerhead flips, inside loops, outside loops, inverted flat spins, vertical snaps, lomcovaks, rolls of all kinds, and bomb bursts just to name a few. And if those terms don't mean anything to you (they didn't for me), just take my word for it, they're all pretty spectacular — especially when they're done just a couple dozen feet off the ground!
Here are just a few photos of the excitement.
Oooooohhh…
Aaaahhhhhh…
There was even a fiery smoke finish during twilight where the AeroShell Aerobatic Team performed precision squadron stunts with dazzling lights attached to their planes.
Don't worry if you happened to miss the spectacle this year. Just mark your calendar for next year and remember the seven P's of aviation:
Proper Prior Planning Prevents Piss Poor Performance.
See you next year!
Related Posts