Missing the Real Fun at Mackey's Sand Bar and the Square Grouper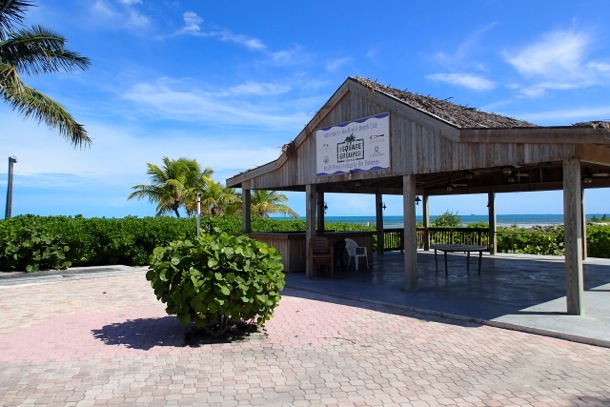 There's never enough time.
It is, all at once, the great lament and great thrill of my uncommon travel. As much as I might hate missing out on something when a trip is over, having a great reason to return always helps to fuel my thirst for experiencing all the best that the Caribbean has to offer.
Such were my emotions when I stopped in at Mackey's Sand Bar and the Square Grouper Tiki Bar a few months ago. It was a Monday afternoon, Memorial Day, and this would be our last stop in Bimini before heading for home.
As I soon learned, it was also the wrong day to be here.
Not that we didn't have a good time. The wife, kids and I were traveling with another family of four on their boat. We had just finished exploring the SS Sapona and were in need of one last taste of cracked conch before heading back to Fort Lauderdale. Mackey's was the obvious and perfect choice.
The kids got to play and relax in Mackey's pool, while the grownups enjoyed a last Bahama Mama toast to a great weekend. Everyone enjoyed Mackey's sand floor and vintage pics of Ernest Hemingway building his legend in and among the Bimini islands. The cracked conch was excellent too!
So, what did we miss?
According to everyone in the bar that day, the Wednesday night party at Mackey's and the Square Grouper is the best in all of Bimini. People arrive by boat or car from all over Bimini and beyond to take part some serious Karaoke action and dancing til the wee hours.
Could Wednesday night Karaoke at Mackey's and the Square Grouper rival what I already judged to be the best midweek party in the Caribbean over on Grand Bahama Island?
There wasn't enough time for me to find out on this particular trip to Bimini, but you can be sure I'll be back to put this party to the test!
Related Posts