Discovering the Italian Secret to Ivan's Special Rum Punch at Bu's Bar
Funny how strategically placed watering holes often have a way of derailing our best-laid travel plans…
It was day one of my Labor Day Weekend escape to Bimini with the wife, kids and our great friends, the Pliske's – four adults and four kids, all of us ready for a fun family day of snorkeling and exploring sand bars! We couldn't set off on adventure with empty stomachs, though, so after anchoring off Gun Cay, we tendered over to nearby Cat Cay to grab a bite at Bu's Bar. It was here that the family fun ended.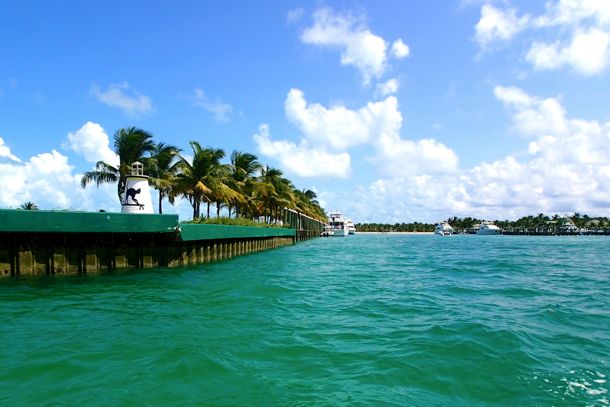 The culprit, a man named Ivan. He's one of the main bartenders at Bu's. He's also the inventor of the Ivan Special, a preposterously potent rum punch that just may be the best I've ever had.
Ivan's been mixing and serving his special rum punch for more than 20 years. What makes it so special?
Everybody loves it! You can't drink one, you gotta' have more than one!
Clearly, Ivan knew of what he spoke when he sold me on trying his concoction with these words, for no sooner had the first sip hit my lips than I resigned myself to the fact that I'd be sitting in his service for the foreseeable balance of my afternoon. Rest assured, my fellow adult companions, save my rum-averse wife, soon found themselves equally ensnared under Ivan's special spell.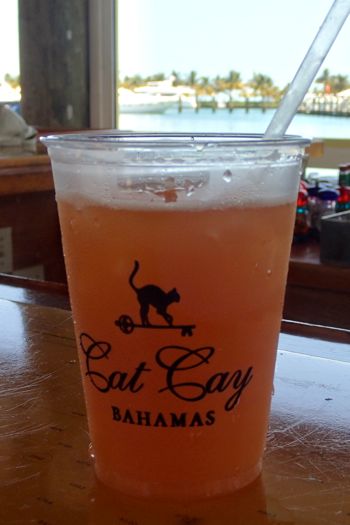 The kids? Oh, they were fine eating cracked conch, exploring the marina, and playing Bimini ring toss in the bar. We could see and hear them, of course, but I must admit to being suitably distracted by Ivan's sorcerer's ways.
So what's in an Ivan's Special?
Like most rum punches, there's a blend of fruit juices – coconut, banana, orange, pineapple, and lemon – swimming nicely with copious levels of rum (Bacardi Gold) and a few splashes of grenadine. Ice and a floater of Myer's make it extra nice, but it's another more uncommon liqueur employed by Ivan that may just give his "Special" its unique quality…
The surprising ingredient is Galliano, an electric-yellow Italian liqueur first developed in 1896. I've never tried Galliano on its own, but judging from the description noted here, I can see how it adds extra punch and flavor to each Ivan's Special.
Not sure how many Specials we enjoyed, but I am sure there was no snorkeling that afternoon. We did manage to hit one sand bar (no, not by mistake), but for the most part, our lazy afternoon turned into a lazy evening. This was just as well considering all the action to come during the remainder of the weekend.
More on that another day. For now, here's to Ivan and his inventive Special rum punch. Definitely look for the man and his concoction next time you're in his special corner of Bimini. Remember, though, that Cat Cay is a private island community. Bu's Bar is located right on the dock and is open to everyone, but it's not like you can just wander around the rest of the island to walk off your Specials…
Related Posts