Feeding Stingrays at Honeymoon Harbour, Bimini
There are lots of aquariums and touristy marine attractions around the Caribbean where feeding stingrays is possible. They're not for you. Your preference for the uncommon won't allow such banality.
You want your up-close-and-personal with these haunting sea creatures wild and unfettered – no guides, animal trainers, or anyone even remotely official-looking anywhere in sight.
For you, I offer Honeymoon Harbour…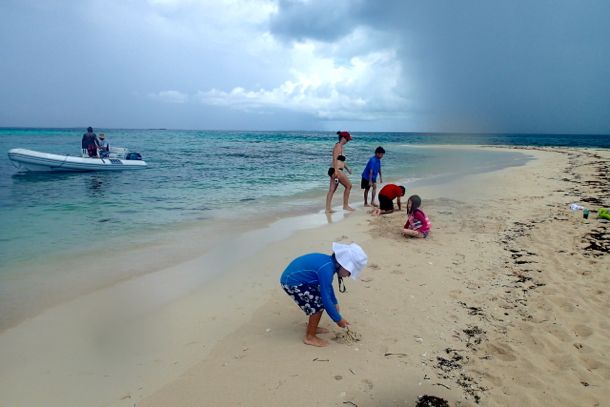 As you can see, Honeymoon Harbour is not a harbour (or harbor) at all. Instead, it's a beach – and a pretty sweet one at that! – located at the far north end of Gun Cay in the Bimini archipelago of The Bahamas. Outside of being a fine and wonderfully secluded spot for a nice beach lime, Honeymoon Harbour is also as prime a spot as I've encountered in the Caribbean to hang with stingrays.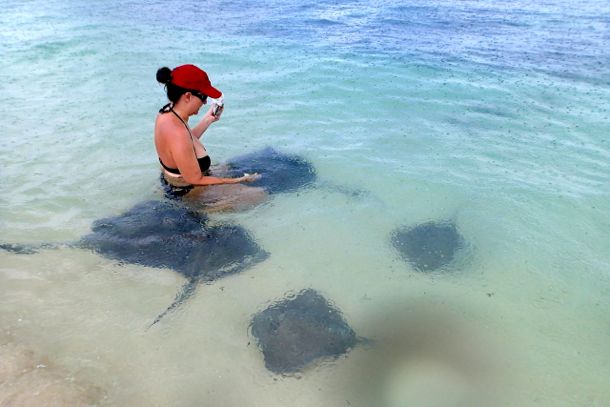 For as long as I've been coming here, there have always been stingrays.
My friend Leann said that. She had brought me here last September, her husband, and two young kids together with my wife and two young kids enjoying a weekend boat trip together. Leann and she are frequent visitors to Bimini, but for us Bennetts, it was the first time.
The entire trip was filled with nice surprises – Ivan Specials at Bu's Bar, Moon Jellies, REALLY cheap lobster, a spooky wreck… Feeding the stingrays here was no different, even if the kids were a little squeamish about getting too close…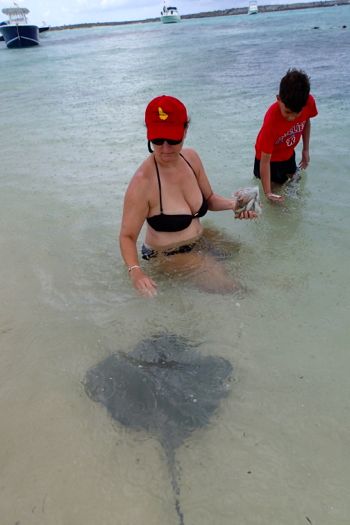 So, why is it that scores of stingrays always hang out here?
Well, as the story goes, fishermen used to stop here to clean their catch, taking advantage of the calm anchorage. Discarded fish bits thrown overboard attracted the stingrays initially, though these days they profit more from the charity of visiting pleasure boaters like us.
Leann's feeding them pilchards bait, which you can pick up at any fish and tackle store. Notice how she's sitting on her knees? That's to make sure she doesn't step on them, a mistake that will earn you a hefty sting.
When entering the water, it's best to shuffle your feet through the sand, as opposed to taking big steps. Stingrays detect the shifting sand and will move out of your way.
Once you find a spot where you're comfortable sitting, just wait there with the food, and the stingrays will come to you. Leave as carefully as you came, and you'll easily enjoy this very cool experience.
Related Posts