On-Site Green Turtle Cay: Where to 'Bee' For a Real Goombay Smash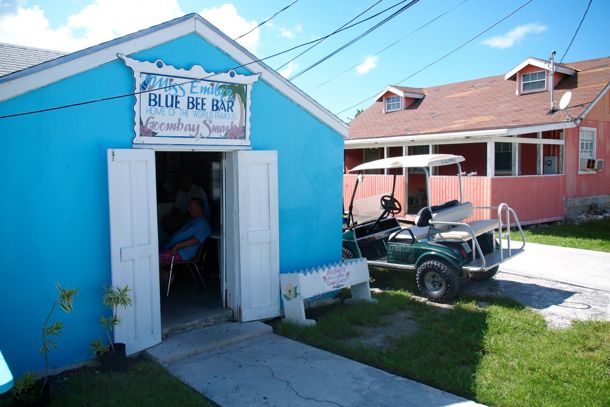 The Caribbean has given rise to so many of the world's favorite libations that anyone so inclined could easily develop a fun and tasty trip connecting each cocktail's original point of origin. Cuba Libres and Mojitos in Cuba, Piña Coladas in Puerto Rico, Painkillers in Jost Van Dyke – the list goes on and on.
And while such an itinerary might suffer from disputes over the birthplaces of some drinks (e.g.: Pina Colada), there'd be no doubts when it came to one particularly smashing-good cocktail from The Bahamas….
The undisputed birthplace: Miss Emily's Blue Bee Bar on Green Turtle Cay, Abaco, The Bahamas.
The unbelievably good cocktail: the Goombay Smash.
Now, you may think you've enjoyed a Goombay Smash or two elsewhere in The Bahamas. Certainly, the drink has become synonymous with good times all across the Bahamian islands, so yeah, you can get it many other places outside Green Turtle.
But, if the mix you tried didn't come directly from Miss Emily's, well, then, you probably got a Goombay of a different color. That's cause the full recipe developed here by Emily Cooper way back in the 1960's has never been shared with anyone outside the Cooper family. So says Miss Emily's daughter, Misty, whom we met behind the bar at Lizard's, another bar just outside of New Plymouth, on a Sunday in late-May.
The wife and I had stopped in at Lizard's after a morning's hike and lime on Coco Beach. It being Sunday, not too much was open on Green Turtle, so when we saw other golf carts pulling into Lizard's ahead of us, we figured we'd better stop lest we miss out on lunch entirely.
That we got to know Misty over a few drinks with lunch was a very good thing, considering we were set to leave early the next morning and had yet to visit Miss Emily's. The place is legendary and just a half-hearted stone's throw from the Wrecking Tree, where we had lunch the previous day. It's even closer to Ye Olde Gaol, which we obviously checked out as well.
Somehow, though, we'd managed to miss Miss Emily's to that point of our trip, and seeing as how it's not open on Sunday's, it looked like we'd miss it altogether.
Leaving Green Turtle Cay without stopping in at Miss Emily's would be a crime. Lucky for us, Misty pulled some strings and they opened up special just for us!
Outside, Miss Emily's Blue Bee Bar is small, tidy, humble and very blue – another colorfully clapboard building among the many that give New Plymouth its distinctive New England charm.
Inside, however, it's all graffitied walls, discarded t-shirts, hats and other random accouterments typical of our favorite Caribbean bars.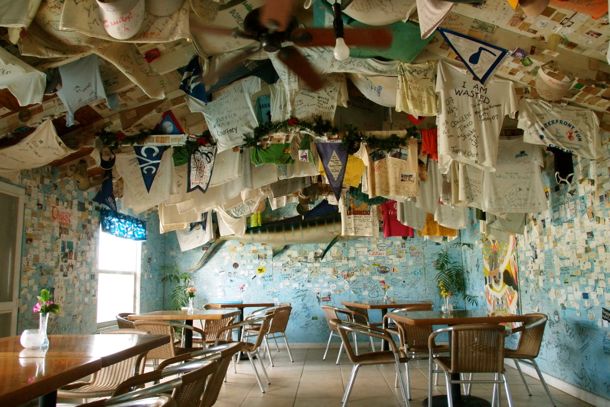 Hundreds, perhaps thousands of business cards are scattered about every wall and bit of ceiling, interspersed with everything from foreign currency, flags, personal photos, bumper stickers and the odd thong or two.
The only uncovered sections of wall space denote how high the water level rose inside the bar during Hurricane Irene last summer. Now repaired and repainted, these sections stand bare awaiting your personal touch.
It's no wonder so many folks feel compelled to pen missives of love, loss and remembrance, while also leaving articles of clothing here. As another patron who wandered in during our visit noted:
I remember what it [Goombay Smash] did to me last time…and it wasn't pretty!
She said this with a boisterous laugh while enthusiastically purchasing a bottle of Goombay Smash to take on her way, more blissful "ugliness" soon to follow.
To be sure, the Goombay Smash is very strong, ergo the "Smash" in its name, but the question remains: What's in it?
Well, I'm no member of the Cooper clan, but I can tell you that there's coconut rum, dark rum and white rum in every real Goombay Smash. There's also something a bit stronger mixed in there as well. Oh, and you can't forget the key ingredient: Dole Pineapple Juice.
No other pineapple juice will do, according to the folks at the Blue Bee. No grenadine or orange juice is used either, though you may find 'em mixed in to imitation Goombays served elsewhere.
Indeed, for the real Goombay Smash, Miss Emily's is absolutely the one and only place to "bee."
Related Posts