Pineapples Bar & Grill, Green Turtle Cay: Taste of the Caribbean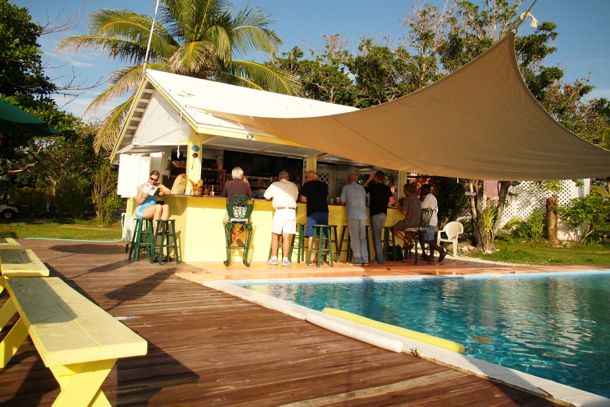 Schedules, deadlines and all other things "time sensitive" are chief among the challenges of everyday life most of us seek to avoid when traveling on leisure. If you frequent smaller hotels on tiny off-the-beaten-path Caribbean islands, though, you'll find that there's at least one area of your journey where it pays to keep your eye on the clock… meals.
Smaller properties don't stock (or waste) as much food as your typical sprawling resort. Meals are planned according to how many folks are expected, just as you'd prepare for a dinner party at home. There isn't a lot of leeway, especially on Sundays when not much else may be open. Forget to place your dinner order, or miss dinnertime, and you'll likely go to bed hungry.
My wife and I almost found this out the hard way while staying at The Green Turtle Club on Green Turtle Cay back in May. Let's just say the good times at our special Sunday afternoon intro to the Blue Bee Bar and a few other spots stretched on a bit further than we originally expected. By the time we got back to our hotel, dinner was done.
Luckily for us, though, Pineapples was still going.
Pineapples Bar & Grill is located on Brooklyn Road in New Plymouth, though it's really across the Black Sound from the central downtown area, as you can see in this pic of the town from the tree swing at Pineapples…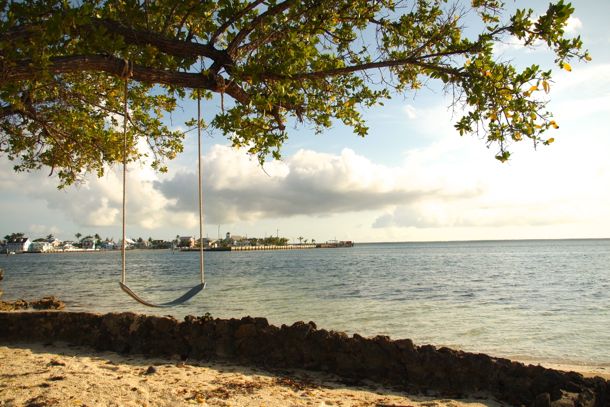 We had actually been there earlier in the afternoon enjoying happy hour and the start to the most marvelous sunset I've enjoyed all year. The wonderful staff at The Green Turtle Club called in our order and within minutes we were back in our golf cart (there aren't many cars on Green Turtle) puttering in the dark back to Pineapples.
On arrival, our food was ready – jerk grouper, conch fritters, cold Sands Beer: delicious and well worth the trouble. That was all great, but the even better thing about Pineapples is the friendly party vibe.
You can see in the lead photo above that the main building is modest in size; nothing more than a simple cottage. It's the pool and nice-sized surrounding deck that really pulls you in. In the afternoon, we met all kinds of over heated visitors and locals here seeking to cool off with a tasty beverage and a quick dip in the shade.
If the pool's not your thing, though, Pineapples has you covered there too with a tidy little beach…
By night the lighted pool combines with the twinkling lights of New Plymouth dancing atop Black Sound to create a relaxed, romantic setting that my wife and I were lucky to have experienced. It wouldn't have happened without our friends at Green Turtle Cay… and their special dinnertime rule.
For more on Pineapples, follow 'em on Facebook.
Related Posts