The Best Place to Buy Lobster in Bimini: Taste of the Caribbean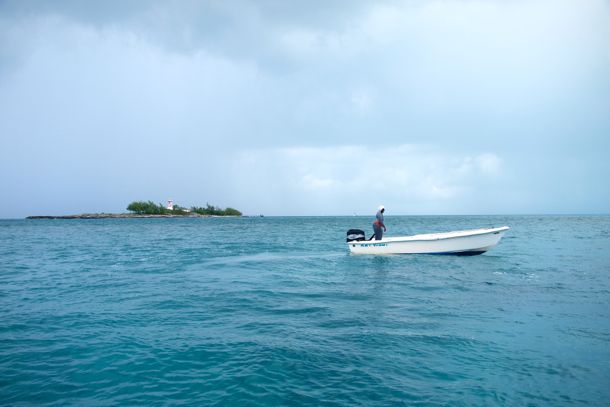 There are lots of different places where you can buy fresh lobster in Bimini. Restaurants, hotels, beach bars and markets – they all stock the scrumptious spiny critters in-season, usually at prices well below what you'd pay back home. It's hard to go wrong no matter where you decide to make your purchase, but for me nothing beats the buying experience in the spot pictured here…
Yes, it's the middle of the sea. More specifically, it's the channel that runs between Cat Cay and Gun Cay, two of the smallest islands in the Bimini chain within The Bahamas. It was here, while tooling around aboard a Zodiac with my friend/neighbor Chris over Labor Day Weekend that we found Prince and Denise.
That's Denise running the boat in the photo. Prince? Oh, he's there too, only you can't see him because he's down beneath the waves spearing lobsters.
Denise is from Bimini. Prince hails from Andros. The two aren't a couple, just business partners working together for the past 11 years to supply the insatiable demand for all manner of seafood treats among locals and visitors alike.
My buddy Chris has been running boats from his home in South Florida over to The Bahamas for years. On his last trip, he was kind enough to bring me back some fresh conch that he'd purchased from Prince. It was so good that we just had to find Prince again on this trip to get in on more goodies.
Luckily for us, Prince and Denise were on the hunt for lobster on this particular day to supply a rather large group of tourists staying at the Bimini Bay Resort. The pickings, they were not slim…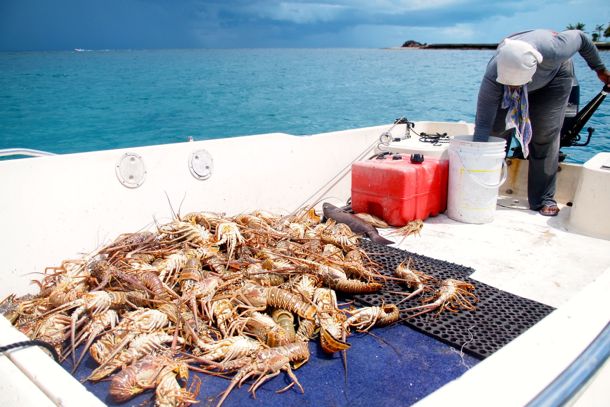 All the while Chris and I sat there talking to Denise, Prince barely slowed down, repeatedly plunging to the depths below and emerging time and again with two, three, sometimes four lobster on one spear at a time. Our new friends had little time to chit-chat anyway as a squall was rolling in, but they sure gave us a price on the lobster we purchased that's well worth talking about.
Try $2.50. Each!
That's right, for less than the price of a Big Mac in most places, you can get fresh-caught lobster from Prince and Denise! Only problem is, how do you find them? It's not like they're always in the same place, like your local neighborhood grocery store, or your favorite seafood restaurant.
The answer is, you call 'em. Not only will they be happy to bring you just about any seafood you might have your heart set on during your stay in Bimini, if you want, Prince will also let you come along and help him catch it. The pair can accommodate all types of fishing and seaborne sightseeing fun. When I asked what it might cost to accompany Prince and learn his masterful lobstering technique, he just said:
We'll just work it out.
If the price is anything like what he's charging for lobster, then it's sure to be one of the best and most affordable lessons you'll ever enjoy!
To link up with Prince next time you're in Bimini, call him at Tel: 242-473-0227. You can also try Denise at Tel: 242-533-9480. Either way, be sure to tell them where you heard it first…
Related Posts