The Beautifully Bahamian Kitsch of Dolphin House, North Bimini
Editor's note: Like any good uncommon traveler, our friend Laura Albritton didn't confine her recent Bimini escape to the posh surrounds of a fancy hotel. Her wanderings led her to a number of uncommon attractions, the most colorfully kitschy of which she tells us about in her latest post…
One of most captivating aspects of travel in the Caribbean to me is the sheer creativity you encounter among its people. Artistry, whether it be in music, painting, or dance, bubbles forth from West Indians as spontaneously as cool water from a spring. So, when I heard about one artistic creation on North Bimini in The Bahamas, it seemed worthwhile to take a detour and investigate.
I had been exploring the island by bicycle, which turns out to be a convenient (and pretty healthy) way to get around. While peddling along the narrow road in Alice Town, I kept my eyes open for a place called Dolphin House. A short description on the Internet mentioned that it featured a number of conch shells cemented to the structure.
One thing you discover quickly in Bimini, though, is that conch shells abound as decorations most everywhere! I began to doubt whether I would recognize this local icon even from bike-level.
Thankfully, my concerns evaporated in short order at the sight of two stories brimming with exuberant color and joie de vivre outshining every other conch shell-adorned edifice here, and likely anywhere else. Mosaics, shells, and glass encrusted the house with so much energy it begged closer examination inside and out.
Just as I was thinking this, a gentleman in a baseball cap standing outside the building called out and introduced himself as "Ashley Saunders." Turns out it was the same Ashley Saunders who has spent the past 22 years (and counting) crafting Dolphin House.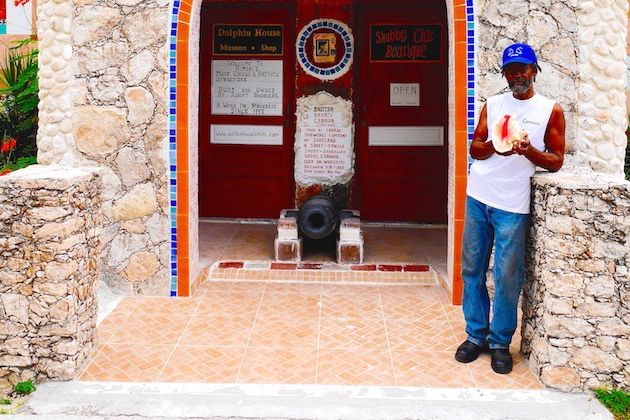 The "and counting" refers to the fact that Dolphin House very much remains a work-in-progress; an ever-evolving art expression inspired by Mr. Saunders' interactions at sea with the house's namesake creatures.
I've been swimming with the wild dolphins for many a year… this is my way of paying tribute to them.
For a very modest fee (US$3.00 per-person), he offered to take me and my better half, Zickie, on a tour of his creation. "Absolutely," I said, barely able to contain my enthusiasm.
When Mr. Saunders says the house pays homage to dolphins, he isn't kidding.
"There are at least 40 dolphins on the whole house," he told me, pointing to the cheerful marine mammals portrayed on the façade. "Half the job is collecting," he added, "and half the job is building." The number of objects, from corals that washed ashore to old discarded rum bottles and trinkets, was truly astounding.
On the second floor, the blue-painted ceiling was decorated with driftwood and bamboo and hung with buoys. On one wall, Mr. Saunders displayed "my shrine to the mermaids." Another displayed broken shells that came ashore after Hurricane Sandy. When I asked if the hurricane had impacted Dolphin House, he responded, "There have been six hurricanes so far, and not a scratch."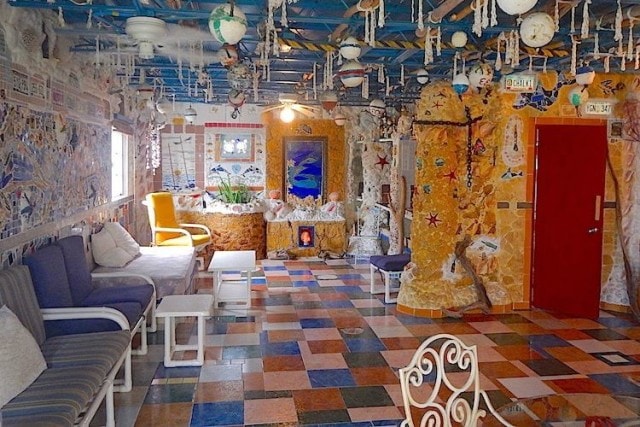 The art in and around Dolphin House is unmistakable, but the "house" in the name isn't just for show – you can actually stay here too!
Dolphin House has two air-conditioned guestrooms, each with its own bathroom, that Saunders rents to visitors. In both accommodations, sea-life and mosaics appear to dance upon the walls.
In fact, "the island is experiencing a boom, and we need more rooms," Mr. Saunders said, as he led us up to the third floor, which he is in the process of constructing. The views of the azure-streaked sea were just gorgeous, hinting at the assured popularity of those future third-floor guestrooms.
Finally, on the ground level, we peeked inside his museum room. Quotations from Ernest Hemingway were scrawled everywhere, including the ceiling. (Hemingway famously loved Bimini for its superb fishing.)
Here, found coins had cleverly been used to form palm trees on one surface. Clearly, nothing that Ashley Saunders stumbles across on the seashore or finds discarded on land goes to waste. Dolphin House is genuinely a wonderful exercise in recycling and self-expression.
At last, it was time to say farewell. We waved good-bye and retrieved our bicycles, with backward glances cast at the mosaic dolphins swimming across the front of Dolphin House. What would it be like to stay in one of the bedrooms overnight? Maybe next trip to Bimini we'll find out.
Dolphin House can be found in Alice Town on Saunders Street. To learn more, visit Dolphin House on Facebook.
Another great find – thanks Laura! For more of Laura's adventures in travel, be sure to check out her fantastic Island Runaways blog here.
Related Posts