Sailing Races in The Family Islands: Uncommon Attraction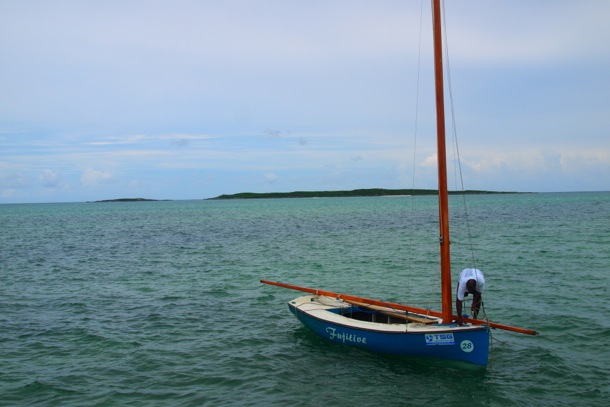 With as many disparate islands as there are spread over as wide a swath of sea as encompasses The Bahamas, it stands to reason that sailing has been as big a part of life here as anything else for as long as anyone's been Bahamian. It's almost incomprehensible to think, then, that during the 1950s beautiful traditional sloops like this almost disappeared forever.
The culprit (again) was progress. Advances in modern shipbuilding and air travel were making the old sailboats obsolete, connecting the islands as never before, though killing the romance of the old sail.
We've discussed similar such sins of progress before. Remember Vanishing Sail? Well, in the case of The Bahamas, the locals didn't wait for a lifeline from the outside to save their cherished sailing tradition. Nope. Instead, they started partying.
More to the point, they started racing, creating a series of regattas pitting the old vessels against each other in a celebration of Bahamian pride and cultural preservation. The largest of these celebrations, The National Family Island Regatta, has been held in Exuma on the last full weekend in April since 1954. Local sailors come from all over The Bahamas to compete for cash prizes and bragging rights under a strict set of guidelines, many of which date back to the event's earliest days. Among them:
-Boats must be constructed solely of wood.
-Sails must be made solely of cotton.
-No spreaders or winches are allowed.
-No advertising is allowed on sails.
I've read that some of the rules are sometimes relaxed a bit, but for the most part this event is Old School all the way.
Oh, and if you're thinking of participating and you're not Bahamian, you can forget it. Not only must all the boats be designed, built and owned by Bahamians, they must also be skippered exclusively by Bahamians.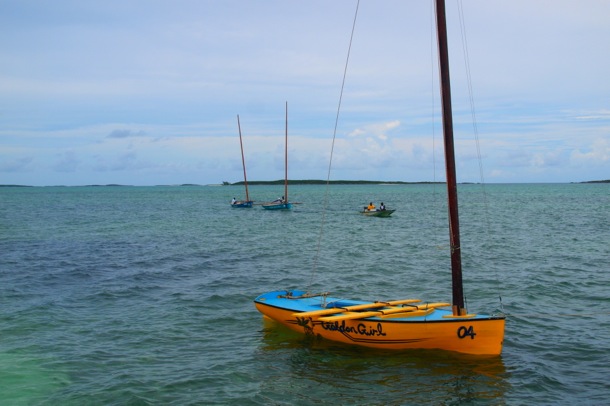 So, it's solely a spectator event for the rest of us, which isn't such a bad thing considering the spectacle of watching these sloops in action. Not that I'm some kind of sailing expert, but these things look incredibly difficult to handle.
Like the yoles in Martinique, traditional Bahamian sloops have huge sails and incredibly tall masts for their comparatively modest hulls, a combination that makes sailing 'em quite the balancing act. You need an oversized crew for such a small vessel, many of whom are effectively along for the ride, providing counterbalance while perched atop narrow hiking planks.
It's an amazing sight, though you don't necessarily need to visit Exuma during "Regatta" to experience it.
Traditional sailing races have, over the years, become central components of community reunion events throughout the Family Islands, as all the islands in The Bahamas not named New Providence and Grand Bahama Island are known. There's also The Long Island Regatta in June, second in size to Exuma's.
Then again, you might also just get lucky and stumble across a race like I did when I visited Exuma Point Beach Bar & Grill last summer. No sooner had the sailors arrived at the jetty that the trash talking and wagering started up.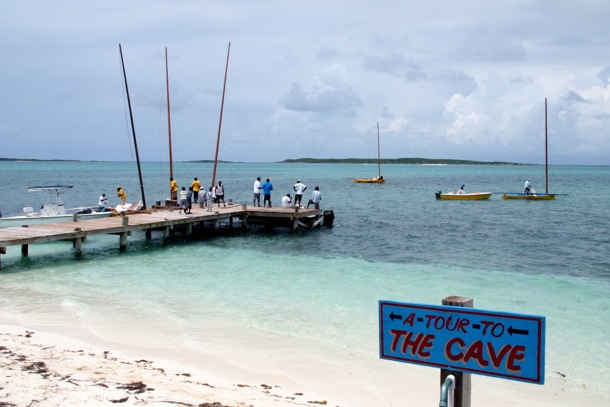 It was all friendly and in good fun, but you could feel the pride each man had for his vessel and the true desire they all had to win.
If it's like that on a random Saturday in June, just imagine what it's like for one of the bigger events!
Related Posts