Vertrum Lowe's Bahamian Model Ships: Uncommon Buy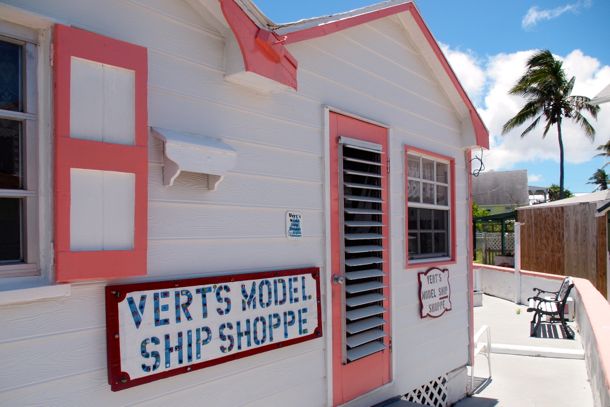 We're proud of the many nice accomplishments we've made since starting Uncommon Caribbean a couple years ago, though the very small part we played in helping to preserve the legacy of boatbuilding in the Grenadines stands out the most to me. The Caribbean just wouldn't be the same without its storied sailing traditions. If we contributed anything toward making Vanishing Sail a reality, and if the film actually does work to inspire a new generation of boatbuilders to continue in the old ways, then to me, that's a very, very big deal. After all, lots of other great West Indian traditions never benefit from any type of saving grace…
I was reminded of this upon finding Vert's Model Ship Shoppee in New Plymouth, the quaint and historic New England-style village on Green Turtle Cay in the Abacos Islands of The Bahamas. You can find Vert's tucked away behind a row of houses on Bay Street. It's a tiny, cramped, and on the day we visited in May 2012, extremely hot little box of a place. The very model of an elderly handyman's workshop, complete with all manner of anything and everything you might need to fix, clean or build seemingly anything and everything. All of it protruding, hanging or piling up in every possible nook and cranny. Even in jars from the ceiling!
Overseeing all the chaos is Vertrum Lowe, who together with his two brothers and a sister, grew up in one of those houses along Bay Street. Vert still makes his home there. For the past 27 years, he's also made some of the most prized collector's items in the boating world – handsome, handmade model ships like this one…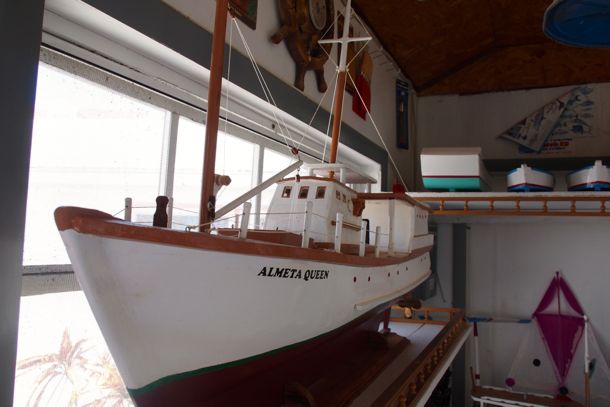 Vert also specializes in sailing sloops, both in full and half-model sizes that can we wall-mounted. He estimates that he's produced more than 600 such models in his time, though this hasn't always been Vert's profession.
In reality, Vertrum Lowe is a sailor. He started running boats at the tender age of 17. His vessel, the Maryann-Kate, would run supplies between Palm Beach and The Bahamas. He did this for years, eventually got married and took a job running the marina at The Green Turtle Club, a job that would keep him closer to home, his wife and kids for 44 years.
Somewhere along the way, Vert picked up his father's talent for model shipbuilding. Visit the Albert Lowe Museum in New Plymouth, named in honor of Vert's dad, and you can see some of the family's finest handiwork…
These models are obviously beautiful, but the thing that really attracts collectors is the amazing attention to detail that goes into making each one. All of Vert's models, and those produced by his dad before him, are exact replicas of real ships. As such, all the winches, rudders, sails, etc. all work just as they would on a regular, full-sized vessel.
Not surprisingly, this type of painstaking hand-craftsmanship comes at a fairly high price. Vert's largest and most intricate models go for around US$3,000. Half models are a steal starting at only US$80, but I wouldn't bank on any of Vert's prices remaining at their current levels for long…
As I alluded to in the intro, there's no saving grace for the celebrated Lowe family tradition of model ship building. Vert explained to me that his children never got into their grandfather's hobby. Once Vert is gone, so too will disappear these amazing model boats.
They're already collector's items appreciating handsomely in value, so if you're going to get one, now is the time! Pay Vert a visit over in Green Turtle Cay to pick one up, or call him at Tel: 242-365-4170 to place an order. He's happy to ship overseas, of course, even without his beloved Maryann-Kate…
Related Posts