Where To Next In The Bahamas? Four Out Islands We Can't Visit Soon Enough!
Six-hundred and eighty.
We've done a pretty good job getting to know more of The Bahamas recently, visiting 20 or so islands and islets over the past few years. Still, that leaves us with a good 680 sweet Bahamian shores to explore!
Here are four cozy corners of The Out Islands that are tops on my must-see now list…
Deep Water Cay
Formerly a fishing lodge geared almost exclusively to manly pursuits, Deep Water Cay has, in recent years, been converted into an elegant private island escape that suits discerning couples particularly well.
The fishing is still world class here, of course. Snorkeling, scuba diving, and shelling also bear the benefit of Deep Water Cay's sublime seclusion from civilization. Now, with guest cottages and private residences to match the quality of the salt life fun, this place seems just about perfect.
More on Deep Water Cay here.
Acklins/Crooked Island
You can walk from my hotel on Crooked Island straight across to Acklins.
Bernard Ferguson, owner of Tranquility on the Bay Resort on Crooked Island, sold me on paying him a visit with just those very words. We met several years ago at a Bahamas Ministry of Tourism meeting in Nassau. Most of the conversation had been about the Bahamian capital, but I was transfixed on his words on the adventures that awaited in Acklins and Crooked Island.
Even among the Out Islands these neighboring shores are considered remote, Bernard told me. All the beaches, reefs, and fishing grounds are 100% pristine and natural.
Bone fishing conditions in the Bight of Acklins, the 1,000 square mile lagoon that separates the two islands, are said to be just incredible, as is, no doubt, the experience of simply walking between Acklins and Crooked Island at low tide.
More on Acklins and Crooked Island here.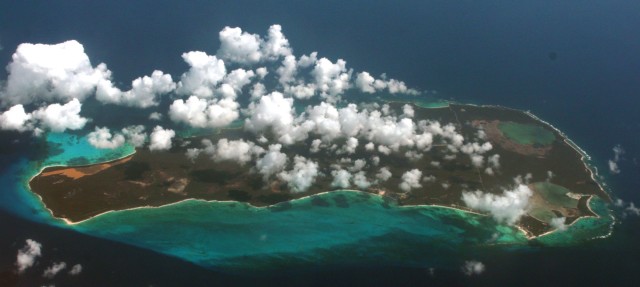 Rum Cay
Okay, aside from the obvious allure in its name, the primary thing that intrigues me about Rum Cay is its rich history, particularly its Amerindian roots.
Rock carvings and ancient artifacts found in Hartford Cave reveal evidence of a vibrant Arawak society here prior to the arrival of the Europeans in the 1500s. Could there be other caves on the island with additional clues on Arawak life here to discover? It would be great to find out!
I've also read that the surfing along the north shore of Rum Cay is among the best in The Bahamas. Those pristine white-sand beaches pictured from the sky are worth a closer look as well, don't you think?
More on Rum Cay here.
Related Posts