Doorly's XO and Doorly's 12 Year-Old Rum: A Few Rare Birds
For me there's a simple truth driving why I travel. The impetus in its most elemental form is just to experience something I can't get at home. In short, I'm seeking rare experiences. Luckily for those, like me, Doorly's XO and all the other Doorly's rums advertise their scarcity right on the label using a unique avian scale: macaws.
Doorly's 3 year-old Rum
From our friends at R. L. Seale & Co. Distilleries, Barbados, it starts with the Blue and Yellow Macaw found on the Doorly's 3 year-old white rum.
This wide-ranging bright gold bird calls the tropical woodland from Trinidad and Tobago and Venezuela down to Peru, Brazil, Bolivia, and Paraguay home. It's range even extends slightly into Central America.
What I'm getting at is (other than in Trinidad where it's an endangered species), it's not a particularly rare feathered friend… And neither is this rum. Slightly fruity and aromatic, it's great in cocktails and mainly exported to the UK from its home in Barbados.
Doorly's 5 year-old Rum
From there, we get a smidge more rare with the Scarlet Macaw found on the Doorly's 5 year-old bottle.
The national bird of Honduras, the Scarlet Macaw adds its unique splash of color to forests from the extreme south of Mexico all the way to Amazonian Peru, Bolivia, and Brazil. Wide ranging yes, but also a marvelous beauty to behold in its natural habitat and the Doorly's 5 year-old is no different. A balanced blend of rums aged in used whiskey and bourbon barrels, this rum acts as a solid standard for Bajan rums.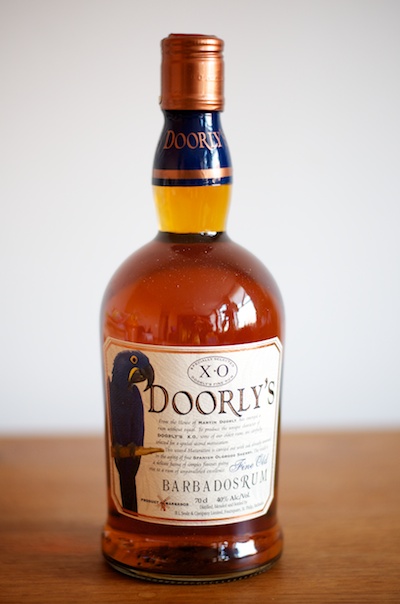 Doorly's XO Rum
To represent the exquisite blend of 6 to 12 year-old rums found in Doorly's XO rum, only the grand Hyacinth Macaw would do.
The largest macaw (and largest flying parrot of all), the Hyacinth sadly finds itself on the endangered list due to habitat loss and trapping for the pet trade. It now ranges only within woodlands of central and eastern South America.
Of course, if you really know where to go, they can still be found and the same holds true for Doorly's XO. Found in fine establishments across Barbados, this top-shelf rum is finished in special Oloroso sherry casks that help give it a unique, easy-sipping style.
Doorly's 12 year-old Rum
Finally, there's the critically endangered, possibly extinct in the wild, Spix's Macaw that graces the frustratingly rare Doorly's 12 year-old rum.
The Spix's was always scarce due to it's codependence on a specific tree for nesting that only grows in certain parts of Brazil, but with hunting, trapping, destruction of its habitat, and oddly enough, the introduction of the Africanized bee (AKA Killer Bee), that also happens to like the same tree as the Spix's and, well, they've essentially disappeared.
Let's hope Doorly's 12 year-old has the opposite fate. Currently the only place I could find this bottle was at the Foursquare distillery itself where it's lovingly made. On a recent visit, Richard Seale himself promised this unique elixir would find greater distribution later this year, but who can wait that long?
Macaws in the United States?
One thing to keep in mind is that macaws are not native to the continental United States, so by this scale you might not expect to find Doorly's in your local liquor store and you'd be right! But remember, travel is all about experiencing something you can't get at home, right?
OK, I know what your thinking: is it worth traveling all the way to Barbados just for a bottle of Doorly's 12 year-old rum? Well, it's easier than trekking into the deepest, darkest jungles of Brazil to catch a glimpse of a Spix's Macaw! And certainly more delicious. (Now that's my kind of birding excursion.)
Cheers!
Related Posts