Friday Happy Hour: Doubly Sweet Dos Maderas P.X.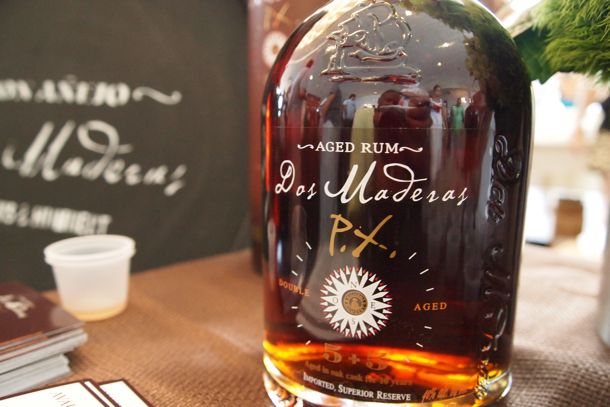 This week marks one of those rare occasions when my brother/UC partner, Patrick, and I are in the same city – New York – where he lives and I just happen to be visiting on business. This happy happenstance has given rise, predictably, to some choice sampling of our favorite rums. Last night, we even got a chance to share our rum fun with a few of you, our fabulous readers, during our very first meet-up at Lani Kai down in SOHO.
If it sounds strange that we devout devotees to all things Caribbean would host a meet-up at a Hawaii-themed bar, well, it shouldn't. Lani Kai may espouse the luau lifestyle, but it's also one of the very best places in Manhattan to enjoy that most quintessential of Caribbean libations: rum.
And we're not talking about just any old rum, either. This place is stocked to the gills with an impressive collection featuring some of the world's finest blends. Diplomatico Reserva Exclusiva, Appleton V/X, Rhum J.M. Vieux Millesime 1997, 3-Star Ron Barrilito, Gosling's Family Reserve Old Rum, Cockspur 12, Chairman's Reserve, several Rhum Neisson blends, Zafra 21, the Scarlet Ibis and Cruzan Single Barrel Estate are just a few of our favorites that we encountered (and enjoyed).
Honestly, it was hard to choose from among all the goodies, but one continued to stand out for me, particularly as the night wore on. It's called Dos Maderas P.X., and in another uncommon twist, it's actually from Spain!
I got my first taste of this stuff several weeks ago at the 2011 Miami Rum Renaissance Festival where it stood out to me for its bold, unique flavor. Of course, all aged rums of any substance can be characterized as having a bold, unique flavor, but there was something different about Dos Maderas. I couldn't put my finger on it then, but after some extended sampling last night and a bit of research this morning, I figured it out.
Before I spill the beans on the secret to the unique flavor of Dos Maderas, though, let's look at the meat and potatoes of this fine rum. As you may have guessed, the actual base rum used in crafting Dos Maderas is not distilled in Spain. Rather, it's a blend of rums from Guyana and Barbados, combined and aged in the same type of bourbon casks typically used to age most rum. The new blend sits aging in the Caribbean for five years. Nothing unusual there, right?
Indeed, it isn't until the next stage in the development of Dos Maderas P.X. that things get a little more interesting…
You see, once the five-year Caribbean-based aging process is up, the rum is shipped to Spain where it is further aged for an additional five years in casks that had been formerly used to age 20 year-old sherry wines.
This, as you might imagine, is highly unusual. Sherry wine comes in a variety of forms, but the type made with Pedro Ximenez grapes are very sweet, making them ideal as a dessert wine. The P.X. in Dos Maderas P.X. speaks to the unique character afforded this fine rum from time spent aging in casks formerly used to age the sweet P.X. sherry wine.
It also explains why I was loving Dos Maderas P.X. as the party wore down last night. I was just following my natural instincts toward dessert after some great eats (pork bun and ahi sliders at Lani Kai are AMAZING) and a fantastic lime with some new friends.
We hope to see you soon at our next meet-up (any ideas where we should host it?), or any random night at Lani Kai. If it's late, I'll be the guy sipping Dos Maderas neat at the end of the bar, satiating my sweet tooth til the wee hours…
Cheers!
Related Posts