Friday Happy Hour: New Mount Gay Eclipse Black 100-Proof Rum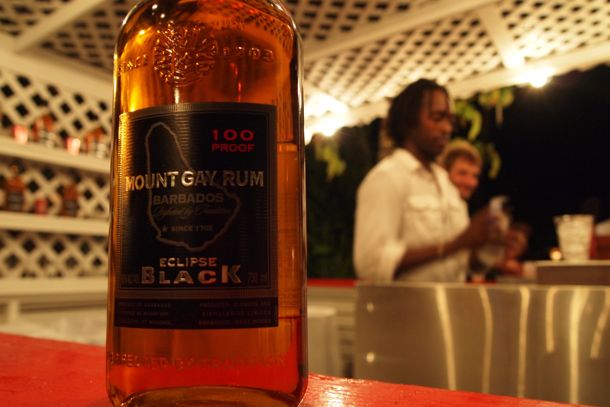 We love interacting with you, our faithful readers, both here on our blog, as well as via the various social media channels that we frequent – twitter, Facebook, Flickr, etc. You guys have a lot of great questions, which we endeavor to answer directly, or in our popular Ask Uncommon Caribbean posts. We're not always as timely about it as we'd like to be (sorry Harper), but we do try to get to each and every query as quickly as possible. I figure it's the least we can do to repay you for your wonderful support, plus you guys give us some great story ideas, so everybody wins!
Sadly, though, there is one question in particular that we haven't quite gotten around to answering yet. Neglecting any one question is bad enough, but the fact that the query in question also happens to be the one most frequently asked is really not good. The popular question:
Are you guys hiring?
Indeed, there are many nice little perks that come with working in the Caribbean travel industry and writing a blog like this. Tops among them for me, getting invited to fancy new rum introductions, like the one I went to last night for Mount Gay Eclipse Black 100-Proof Rum.
This special soiree was held at the posh and uber-stylish Raleigh Hotel in South Beach, where we were honored to rub elbows and raise toasts with such notable rum experts as Robert Burr, the man behind the Miami Rum Renaissance Festival, and Chesterfield Browne, International Brand Ambassador & Mixologist for Mount Gay.
When trying out a new blend, you can hardly find a better person to lime with than Mr. Burr. That is, unless that new blend happens to be a Mount Gay rum. When that's the case, there's nobody better than Mr. Browne.
A Mount Gay employee for nearly 20 years, Browne is famous for creating one of the most popular Mount Gay Rum cocktails, the 'Bajan Smile', and for turning millions of people all over the world on to the fabulousness of Mount Gay Rums. In introducing the lastest Mount Gay master work last night, Browne observed that just like Mount Gay's regular 80- and 86-proof Eclipse Rums, the new 100-proof Eclipse Black is a blend of distinctive Mount Gay rums aged two to seven years. The difference in producing the 100-proof blend is that Mount Gay adds less water to the product. This ensures a stronger punch, of course, but that's not all that separates Eclipse Black 100 from the rest of the field.
As Browne explained, all Mount Gay Rums are blends from two different stills, a traditional copper pot still and a column still.
The traditional copper pot still produces a distillate that is more robust, with great flavors of ripe bananas and spicy notes
The new Eclipse Black 100-proof employs a larger percentage of distillate from the traditional copper pot still than other Mount Gay Rums, yielding a bold flavorful blend bursting rich tropical citrus fruit flavors and pepper spices. It's not a spiced rum per se, but it drinks like a sophisticated full-flavored rum the equal of any traditional spice rum, with the added kick of 100-proof fire. As Mr. Burr put it:
This is the rum with balls!
Even with the lofty praise, this isn't the type of 100-proof rum that will give you screwface. It actually drinks rather smooth neat, or on the rocks with a long warming finish.
All in all, it's fantastic stuff, especially when you consider the suggested retail price of $25. Believe me, this stuff carries a flavor and sophistication worthy of a much higher price tag. I suggest you run out and stock up on a few bottles now before our friends at Mount Gay come to their senses and raise the price!
Oh, and as for the question of whether or not we're hiring, you'll have to stay tuned for an answer on that one some time in the future…
Cheers!
Related Posts