Foursquare Spiced Rum: Prepping for the Caribbean Rum & Beer Festival
Exactly one month and three days from now, I'll be setting off on what is sure to be one of the most exciting Caribbean adventures Patrick and I have enjoyed since we started Uncommon Caribbean last year.
My destination: Barbados.
My mission: Sample many, many different rums.
If you've been reading this space for any stretch of time then you know this destination and particular mission are pretty much par for our proverbial course. Next month's adventure marks our third pilgrimage to The Birthplace of Rum in less than two years, and of course, we review various rums as part of our Friday Happy Hour series all the time.
So, what's so special about this particular rum-junket…?
Answer: I've been selected to serve among the international panel of judges at the 2011 Caribbean Rum & Beer Festival!
(Let me pause for a moment while I jump around screaming for joy like a five-year-old opening Christmas presents…)
For a native West Indian like me, with a healthy appreciation for the Noble Spirit that in so many ways defines my home region, this is a pretty big deal. It's humbling, unexpected, and I couldn't be more excited!
Even if I didn't have judging duties, though, I'd be more than a little psyched to be heading back to Barbados as any trip there means I can get a taste of the spicy Bajan beauty pictured here. Her name is Foursquare Spiced Rum, and in my book, there are precious few rums, be they spiced or otherwise, that can match her.
Foursquare Spiced Rum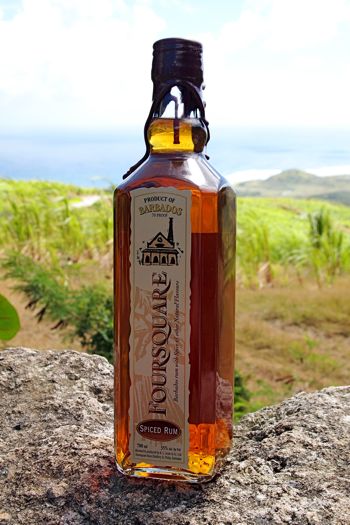 Foursquare Spiced Rum is produced by R.L. Seale & Co., a name you may recall from this elegant bottle. This family-run rum giant, which holds the distinction of being the last remaining Barbadian-owned rum producer on the island, has been producing some of the world's finest blends for generations. This particular spiced rum is of newer vintage, but it's no less special than anything old R.L. ever produced, IMO.
What sets it apart to me is its nice, clean flavor. It's not overly sweet, like a lot of spiced rums, and the spices don't overwhelm your palate, much like Cruzan 9 (still my #1). Instead, Foursquare Spiced Rum is dry and light, no doubt the result of the type of strict attention to detail and craftsmanship – combining the best of traditional rum-making techniques with the latest advances of today – that have made a legend of the R.L. Seale name.
Best of all, this stuff is super-affordable. At Total Wine & More here in Fort Lauderdale, you can get a 750ml bottle for just $11.49! That's an amazing price for a fine quality spiced rum that's best enjoyed neat or on the rocks.
Pick up a bottle and see for yourself, or better yet, join me at the Caribbean Rum & Beer Festival in Barbados next month so we can get a taste from the source, the famed Foursquare Distillery in St. Phillip! For event tickets and more info, click here to visit the Festival website.
Cheers + see you next month in Barbados!
Save
Related Posts