Paddleboarding: How to Stand Up and Change Your Perspective
There's something to be said for keeping your head down, doing as you're told, and working hard for fleeting moments of joy. But sometimes, a small change in perspective can go a long way toward completely redefining what you've come to expect from life, love… And even the Caribbean Sea. Well, at least that's the case when it comes to stand-up paddleboarding.
You see, after my recent and certainly ambitious introductions to both surfing and kiteboarding, I've come to terms with the fact that fun in the surf comes at a cost.
In the case of surfing, it wasn't long into the very first lesson that I came to an inevitable realization. The price of a few thrilling seconds of actual surfing was a long paddle back against the driving power of five or more waves. There was a clear sacrifice to be made for every precious moment of joy.
For kiteboarding, it took longer to come to this conclusion… And that's part of the point. Learning kiteboarding takes time! Many schools like to break the introductory lessons up into days, and you don't even touch the water on the first day!
On the second day, expect mainly to drag yourself back and forth through the surf, getting used to the kites… Plus having sea water in your eyes and up your nose. It's not until the third day that many schools even hand you a board, so yeah, it's an investment. And trust me, it's not easy to pick up.
Don't get me wrong. I totally believe that any experience worth having is worth working hard for… But what if you didn't have to work hard?
That's exactly what makes stand-up paddleboarding so awesome: you basically get to have your cake and eat it too!
Like most people, before a few months ago, I mostly thought of "SUP" as an abbreviated greeting. As in, "Hey man, what's up?" But that all changed on a recent trip to Barbados with a few friends.
Naturally, we'd planned to stay at our Perfect Fantasy Beach House (Cotton House 2), and, of course, I was looking forward to a few sessions surfing Freights. So before I even landed on-island, I rang up Melanie Pitcher at Barbados Surf Trips to rent a surfboard for myself.
Then, mostly on a whim, I asked her to throw in a couple of SUP boards and paddles, thinking my friends could try them out.
Well, that was the plan anyway… Until I found myself kicking back on that amazing veranda with the sea beckoning and thought I might as well give SUP'ing a try.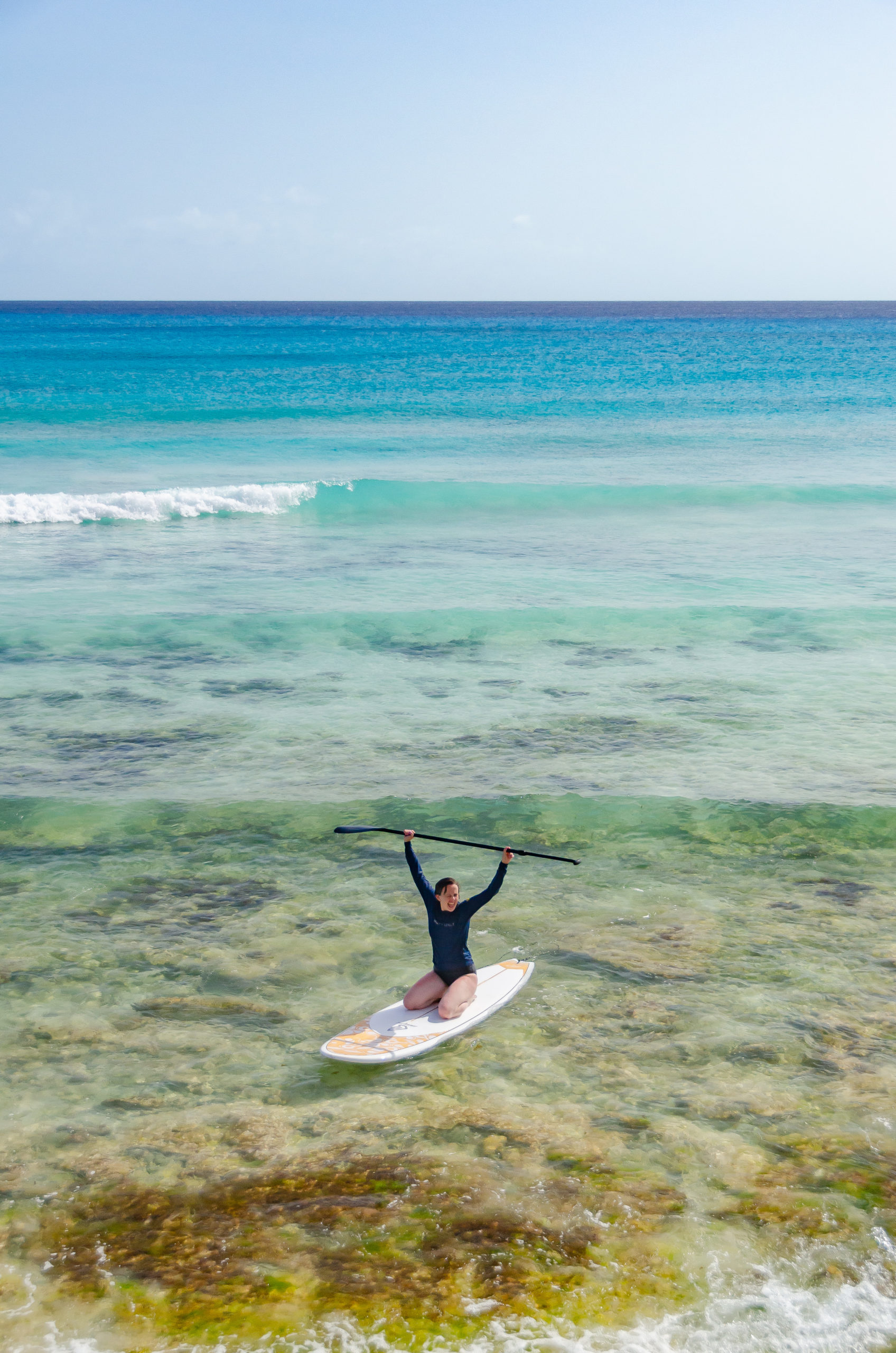 To get the basics, I searched YouTube for "stand-up paddleboard lessons," which returned over 800 videos! I then just clicked on one at random, watched it for about four minutes, and just like that, I basically knew all I needed to know to get out on a board!
Nope, SUP'ing doesn't take days or hours to learn. Seriously, think minutes to learn how to paddle.
From there, I simply walked the board 15 feet down to the beach, slid it into the water, and jumped on…
OK, OK, so I fell off once, twice, all right, a few times. The point is, before I knew it, I was paddling out to sea! And unlike paddling down on a surfboard, I was six feet above the flat water, a position that makes all the difference. It's kinda like chilled-out perma-surfing.
You can see, well… everything.
Beautiful turquoise calm water stretches out before you. It's easy to look down for glimpses of turtles gliding below the waves. You can turn your head to look in every direction. It just feels natural.
And you feel so free.
Want to paddle 'round that rocky outcropping? No problem.
Want to swing by the surfers and slide into a wave for some paddling surfing? Go for it.
Want to just leisurely "stroll" along any body of water? Why not?
And all this accessibility and freedom even comes with a nice full-body workout. Expect your core muscles, thighs, and shoulders to feel a pleasant burn your first time out. Nothing like the lower back and shoulder shredding efforts that did Steve in paddling on a surfboard, though. Just that nice feeling deep in your muscles to remind yourself that you did more than park your ass in the sand all day.
So yeah, after taking on surfing with Boosy and kiteboarding with Laurel Eastman, I can now add stand-up paddle boarding to the list of water sports I'd recommend you try. The only difference is, this one pays dividends almost immediately.
Sure, you can also spend time perfecting your paddling techniques. But basically, if you can stand in the center of the board, hold a paddle, get that paddle in the water, and move those paddle blades down the sides of the board in a calm paddle stroke, and remember to switch sides—you're in business.
There's SUP'ing to be done at coastlines throughout the Caribbean, but if you're thinking about trying it out for yourself in Barbados, why not give Melanie Pitcher at Barbados Surf Trips a call? She's got you covered for boards, wax, and leashes, plus jeep rentals, tours, and even accommodations. She's like a one-stop shop!
See you on the water!
Related Posts