Introducing the Uncommon Barbados iPhone App: Experience Breathtaking Barbados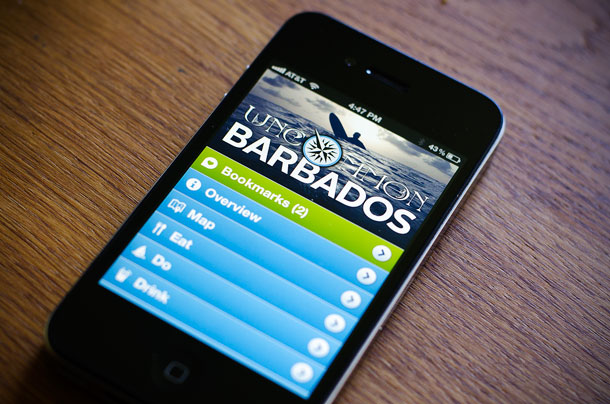 Are you considering a visit to Barbados? Do you have an iPhone? Then kick off your trip by downloading our new Uncommon Barbados iPhone App from the Apple iTunes Store.
You'll have the best Uncommon Caribbean coverage of beautiful Barbados in the palm of your hand, including suggestions on what to eat, things to do, and (unique to us) local rums and beers to try while you're on-island. Plus, best of all, once you've downloaded Uncommon Barbados to your iPhone, there's no further internet connection required, so you won't incur any roaming fees once you land in Bim.
We've worked hard putting this tightly curated guide together — collecting a couple dozen of our most noteworthy Barbados eats, activities and drinks, as well as many of our past articles. There are nearly a hundred photos, telephone numbers to featured properties, and web links to help you get the most out of your trip. We've even included an offline map so you can see where you're going without incurring data charges.
On the flip side, it's also important to mention what's not in the Uncommon Barbados iPhone app. In a break from most other travel guides that try to stuff in everything and the kitchen sink, you'll only find Uncommon Caribbean-approved experiences in this app. We've literally done everything in this guide personally — either Steve of me. And every time we return to Barbados, we'll add new content to the app and make it available to you free of charge.
This is our Barbados, and we hope you'll want to share it with us. Just head to the iTunes Store now to download your own copy for only $2.99!
Get Uncommon Barbados now
Related Posts