Introducing Uncommon Barbados: Our First Multi-Touch Travel Guide Optimized for the New iPad
The key to having a fun, experiential, Uncommon Caribbean trip is knowing what to do once you land in your destination of choice. Knowing where to get the best local foods, which off-the-beaten-path sites to explore, how to engage in local activities, and, of course, how to drink like a local.
So, to that end, I'm super excited to announce our first travel guide: Uncommon Barbados!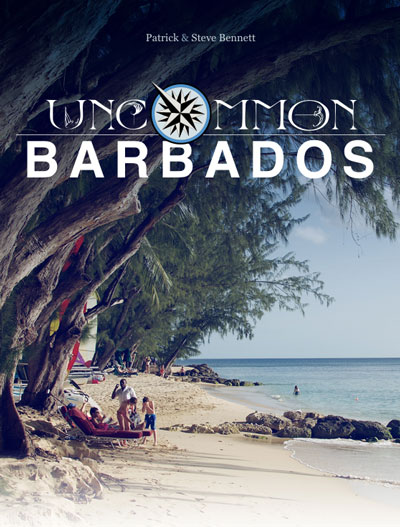 This is the fist of its kind: a multitouch travel guide for the Apple iBookstore—already optimized for the new 3rd-generation iPad.
Uncommon Barbados is crammed with over 85 virtual pages of content, over 100 original HD photographs that take advantage of the iPad's new retina display, and even a couple HD videos!
This isn't simply a repackaging of content found elsewhere or an overwhelming list of every-last item on the island. Nope, this guide represents our curated suggestions of the top things to Do, Eat, and Drink on Barbados—all plotted on an interactive map for easy navigation. We've even included every relevant article we've published over the past 2 years on Barbados for reference.
Best of all, once you're on Barbados, you never need to access the new iPad's zoomier internet and suffer astronomical international data roaming fees when looking up your next adventure!
We think our new guide is pretty handsome and expect it'll help make your next trip to Barbados an even more enjoyable one, but don't think we're done there. Once you've purchased Uncommon Barbados, expect new content to be added on roughly a monthly basis—for FREE!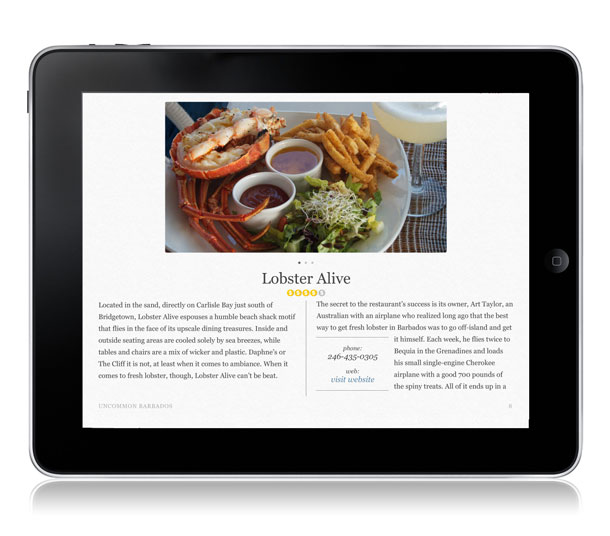 Two years ago, when my brother Steve and I conceived Uncommon Caribbean late one night in a New York City bar, we had a clear mission: encourage travelers to experience the authentic Caribbean unique to each destination by highlighting the diverse food, music, sports, drinks, locales and culture overlooked for too long by the mainstream travel media.
Being born-and-bred West Indians, we naturally wanted to put our own personal spin on the content and just like that, the unique travel site and social community you know (and hopefully love) was born!
We started small—relating stories like afternoons spent cooking Sunday roti in our mother's kitchen. Then the trips started, which were followed by hotel, bar and beach reviews plus tales of our successes and failures at traveling the region. Accompanying all this new content was our own photography and before long, videos. With growth, came more ambitious trips like sailing adventures, rum judging and most recently, climbing the highest mountain in the Caribbean.
As we hoped, all this has resonated with you, our awesome fans. We now reach in excess of 60,000 people a month through this site, Twitter, Instagram, YouTube, Foursquare and other social channels. We've even begun exceededing 1 Million Facebook impressions per month! (Thank you!)
All this success has been great, but it's also shown us two places where we can go further to help everyone make their dreams of amazing Caribbean travel a reality:  pre-trip bookings and on-site guidance.
Today, we're creating a new way for you to easily access our personal, on-site guidance for Barbados with the Uncommon Barbados guide.
(Let's leave pre-trip booking for another day… Exciting stuff coming soon! I promise!)
And for all those looking for an Uncommon Caribbean guide to some other island destination, don't worry. More guides are on their way soon.
So, please check out our new, groundbreaking multitouch iBook travel guide for Barbados here and be on the lookout for Uncommon Barbados in iPhone app form launching in a matter of days.
Thanks for supporting us!
Related Posts