Learning the Simple Truths of Judging Rum at the 2011 Caribbean Rum & Beer Festival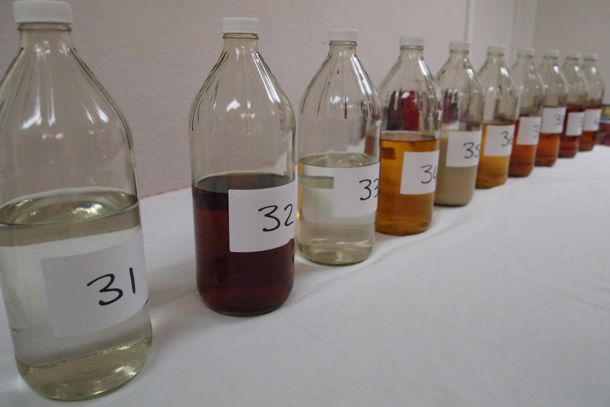 What makes you a rum expert?
A brooding Customs official at MIA added this snarky bonus query to the usual welcome home harassment Q+A upon my return to the States following last week's Caribbean Rum & Beer Festival in Barbados. I suppose I had it coming, though. After all, I had just answered the usual – What was the purpose of your trip? – by smiling broadly and saying this:
I was judging a rum festival.
Few sweeter words have ever passed my lips.
Indeed, the experience of serving on the panel of judges at the 2011 Caribbean Rum & Beer Festival was so great, so satisfying and fun, that even the long lines, cold stares and moodiness so typical of the bowels of MIA were of little concern to me. In a lot of ways, the experience was a dream come true for me, as it would be for any rum lover. It was also instructive of two simple truths…
Truth #1 of Rum Judging: It's not easy.
Most anyone who loves rum would enjoy sitting around for a few hours enjoying their favorite blends, right? The difference with rum judging is that you don't get to pick your favorites. In fact, you have no idea what you're drinking. All the bottles are presented as shown above, anonymous save for a number. This means you end up trying many things that you probably never would. This yields surprises, not all of them pleasant.
Truth #2 of Rum Judging: It's really not easy.
Most anyone who loves rum would enjoy sitting around for a few hours enjoying their favorite blends, right? Now try 40 different rums… over a concentrated four-hour period!
Oh, we got a 15-minute break, plus all the water we could drink and all the crackers we could eat (more on those special crackers later), but rum judging is much more marathon than sprint.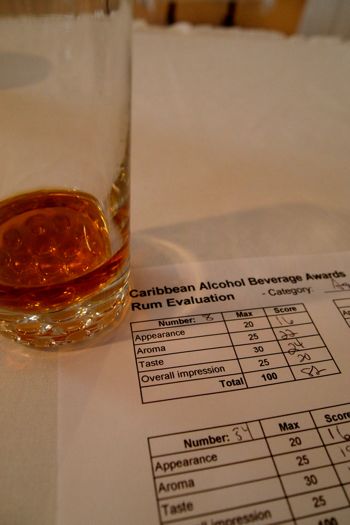 The venue for this marathon was the Divi Southwinds Resort located just off the St. Lawrence Gap in Christ Church, Barbados. Tastings were held in a comfortably air-conditioned meeting room adjacent to the smaller of the property's two pools. Not glamorous, but nice. Still, by about rum #23, I was petitioning for a break so I could soak my head in said pool!
That's because around that time that we had passed judgment on seven white rum entrants, three overproof rums, nine brown and gold rums, and four rums aged five to nine years. Things were about to get good. REALLY good! We were about to be served the entrants in the rums aged 10-14 years.
There were nine such rums featured in this category, all easily outshining the rest for me. This brings to mind two more truths…
Truth #3 of Rum Judging: It's not fair.
If rum truly has no rules, as I've written before, then a rum judging contest like this is the ultimate no holds barred exercise in subjectivity. Example: one particular white rum was described by a judge as sporting a "used Band-Aid smell." I didn't remember smelling anything quite like that, so I probably scored that rum way higher. There's bias for sure, but that doesn't mean you always know what you're drinking…
Truth #4 of Rum Judging: There will be surprises.
It's impossible to avoid trying to identify rums based on personal preference and past consumption. At one point during the sixth and final category – flavored and spiced rums – several judges thought we were trying Cruzan 9. Now, my love for this latest spiced blend from my home island rum is well documented here, but I couldn't refute their claims with absolute certainty. I was pretty sure they were wrong, and lo and behold, during the reveal session at the end, I was proved right.
Speaking of the end, crossing the finish line with the last sip of the 40th rum was nothing short of euphoric! Other judges in the room, like Bob Davies (The Rumelier), Nicholas Feris (TheRumCollective.com), Luis and Margaret Ayala (GotRum?) and Dave Russell (RnD Rum Reviews) had all done this kind of thing many times before. This was my first rum judging rodeo, though, and I gotta' say it was thrilling just to get through it.
Even more thrilling, though, was finding out today that several of the rums I scored highest also came away with awards. Appleton 12 Year Old, the top finisher in the Aged 10-14 Years category, was #2 on my personal list.
Which rum did I score the highest? You'll have to wait til tomorrow's Friday Happy Hour post to find out…
For the full list of Caribbean Rum & Beer Festival results, click here to visit the event website.
Save
Related Posts