Mount Gay Black Barrel Rum – Top Shelf Rum, Bargain Price
Specially commissioned commemorative rums generally manifest in limited quantities. Combined with their historic cachet, this often yields premium prices. Enter Mount Gay Black Barrel Rum. From "The Rum that Invented Rum," it's got all the choice qualities of any other exceptional commemorative blend
-Handcrafted? Check.
-Small batch? Check.
-Historic cachet? Double-check.
Black Barrel arrives in honor of the Mount Gay Distillery's 310th anniversary, a pretty nice milestone for the entire rum industry considering Mount Gay's status as the world's oldest documented rum producer on the Caribbean island of Barbados. You'd have to say such a landmark occasion deserves an exceptional new blend, right?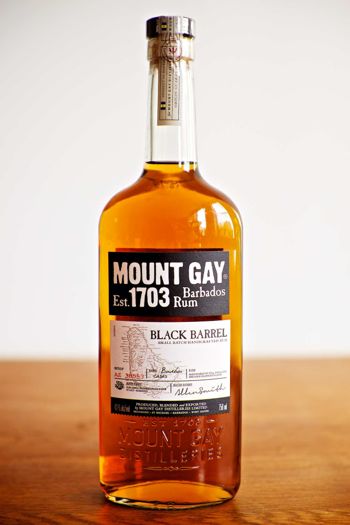 Well, I have to say that Black Barrel delivers. Big time!
Mount Gay is famous for combining single column distillates and double copper pot distillates to create their distinctive treasures. Black Barrel is no exception, of course, but in its particular case, there's a good bit more of the double copper pot good stuff in here. It's also the only Mount Gay rum finished in charred oak barrels formerly used to age bourbon, which of course is the genesis of the "black barrel" distinction. And finally, it's bottled at 86 proof in a classic long neck bottle.
These unique touches are said to give Mount Gay Black Barrel a bold flavor beyond the brand's other rums, a notion that I was happy to put to the test.
I didn't detect it on the nose, though at first whiff, I was compelled to whisper "wow." It's subtle, understated, and there are some spice and wood in there, but for me, the smell is all about the sweet liquid itself. The balance is exquisite, with nothing overwhelming the rum. This is what rum should smell like.
On the tongue, more wows. These wows were louder and more emphatic, though, as the taste just blew me away!
A slight, lightly caressing burn quickly gives way to a wonderfully warm, smooth flavor highlighted by vanilla and oak. The spices are bolder than on the nose, but again, the balance is exceptional. Everything is in perfect proportion.
For my own personal taste, I might prefer it a tad or two sweeter, but then it wouldn't be a Mount Gay Barbados rum. As it stands, Black Barrel is an fantastic small-batch handcrafted expression of the storied Mount Gay brand.
But didn't I just note above that these types of limited edition commemorative rums are usually super pricey?
Indeed, I did, and yes, they usually are. Mount Gay Black Barrel, though, breaks the mold. Its price tag: just a shade under US$30.
Cheers!
Related Posts